Commentary
Adel Taarabt coming into his own
Updated:
April 3, 2012, 2:49 PM ET
By
Michael Cox
| Special to ESPN.com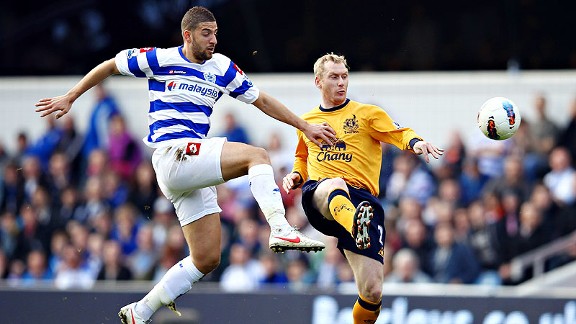 Julian Finney/Getty ImagesAdel Taarabt is finally coming into his own, and his knack for trickery and flair could be just the thing that helps QPR avoid relegation.
After 22 minutes of Saturday's game against Arsenal, Queens Park Rangers Adel Taarabt's moment finally came. He drifted into the center of the pitch, received a pass from center back Clint Hill, spun Thomas Vermaelen instantly and curled a low shot past Wojciech Szczesny. It was his first Premier League goal, with his 69th shot of the season.
But the goal was only part of Taarabt's performance, for he was the game's best attacking player by a distance. He produced a couple moments of superb skill, he performed his defensive duties well and he played more passes than any other Queens Park Rangers player, illustrating his level of influence. He is finally displaying the immense talent we've heard so much about.
Still only 22, Taarabt seems to have been around for ages. Tottenham signed him in 2006, after one league appearance for French club Lens. There, despite high praise from coaches and the inevitable description, as a French-North African, of being the new Zinedine Zidane, it never really worked out. Tottenham was going through a tricky spell, and with Martin Jol, Juande Ramos and Harry Redknapp all having spells as manager within Taarabt's first two years, he struggled for opportunities.
"Martin Jol gave me time, but Juande Ramos really killed me," Taarabt remembered. When struggling in the bottom half, you don't want to take a chance on an inconsistent, moody, young playmaker. Besides, Taarabt wasn't exactly settled at Spurs. He didn't like England, didn't speak English and became homesick. Two weeks into his time in North London, he wanted to move back to France.
What's more, Taarabt was first loaned to QPR in the 2008-09 season, as well as the following one; he officially signed with Rangers in 2010.
ESPN FC on Twitter
Don't miss a moment of the latest soccer coverage from around the world. Follow us on Twitter and stay informed. Join »
On one hand, it's difficult to explain quite why it worked out for Taarabt at QPR. There has been no managerial stability -- Mark Hughes is now the seventh manager Taarabt has played under at the club, in four seasons -- and his homesickness was hardly helped by the 10-mile move across London from Spurs.
Yet on the other, it's entirely logical. Taarabt simply needed to develop as a footballer. That one game for Lens -- in which he played for all of three minutes -- wasn't anything like adequate preparation for the Premier League. Taarabt is unashamedly a flair player -- against Arsenal he produced a clever back-heel, a couple step-overs and countless passes with the outside of his right foot. It's difficult to impress when given substitute appearances here and there; Taarabt needed freedom, playing time and experience in a lower league. His playing style suggests arrogance and occasionally selfishness, but in truth Taarabt really only required more confidence and to play where he would be given time to mature.
Neil Warnock was the coach who let Taarabt's talent shine. "Neil said, 'You will have the freedom to play -- even if you lose the ball, I will have some players behind you to do the job for you defensively.'" Taarabt said. "When a manager tells you, 'I want to play the team around you,' then you think, 'This manager loves me.'" Building the team around him was probably only possible at Championship level.
Hughes referred to a difference between lower league football and Premier League football after Saturday's game. "Adel has been a free spirit in the past, just played off the cuff -- which is fine, and you can affect games at a lower level -- but at Premier League level you have to have discipline to your play, understand the game and be involved totally from the first minute to the last minute," he said.
Hughes is correct, of course, and QPR fans speak of how Taarabt has grown up in the past few games, understood his position and responsibilities within QPR's system. But equally, there remains an occasionally worrying tendency at the bottom of the Premier League to disregard talented youngsters in favor of solid, reliable, old pros. Foreigners who haven't yet adapted to the league are often cast aside when at relegation-threatened clubs. Witness how Javier Mascherano struggled to get a game for West Ham at the start of 2006-07 but promptly joined Liverpool and ended up playing in the Champions League final that season. Mascherano is not a flair player, of course, and more often than not, it's attackers who are overlooked. In reality, these players can be the difference between survival and relegation. Wigan's great escape last year was down to the brilliance of Charles N'Zogbia, and it has been its attacking performance (no Premier League side has scored fewer goals) rather than its defensive display that has let it down this season, having struggled to replace N'Zogbia and on-loan Tom Cleverley.
[+] Enlarge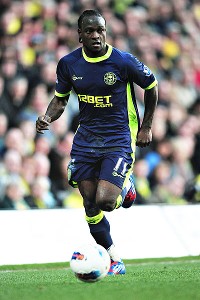 Jamie McDonald/Getty ImagesWigan suddenly has a chance of staying up, thanks to players such as Victor Moses.
Having looked dead and buried two weeks ago, Wigan suddenly has a chance of staying up after successive wins against Liverpool and Stoke during which wingers Shaun Maloney and Victor Moses were excellent. Roberto Martinez continues to amaze with his ability to keep a relatively poor Wigan side in the league, but his insistence on playing talented, technically gifted attackers should not be overlooked as a key factor. They always seem to shine through in the final weeks of the season.
Bolton, meanwhile, has recorded three consecutive wins against fellow relegation strugglers QPR, Blackburn and Wolves, with on-loan Arsenal winger Ryo Myaichi contributing two assists and impressing with his pace and trickery. Surviving relegation isn't just about being tight at the back and solid in midfield. There is room for imagination, artistry and flair -- especially at this stage of the season in which if you haven't been solid at the back in the first 31 games, you're unlikely to be for the final seven. Blackburn is another side that needs good performances from a winger -- Canadian Junior Hoilett, who has been the side's star performer (along with striker Yakubu) for much of the campaign.
QPR has the trickiest run-in of the sides battling relegation -- it still has to play Manchester United, Manchester City and Chelsea away, plus Tottenham at home. For the club, those are daunting fixtures. But for Taarabt, they might help raise his game. If he plays like he did against Arsenal, QPR should remain in the Premier League.
SPONSORED HEADLINES
MORE SPORTS HEADLINES
MOST SENT STORIES ON ESPN.COM
Soccer on ESPN.com

Follow Soccer on ESPN: Twitter
Coverage on ESPN FC
Euro 2012 in Review