Commentary
Can the Kop win the Cup?
Spurs are in free fall, Drogba's still lethal and Carroll rose to an occasion
Updated:
April 16, 2012, 3:49 PM ET
By
David Hirshey
| Special to ESPN.com
I've never been particularly besotted with the so-called "romance" of the FA Cup, even back in the Pleistocene Epoch when Arsenal occasionally won one of them. Nevertheless, my cold, Gooner-encrusted heart felt a small twinge of joy this past weekend for Liverpool and Chelsea after they earned the right to wear bespoke suits and striped ties to Wembley again in three weeks.
Of course, I'm in a position (third place in the Premier League) to show a little noblesse oblige toward the lesser lights, even a team as odious as Spurs. Not that I didn't rejoice in their 5-1 beatdown by Chelsea, but I truly think the world would be a better place if they had lost only 4-1 and Martin Atkinson was given a lifetime ban for refereeing under the influence of hallucinogenics.
Honestly, how is it that a man who couldn't see Mario Balotelli attempt to amputate Alex Song's leg at the Emirates last Sunday is able to determine that Juan Mata's shot went over the line when there is a dogpile of bodies in the Spurs' goalmouth, including Benoit Assou-Ekotto, whose mushroom cloud of hair would blot out the sun, let alone a soccer ball? Never mind goal-line technology, it's time to make Lasik surgery mandatory for all EPL referees.
David Hirshey

For more from David Hirshey, check out his columns on all things soccer.
• The All-EPL Team, 2011-12
• Saying goodbye to Chinaglia
• Time to dethrone King Kenny Dalglish?
• In praise of Fulham
• The comeback artists
• Call it a comeback
• Death by Manchester
• The battle for third
• Spurs' title credentials
• EPL's best starting XI
• City handed first EPL loss
• Chelsea pushed to brink
• Fragile egos crossing
• City and United
• Is Newcastle for real?
• The bad-behavior derby
If he had any decency, Atkinson would have immediately done an Andy Carroll and pulled his shirt over his head in shame, which is what the Liverpool striker did after missing a sitter against Everton. Atkinson's howler changed the course of an FA Cup semifinal, yet he waited until after the game to apologize to Harry Redknapp for pushing him closer to the door marked Office of the England Manager.
Speaking of which, 'Aarry could do worse than save a bulkhead seat with plenty of leg room (and maybe a bar stool) for Carroll on the plane to the Ukraine after his Magic Ponytail scored the winner against Everton in the 87th minute. I will even be gracious enough to suggest that he knew a little something about his unsighted, backwards header that flew into the upper corner.
Carroll has endured a wretched season, continually grappling like a Turkish oil wrestler with the weight of his $50 million price tag. Usually this is a match he ends up losing. The inflated price tag has been like a leg anvil for Poor Rich Andy, which might account for his lack of pace.
But what stones the guy has!
Only 48 hours earlier, Liverpool had boldly informed the world that they were getting rid of their director of football (whatever that means) for the crime of overpaying so egregiously for Carroll and his fellow Anfield busts, Jordan Henderson, Stewart Downing and Charlie Adam. Yet Carroll rose to the occasion -- and Craig Bellamy's free kick -- to vault himself straight into Scouse folklore.
Liverpool war horse Jamie Carragher, whose gift to Nikica Jelavic early in the game demonstrated why the glue factory is in his near future, reckons that Carroll has justified his expensive presence at Anfield with that goal. Maybe he will, if he's able to secure a second cup for Kenny Dalglish's maddening side he has, but I doubt Liverpool owner John Henry would agree with that assessment when he looks at Carroll's goal-scoring record in the league (an anemic four in 31 games) and sees Liverpool in eighth place, a whopping 36 points behind league-leading United.
[+] Enlarge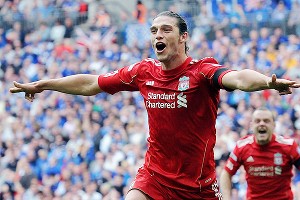 Andrew Powell/Liverpool FC/Getty ImagesAndy Carroll celebrates his game-winner.
For all his muscular presence in the box, Carroll has yet to develop the touch and vision that might someday make him the kind of lethal target man Didier Drogba has been at Chelsea for the past decade. Anyone who doubted whether the Ivorian still has a few arrows left in his quiver must have been in slack-jawed awe when Drogba rolled his old Chelsea teammate William Gallas just before halftime and unleashed a surface-to-air missile from 25 yards that nearly tore the net off the hinges of the post. The only surprise was that Gallas didn't crumple to the floor and sob uncontrollably as he was wont to do in his Arsenal days.
Which reminds me. Somewhere Philippe Senderos must be smiling. The former Arsenal defender was forced to leave England for two years in order to recover from the psychological trauma of being regularly humiliated by Drogba.
As sick as the Ivorian's screamer was, it will not be remembered nearly as vividly by Tottenham fans as Chelsea's second "goal," the one that triggered my brief spasm of sympathy toward Spurs. Then I recalled all those trolls who flooded message boards last week mocking Arsene Wenger as a senile old fool for suggesting that goal-line technology should be introduced in the Prem, and that frisson of Tottenham tenderness passed. It was replaced by my fiendish delight at the hilarious collapse of a team that only a couple of months ago was 13 points ahead of Arsenal and playing "the best football in the league," according to no less a talent evaluator than Sir Alex Ferguson.
(By the way, Fergie, if you hate diving so much, how can you stand to be on the same team bus as Ashley Young?)
ESPN FC on Twitter
Don't miss a moment of the latest soccer coverage from around the world. Follow us on Twitter and stay informed. Join »
Now that Spurs are in free fall -- one win in their last nine league games and a combined 26 goals conceded to Man City, Arsenal, United and now Chelsea in all competitions -- I dare say it's time for a reappraisal, which my therapist says I'm allowed to do as long as I don't gloat. Could it be that Spurs' implosion is not solely the result of all the distracting prattle about Redknapp for England, but has more to do with Tottenham simply not being as good or deep as advertised? (See: Luka Modric's David Silva-esque disappearance in midfield Sunday.) That may have been a rhetorical question, but Chelsea answered it emphatically just the same. Their three scorching goals following Mata's phantom finish absolved their supporters of celebrating what would have been an illegitimate victory despite the fact that the Blues' paragon of sportsmanship John Terry reacted to it with his finger held aloft in triumph. Stay classy, JT. It's no wonder you're beloved by the gaggle of cretinous Chelsea fans who interrupted a pregame moment of silence for the Hillsborough dead with chants of "murderers."
Much to my initial alarm, there seemed to be a much larger and boisterous contingent of Blues supporters at my local soccer bar on Sunday, but they were as appalled as the rest of us at the moronic disrespect shown by a few of their brethren.
Even more surprising, they evinced a droll sense of humor. I mean, surely, they couldn't have been serious when they chanted "Bring on Barca!" after Florent Malouda shoveled the last bit of dirt on Spurs' FA Cup grave in the 95th minute.
Enjoy the next few days, Chelsea fans. Last I checked, Martin Atkinson won't be officiating against Barcelona on Wednesday.
David Hirshey has been covering soccer for more than 30 years and has written about the sport for The New York Times, Time, ESPN The Magazine and Deadspin. He is the co-author of "The ESPN World Cup Companion" and played himself (almost convincingly) in the acclaimed soccer documentary "Once in a Lifetime."
SPONSORED HEADLINES
MORE SPORTS HEADLINES
MOST SENT STORIES ON ESPN.COM
Soccer on ESPN.com

Follow Soccer on ESPN: Twitter
Coverage on ESPN FC
Euro 2012 in Review