Commentary
Mad Manchester
What City's win and United's collapse mean ahead of next Monday's epic derby
Updated:
April 23, 2012, 3:23 PM ET
By
David Hirshey
| Special to ESPN.com
Four goals scored against a team that hadn't won at your place since 1992. Two up with less than 10 minutes to play and the crowd in full-throated glory. You could already envision Sir Alex, Nike-shod feet up on his desk, suitably aerated cabernet in the decanter, waxing rhapsodic about the twin gratifications of a 20th league title and the final silencing of Sheikh City.
And for once you couldn't blame him for being self-satisfied and imperious in his Theater of Dreams -- or as I like to call it, his Den of Imagined Happiness. The ageless Scot has done a genuinely masterful job of mixing, matching and squeezing the talent out of this ordinary-by-United-standards side, all while facing relentless pressure from his far deeper and more stylish neighbors.
Sunday's game against Everton, though, was to be a gimme. During the last seven meetings at Old Trafford, the Toffees had managed a grand total of two goals, a scoring record akin to Luis Suarez's success rate at a Norman Vincent Peale mixer. Then there was the pseudo-filial aspect of Ferguson's relationship with fellow Scottish manager, David Moyes, the man whom many think SAF's been quietly grooming to grab the crown and scepter once he finally vacates the United throne.
David Hirshey

For more from David Hirshey, check out his columns on all things soccer.
• The All-EPL Team, 2011-12
• Saying goodbye to Chinaglia
• Time to dethrone King Kenny Dalglish?
• In praise of Fulham
• The comeback artists
• Call it a comeback
• Death by Manchester
• The battle for third
• Spurs' title credentials
• EPL's best starting XI
• City handed first EPL loss
• Chelsea pushed to brink
• Fragile egos crossing
• City and United
• Is Newcastle for real?
• The bad-behavior derby
Given the weight of history and Glaswegian chumminess, how could anybody possibly have expected that Moyes, of all people, would refuse to roll over and let Fergie tickle his tummy? How could the world's greatest man-manager have foreseen Everton scoring four goals of its own against a rear guard featuring "arguably the best defender in England," Jonny Evans? Oh, how I'd love to hear Fergie repeat that argument after stepping in the steaming piles Evans & Co. left splayed all over the field Sunday.
But the Evans stinker was only one of the many shocks to the system to be found in this wild, yo-yoing 4-4 draw. The rapid mood swings from euphoric to funereal inside Old Trafford were worthy of a lithium prescription. I lost track of exactly how many times the announcers proclaimed "The title race is over," only to reverse course moments later and bellow "It's back on" -- it was somewhere around eight -- with each goal signaling a blip on the hype-o-meter. By the end, the grim realization had set in for United fans that the championship would now likely go down to next Monday's Smackdown at The Etihad (live on ESPN2 and ESPN3), against a City squad that had already disemboweled them 6-1 at home earlier in the season.
England's most expensive team now controls its titular destiny, and the odds on Roberto Mancini's firing in the Manchester bookie shops are more volatile than Metta World Peace's elbow. The Sky Blues' underwhelming 2-0 victory over now-relegated Wolves cut United's lead at the top to three points, but City's superior goal difference means it simply needs to win its four remaining games to capture its first league trophy in 4-4 -- sorry, 44 -- years.
With all the asphyxiating pressure surrounding the upcoming quartet of games, City's run-in won't be a stroll down Carlos Tevez' beloved fairway, beginning with Monday's Monumental Mancunian Match and including a nasty away fixture against high-flying Newcastle -- but given the hopelessness of their position just two weeks ago, the City brain trust must be hastily wiping the Jose Mourinho stardust out of their eyes.
ESPN FC on Twitter
Don't miss a moment of the latest soccer coverage from around the world. Follow us on Twitter and stay informed. Join »
Across the way, Ferguson, who had hoped to win the title on the home ground of his despised rival (see Arsenal-Spurs at White Hart Lane in 2004; c'mon, you knew I'd find a way to mention the Gunners), is now reduced to more desperate mind games, like calling the upcoming derby the biggest in his 25 years at the Man United helm. All told, it's an astonishing reversal of fortune reminiscent of Kevin Keegan's Newcastle meltdown in 1996, and not even the most deluded City supporters could have envisioned United dropping five points to the likes of Wigan and Everton.
Sunday's donnybrook had to be an excruciating exercise for the OT faithful, as United twice let seemingly impregnable leads slip at 3-1 and 4-2. While neutral observers viewed the claw-back as a testament to the Toffees' heroic, over-my-dead-body resolve, Fergie was having none of it. His Puceness was positively Wengerish in his myopic refusal to give deserved props to either Everton's attacking intent or its cold-blooded finishing. Rather, like the gracious loser he is (sorry, but at this stage of the season two dropped points certainly feels like a loss), he focused on the Red Devils' "absolute giveaways" and "terrible defending" before giving Moyes a parting Glasgow kiss -- "their goals were really soft."
The fact is, Everton had more than a little something to do with Sunday's result. After losing a last-minute heartbreaker to Liverpool in the FA Cup semifinal a week ago, the Blue side from the Mersey could have easily sat back, gone into damage-control mode behind a massed defense and awaited the inevitable gift penalty to be awarded to United in the 12th minute of Fergie time.
Instead, galvanized by two of their shrewd January transfer bargains -- Nikica "See, Something Good Came Out of Rangers' Financial Collapse" Jelavic and Steven "Couldn't Hack It At White Hart Lane" Pienaar -- the Toffees took the game to United, transforming the normally pedestrian right back Tony Hibbert into a rampaging, inch-perfect-crossing Scouse version of Dani Alves.
It's doubtful that in his pregame tactics talk, Ferguson warned United "Whatever you do, don't let Hibbert get the ball on the flank," but then he also probably didn't anticipate the tireless Belgian, Marouane Fellaini, morphing into a reasonable facsimile of Everton legend Duncan Ferguson, albeit with much more hair.
With no genuine holding player to protect the United back four, Fellaini took ruthless advantage of a strangely subdued Paul Scholes and his sidekick Michael Carrick in the middle of the park. In the 67th minute, Fro-laini bombed into the box to sublimely volley in Hibbert's arrowing cross and pull Everton back to 3-2. Then, after Jelavic had scored his second goal to make it 4-3, Fellaini outwitted Evans in the area to lay the ball off to Pienaar, who promptly slotted home the equalizer in the 85th minute. Given that the South African actually hit what he aimed at, you can expect Liverpool to bid at least $20 million for him this summer.
[+] Enlarge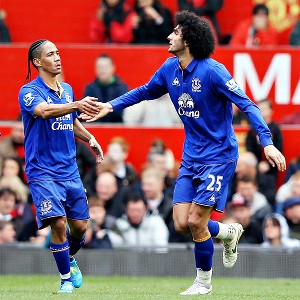 Alex Livesey/Getty ImagesThe Pienaar/Fellaini double act was a major hit at Old Trafford, combining on Everton's equalizer and causing United's defense trouble all game long.
Ferguson may be well into his 70s, but the disgusted look he leveled at both Evans and Rafael Da Silva, who failed to track Pienaar's run, was delivered with flying-boot-in-the-face potency.
A minute later, Fergie played his final card, replacing the struggling Scholes. Rather than bringing gravity-challenged winger Ashley Young off the naughty step to augment the attack, he went with the more aggressive defensive midfielder Phil Jones. It was the sort of risk-averse substitution you'd expect from his catenaccio-loving counterpart across town (in fact, Mancini did just that against Wolves later that afternoon, replacing his creative linchpin David Silva with the midfield beast that is Nigel de Jong) yet it was consistent with the United manager's actions earlier in the week, when Fergie had "a word" with Young about his recent egregious playacting, which he felt was a blight on United's otherwise spotless integrity.
As tempting as it might have been for him to have a few more words with the ex-Villa player -- "Go on, son, dive in the box and win us a penalty" -- Ferguson, to his credit, decided to go for it fair and square. And had it not been for Tim Howard's acrobatic fingertip save of Rio Ferdinand's goal-bound rocket in the final minute of stoppage time, he would have succeeded.
As it was, a deep collective funk settled over Old Trafford when the final whistle blew, a far cry from the mood of just ten minutes earlier. At 4-2, with United appearing to have killed off the title, the cameras had panned to a jubilant United fan holding up a sign that read "Why Always We? #20," meant to mock both Mario Balotelli's signature T-shirt slogan and to hurl a dagger at all long-suffering Liverpudlians (wait, is that redundant?) whose league trophy count has remained stalled at 18, one less than United, since chariots raced around the arenas of Rome.
It was a clever, pithy bon mot, and at the time Old Trafford roared its giddy approval. Next Monday, the United sign-maker will find out whether he can still brandish his placard or whether he'll have to correct the typo.
David Hirshey has been covering soccer for more than 30 years and has written about the sport for The New York Times, Time, ESPN The Magazine and Deadspin. He is the co-author of "The ESPN World Cup Companion" and played himself (almost convincingly) in the acclaimed soccer documentary "Once in a Lifetime."
SPONSORED HEADLINES
MORE SPORTS HEADLINES
MOST SENT STORIES ON ESPN.COM
Soccer on ESPN.com

Follow Soccer on ESPN: Twitter
Coverage on ESPN FC
Euro 2012 in Review