Commentary
Strength at the back
Despite an average Prem season, several great center backs have emerged
Updated:
April 27, 2012, 2:03 PM ET
By
Michael Cox
| Special to ESPN.com
With three games left this season, it's fair to say that we haven't seen a high-quality Premier League campaign. The top two clubs are on course for a record combined points total, yet both have underwhelmed down the stretch. The other usual suspects -- Arsenal, Chelsea, Tottenham and Liverpool -- have all had significant moments of crisis. Furthermore, English clubs have had their worst season in the Champions League for years, despite Chelsea's surprise run to the final, while the sides contesting relegation seem poorer than ever.
So where has the quality been? The answer probably lies in each individual side, often at center back. There, we've seen some surprise stars this season, many of whom haven't received sufficient praise.
That's particularly obvious at Manchester United. Sir Alex Ferguson's first-choice pairing in the past few seasons has been Nemanja Vidic and Rio Ferdinand, a perfect blend of strength and style, and arguably the best partnership Ferguson has ever had at United. With both players now in their 30s, Ferguson is well aware of the need to bring in long-term replacements. Chris Smalling was signed in 2010 as an understudy to Ferdinand, while Phil Jones arrived last summer and was widely touted as the next Vidic.
In theory, that left Jonny Evans as United's fifth choice, though he's started more games this season than any other United center back. Ferdinand has had fitness problems and Vidic's knee injury in December ruled him out for the rest of the campaign, while both Smalling and Jones have filled in at right back (Jones has also seen time in the heart of midfield), meaning Evans has become United's main man. It's a complete turnaround from last season, when the Northern Irishman endured a terrible game in the 4-0 Carling Cup defeat at West Ham: He was responsible for two goals, was hauled off by Ferguson, and some predicted he would be sold.
Evans' problem was his lack of physicality. He was clearly quick, positionally intelligent and good at distributing the ball from the back, but powerful strikers caused him significant difficulty. Now he's less timid and more dominant in the air. Ferguson has called him "arguably the best defender in the country this season," and considers him a front-runner for United's player of the year award. He reiterates his belief that Evans was always considered a first-team regular, but admits that he'd lined up Smalling and Jones as his future center back duo. Evans has changed that.
Evans' story this season shares many similarities with that of Laurent Koscielny, Arsenal's French center back. He arrived from Lorient last year with plenty of potential but was thrown in at the deep end, forced to become a regular while still adapting to the league. He was sent off on his debut at Anfield, and then Thomas Vermaelen's long-term injury coupled with the struggles of both Johan Djourou and Sebastien Squillaci meant Koscielny played far more than Arsene Wenger had intended in 2010-11.
ESPN FC on Twitter
Don't miss a moment of the latest soccer coverage from around the world. Follow us on Twitter and stay informed. Join »
But a superb display in the 2-1 home win over Barcelona confirmed his ability, and since then he's been extremely consistent. Though Vermaelen has returned, it's Koscielny who has starred, something the Belgian defender acknowledges. "He has done amazing this season," Vermaelen noted. "He is good all-round: He is quick, strong and good with the ball."
Like Evans, Kosicelny's initial problem was his physicality. Yet, importantly, he understands his limitations. "I don't have the physical strength of Nemanja Vidic," he concedes. "However, I don't believe you have to be physically big to be the best defender; you can compensate in other areas. I have improved a lot on how I read the game and anticipate what my opponent will do and where the ball will go … my aim is never to let the striker open on his good foot to go towards goal. You have to be very intelligent."
With these two players excelling through clever positioning rather than raw strength, it would be tempting to talk about the rise of the stylish, ball-playing center back. Yet the surprise stars at other clubs have been more traditional defenders. At Tottenham, Ledley King is a club legend, while Michael Dawson and William Gallas are highly experienced Premier League players, but it is Younes Kaboul who has been the club's most dependable player at the back. He's decent on the ball, and good positionally, but unlike Evans and Koscielny, his main quality is his height and power. He's won 3.9 aerial duels per match this season, more than any other center back in the division, and made 9.1 clearances per match -- higher than any other player from a top Prem team.
This is Kaboul's second spell at Spurs, and manager Harry Redknapp is frank about how disappointing Kaboul's first period at Tottenham was -- "He had a bit of a disaster here first time, didn't he?" But Redknapp now sees him as "a monster -- fantastic in the air, as quick as lightning, strong. He's got everything."
[+] Enlarge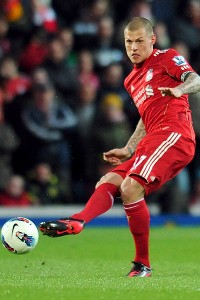 Andrew Powell/Getty ImagesMartin Skrtel has surpassed Daniel Agger as Liverpool's most important defender, even contributing 2 goals and 1 assist in 2011-12.
That could be an apt description of Liverpool's Martin Skrtel -- after all, his nickname is "The Terminator." The Slovakian enjoyed a good 2010-11 season but has been even better in this campaign, summed up nicely by teammate Stewart Downing. "Martin Skrtel has got to be the player of the season so far. He's always in the right place at the right time, a real unsung hero … I can't remember him having a bad game," the winger added. "He'll head anything, block anything; all the lads are saying he's getting better and better." There is now no doubt that Skrtel, rather than the injury-prone Daniel Agger, is Liverpool's primary center back.
With Evans and Koscielny a completely different type of defender than Kaboul and Skrtel, this doesn't represent a change in style. Partnerships in football are all about contrasts, matching players with different qualities; if given the chance, you'd combine Evans or Koscielny with Kaboul or Skrtel for an ideal center back pairing.
Yet none of the aforementioned players featured in the PFA Team of the Year. Those places went to Manchester City's Vincent Kompany and Newcastle's Fabricio Coloccini: traditional, strong center backs who have evolved to become all-rounders. Both are fully deserving of their place in the select XI. It's a surprising development; in a campaign that started with so many high-scoring matches, the standard of center backs in 2011-12 has been superb. That, as opposed to any significant tactical changes, is the overwhelming trend of this Premier League season.
Michael Cox is a freelance writer for ESPN.com. He runs zonalmarking.net.
Soccer on ESPN.com

Follow Soccer on ESPN: Twitter
Coverage on ESPN FC
Euro 2012 in Review