Commentary
The biggest Manchester derby ever
Updated:
April 30, 2012, 2:03 PM ET
By
Ian Darke
| ESPN.com
Anyone who tells you they know what is going to happen in the biggest Manchester derby ever on Monday is lying. I will go to the Etihad Stadium with my co-commentator Steve McManaman for ESPN's live coverage starting at 2:30 p.m. ET armed with all kinds of stats, clues and pointers.
But when the match unfolds, my only prediction is that it will be a dramatic and manic Monday.
[+] Enlarge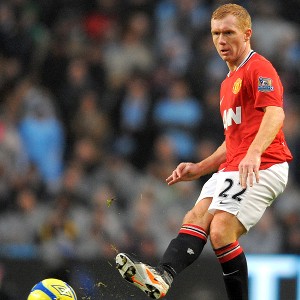 Andrew Yates/Getty ImagesPaul Scholes has been a major reason why United are atop the Prem, but can they stay there?
United looked home and dry to win the league title, but then the momentum switched back to City, to pump fresh life into a lost cause. City can go level on points with a win against United, and has the superior goal difference. But even then there is the possibility of them throwing it away again in a very tough game at Newcastle the following week.
The red card and suspension for Mario Balotelli, which he picked up against Arsenal last month, might actually have helped City because it opened the door for the return of Carlos Tevez. What a story it would be if the rebel without a cause returned from exile to score a title-deciding goal against his old club. Tevez's comeback has also sparked a new burst of scoring from his Argentine teammate Sergio Aguero, while creating a little more space for David Silva to rediscover his magic.
City is in something like the form it showed when pulling off that remarkable 6-1 triumph at Old Trafford earlier this season. Sir Alex Ferguson called that his "worst day in football," and will regard the FA Cup triumph United gained at the Etihad in January as only partial revenge.
But for United to virtually clinch the crown in the living room of its deadly rival would be sweet indeed for every United fan.
That outcome is the doomsday scenario for City's fans, who have seen their team finish behind United every season for more than two decades.
Even a draw would be a great result for Ferguson, maintaining the three-point lead with only two games to go.
Ferguson will be worried about his defense, which looked suddenly shaky in conceding four goals at home to Everton, and I suspect there have been some long sessions on the training ground this week. Does he drop Jonny Evans and/or Rafael, both of whom struggled against the Merseysiders? Were their poor performances just a blip, or are they feeling the pressure?
But dare the boss bring in the likes of Phil Jones or Chris Smalling, neither of whom has seen much action of late?
These are huge decisions against a side that has recently hammered in 12 goals in its past three matches.
I would expect United to match City's 4-3-3 formation, which might mean the in-form Wayne Rooney being deployed on the left with a central three of Michael Carrick, Paul Scholes and probably Ryan Giggs.
Sir Alex might also be tempted to throw in Chicharito as a man who could poach a vital goal out of nowhere -- not that the Mexican has been so convincing in his stop-start second season in England.
A key United man might be Antonio Valencia, who is capable of creating havoc on the right. He is the weapon City does not have.
The City team might well be (in a 4-2-3-1): Joe Hart; Micah Richards or Pablo Zabaleta, Vincent Kompany, Joleon Lescott, Gael Clichy; Gareth Barry, Yaya Toure; Silva, Tevez and Samir Nasri; and Aguero up top.
Since a win is the only result that will work for Roberto Mancini's side, he will need to temper his natural caution with a sense of adventure, while being mindful of United's danger on the counter.
ESPN FC on Twitter
Don't miss a moment of the latest soccer coverage from around the world. Follow us on Twitter and stay informed. Join »
Toure's rampaging runs through the midfield can open up the space for the danger men around him.
I can see City being on the front foot looking to force the issue, with United playing it like an away tie in Europe while always fancying themselves to nick a crucial goal.
Nerve, character, an ability to perform in a white-hot atmosphere, refereeing decisions and, yes, luck on the night will all play a part in this massive match. Just sit back and watch it unfold with us. This is as big as they come.
Ian Darke is a commentator for ESPN. You can reach him on Twitter at https://twitter.com/#!/IanDarkeESPN.
Soccer on ESPN.com

Follow Soccer on ESPN: Twitter
Coverage on ESPN FC
Euro 2012 in Review
MOST SENT STORIES ON ESPN.COM