Commentary
The brilliance of Javi Martinez
Plus: Xabi Alonso, Jose Mourinho and the disgrace of Granada
Updated:
May 9, 2012, 1:53 PM ET
By
Graham Hunter
| Special to ESPN.com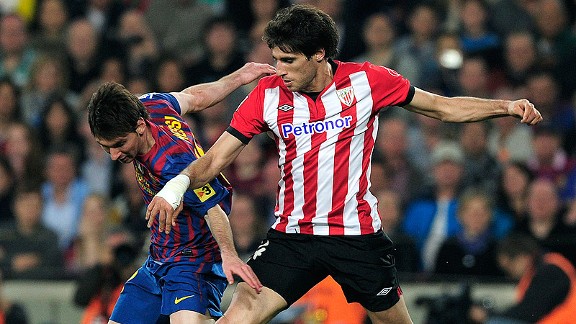 Josep Lago/AFP/Getty ImagesThe versatile Javi Martinez should be one of the most coveted players in the transfer market this summer.
Long before it became clear that Carles Puyol injured himself this past weekend against Espanyol and was going to miss Spain's attempt to retain the European championship, it was also clear that Athletic Club's Javi Martinez doesn't know his own value.
I was standing in the upstairs lounge of the Hotel Barcelo down in Malaga a couple of months ago, ahead of Spain's defeat of Venezuela, waiting for my interview with David Silva, when about 30 feet away, Martinez was giving a long, interesting interview to Marca newspaper. The chat was full of good humor and expressive hand gestures. He made a point of saying that while he hoped very much to still be playing for Athletic next season, if he was on the market this summer he thought he was worth "much less than 40 million euros."
It wasn't true then, and it is still less so now.
Ahead of the all-Liga Europa League final against Atletico Madrid on Wednesday night, Martinez profiles as one of the most improved, most impressive and most in-demand Spanish footballers.
Right now, for Martinez, it will feel life-defining whether he wins either the Europa League in Bucharest (trying to contain Atletico's remarkable Colombian scoring machine Falcao) or the Spanish cup final where he has the equally interesting task of blunting 72-goal (this season!) Lionel Messi.
However, given that Martinez is a young professional of only 23 years who made his La Liga debut in 2006, has already racked up 248 club appearances, won a World Cup and also two age-group European championships, the crucial things are (A) what he learns from these next couple of months and (B) what he chooses to do with his prodigious talent.
Barring injury, Martinez now profiles entirely differently compared to the last international tournament, as far as Vicente del Bosque is concerned.
So Martinez was clearly failing to read the runes when he told Marca's Miguel Angel Lara, "No way am I worth 40 million euros … much, much less than that. I'm not sure any footballer is worth that, still less me."
Martinez, who always modeled himself on Patrick Vieira, has done such an immense job of copying his French hero that a year ago he was already in a small category of players who have the technical skills to fit in any league in Europe. Plus, he has the physical presence required to dominate in England or Germany.
But another force of nature, Athletic Bilbao head coach Marcelo Bielsa, was already changing Martinez's worth by the time the Navarran was sounding all "I'm not worthy" in Malaga.
By trade, Martinez is a midfielder. He has the range of tackling, distributing, running from box to box and the ability to finish chances with boot or head, which puts him in the same class as Vieira as well as Roy Keane, Fernando Redondo, Edgar Davids and the much-underestimated Rino Gattuso (Daniele De Rossi, too). However, Bielsa's rather daring experiment of turning Martinez into a central defender has worked -- with ribbons on.
Suddenly, this is a guy who can switch (from game to game, or still more pleasingly, within a given match depending on circumstances) between dominating the center of the park, driving his team upfield or organizing a back three or four.
This is no small feat.
Given that Athletic Bilbao has such a small quota of top, top-class players in its squad, it's not a massive surprise that the team's challenge to finish in the Champions League positions has been undermined by the players' absolutely heroic work in the Europa League.
The Bucharest final will be the Basque club's 62nd competitive match of a season which started in mid-August, so the dividend of reaching two finals and developing as an XI that could defeat any club in Europe on its day has been a magnificent end product for brutally hard work.
Barring injury, Martinez will approach the European championship in Poland and Ukraine (where no doubt he will continue his leisure pursuits of practicing magic tricks and winning money at the card school) as a much more central figure. Puyol's injury, sustained Saturday against Espanyol when cartilage in his knee suffered damage similar to that which was repaired almost exactly a year ago, is both unfortunate and a little sad. This is a great warrior for the Spanish cause and a man whose football in recent weeks has been exemplary.
Barcelona's Brilliance

Graham Hunter is also the author of "Barca: The Making of the Greatest Team in the World," available as an e-book on the iPad, Kindle and Kobo. The printed version is available in paperback and can be ordered at BackPage Press.
If Spain is going to fight off interesting challenges from Germany, Netherlands and perhaps France for the title, Puyol would have been a standard-bearer. Perhaps Gerard Pique and Sergio Ramos present themselves as the most natural replacements, but Martinez has already played at central defense for del Bosque and, depending on both form and fitness, could easily do so again.
At the time of writing, Pique has had a pretty stormy past few months and it will be interesting whether his lack of football (thanks to being benched and then suffering a concussion) works in his favor because he is fresh or against him because del Bosque isn't impressed.
Ramos has been a big hit in central defense but his partnership with Pique is not massively developed for Spain, and it's fair to say that the players have had their issues while Barca and Madrid have been doing battle.
There is, at least, a gap for Martinez.
One small blemish remains for the Bilbao man. Having picked up two red cards in four years, he has suddenly been sent off three times in the past five months. That has partly been to do with his combative nature, partly harsh refereeing and partly the transition between midfielder and key defender. But it is something to eradicate.
As someone who knows and likes this guy, I hope he wins one, perhaps two medals before the season ends -- but above all that he does himself justice in the two major finals.
But he needs to be prepared. However those games and the European championship go, it's my view that any self-respecting football director at Real Madrid, Barcelona, Manchester United, AC Milan or Inter Milan should right now be making Martinez their absolute No. 1 priority. Smash the piggy bank, contact the overdraft manager, spend the cash.
What will young Javi do: Stay at Bilbao, flirt with other teams, make a move? His decision will determine the next stage of what promises to be a stellar career. I wish him good luck.
[+] Enlarge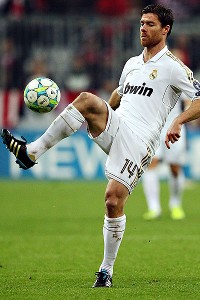 Christof Koepsel/Getty ImagesYou can't underestimate Xabi Alonso's importance for Madrid, but Mourinho & Co. need to find a suitable backup for next season.
Aupa Alonso
After that encomium, you might wonder how Martinez's transfer worth could possibly increase further. But Xabi Alonso is the key to that. Alonso is a regal, serious, disciplined player of immense talent who has won the World Cup, the European championship and, of course, the Champions League thanks to that ridiculously entertaining 2005 final in Istanbul. But no matter the glory of a knockout competition, the hard fact is that the players and coaches usually see things differently from journalists and fans.
Top professionals want to be champions of the country they play in. Cups are a sprint, and if you have an off day, you don't break the tape. Leagues are a marathon, tests of class, stamina, preparation and unlikely to favor the johnny-come-lately. Yet Alonso had finished runner-up in La Liga to Real Madrid when he was with Real Sociedad and runner-up to Manchester United while with Liverpool, and until now has been second-best to FC Barcelona in the league since joining Real for 30 million euros.
The level of satisfaction he must feel in not only breaking Barcelona's hegemony, outdoing his Spain midfield teammate Sergio Busquets (with whom he has had his brusque moments) and finally nailing that league winner's medal can only be imagined.
What's more, in La Liga only Iker Casillas and Cristiano Ronaldo have played more minutes than Alonso. He is the brains of the operation.
Often, Madrid has two in midfield where Alonso is usually left alone to police breakaways by the opposition. When he is absent from the starting XI, the Spanish champions can look a little like a headless chicken.
Graham Hunter

For more Graham Hunter, check out his columns on all things La Liga and Spanish soccer.
• History beckons for Barca
• No time for nostalgia
• Messi's rise to greatness
• Torres should play for Spain
• Real Madrid's title quest
• Madrid's Pepe problem
• Di Maria is odd man out?
• Jokers wild for Spain's national team
• Yellow Submarine on verge of sinking
• Ronaldo's rant, Atletico's despair
• Barca beats Madrid again
• Spain's three kings
• Ibra's book of nonsense
• Spain's balance of power
• Rossi's injury huge blow
• La Liga's ultimate late bloomer
• Messi chasing Barca record
• Laporta's fall from grace
• Barca's off-the-pitch battle
• Real Madrid's game plan

There is strategic intelligence at Madrid now and head coach Jose Mourinho's staff will be taking a sideways look at how much it has cost Xavi and Carles Puyol to be physically and mentally at the top of world football for so long. Alonso, who has a large, hard-to-maintain physique, turns 31 in November. So long as he is well, he'll remain a vital presence for this club.
Alonso and Esteban Granero play well together, but Mourinho doesn't see the younger Spaniard as Alonso's natural backup player. Nuri Sahin also seems far from that position.
Should Spain need to use Martinez next to Alonso this summer and should the partnership look fruitful (particularly given Martinez's multi-positional capability) it would be easy to see Madrid clearing the decks for a major offer for Javi. Whether Athletic would sell to traditional enemies, whether Martinez would fancy it … those remain imponderables.
But given Alonso's immense importance to Madrid, if Los Blancos desire to win their 10th European Cup next season, it would be the mark of greatness in a club to make absolutely sure that a proper backup is found should he be injured.
Moaning Mourinho
The job Jose Mourinho has done at Madrid deserves serious praise. But he does himself a disservice by continuing to carp about Pep Guardiola. In an interview with ABC newspaper this past weekend, the Portuguese again complained that there are some who put forward an image of perfection while he has never tried to hide his many faults.
Guardiola has always tried to muzzle his infamously intense aversion to defeat (a la Arsene Wenger, who noticeably hates losing and admits he was a far, far worse loser until he worked in Japan and developed a little bit of Zen) and not hide the fact that he can be temperamental.
The Catalan's tone is almost always measured and courteous; Guardiola often uses graceful words in defeat, and the fact that he has a boiling vat of anger inside him when things go badly is not a flaw. The fact that he attempts to subjugate his flaws is praiseworthy -- not something for Mourinho to criticize.
At the end of Guardiola's second season at Barca, he had won seven trophies -- Mourinho's second season at Madrid has yielded two.
Part of the reason Madrid is not contesting the Champions League final in Munich is that with the entire second half stretching in front of them, at home, and the scores balanced on aggregate, Mourinho asked his team to retrench a little, to subjugate attack for control. After Los Blancos' defeat on penalties, the coach admitted that his teams have never won a spot kick contest and, in retrospect, it looked like an important error of judgment not to order Madrid to go for the jugular of a Bayern side that defended erratically.
Nothing to hammer Mourinho for, just a point to refine for the future. Mourinho and Guardiola once swapped football theory, sat next to each other on the training-ground grass at Camp Nou, philosophizing about the game. Instead of treating Guardiola's excellence and superior track record over the past two seasons as a thorn in his side, Mourinho might benefit himself and his increasingly impressive team by stealing a page or two, even a paragraph or two, from the Guardiola manual.
His Catalan nemesis would have gone after Bayern, no question. Guaranteed victory with that tactic, no. But something better to think about for a Madrid coach who, like all of us, is not perfect.
Over to you, Special One.
Relegation
The points situation and the way in which the matches fall make it slightly less likely that, of all the candidates for the drop, it should be Granada that falls through the relegation trapdoor this weekend. But who, apart from their own fans, would complain if fate consigned them to the second division?
ESPN FC on Twitter
Don't miss a moment of the latest soccer coverage from around the world. Follow us on Twitter and stay informed. Join »
Even if it was an act of heinous stupidity for the Spanish authorities to appoint a Zaragoza-born referee to handle Granada's home tie with Real Madrid last weekend when Zaragoza is one of Granada's fiercest rivals in the relegation zone, the behavior of the club, its players and its fans during and after the 2-1 defeat was unpardonable.
Insults, death threats and a bottle thrown by striker Dani Benitez into the face of referee Clos Gomez are a stain not only on Spanish football but the game in general. This is intolerable. The club doesn't deserve automatic relegation for such ridiculous transgressions, but despite being punished, the club does not deserve our sympathy or understanding. It took them more than three decades to get back to the top level last May, but it turns out that, maturity-wise, that wasn't long enough.
Graham Hunter is a Barcelona-based freelance writer for ESPN.com who specializes in La Liga and the Spanish national team. You can reach him on Twitter at twitter.com/BumperGraham.
ESPN.com freelance columnist
Graham Hunter is a Barcelona-based freelance writer for ESPN.com who specializes in La Liga and the Spanish national team.
Soccer on ESPN.com

Follow Soccer on ESPN: Twitter
Coverage on ESPN FC
Euro 2012 in Review
MOST SENT STORIES ON ESPN.COM