The price of being Neymar
How much of a wanted man is Brazil's latest prodigy? Bidding starts at $90 million.
Updated:
May 17, 2012, 4:54 PM ET
By
Sebastian Garcia
| ESPN The Magazine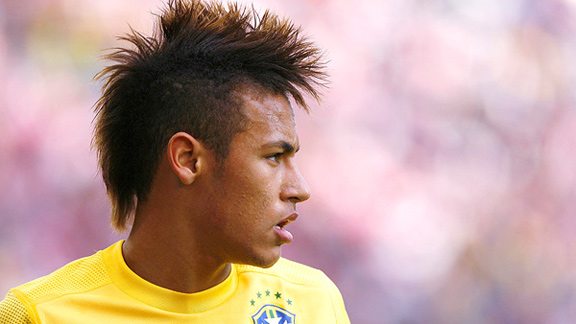 Maximiliano Failla/AFP/Getty ImagesNeymar, barely 20, has already earned 16 caps with Brazil.
This story appears in the May 28 World Football Issue of ESPN The Magazine. Subscribe today!
IN 16 GAMES OVER 80 YEARS, the U.S. has beaten Brazil exactly once -- in 1998. If the Yanks have any hope of beating the Canarinho in a May 30 friendly in Landover, Md., they know they first must find a way to stop Neymar da Silva Santos Junior. The 20-year-old striker has been salaried with Santos FC since he was just 15, and he already has surpassed the 100-goal mark, ranking in the top 25 all time in Brazil. Of course, that kind of talent comes with a price. European juggernauts from both the EPL and La Liga are intent on stealing him away, while Brazil is fighting to keep him home until it hosts the 2014 World Cup. Early this year, Neymar signed with Santos through the summer of 2014 for an estimated monthly salary of $868,000. And to gain his release, a team would have to shell out up to $90 million -- a price some clubs are still willing to pay. So to find out where his loyalties lie, we asked the boy wonder himself.
---
Big European clubs like Barcelona and Real Madrid offered you enormous contracts. Why did you stay with Santos?
Here at Santos, I've found happiness. The birth of my son, Davi Lucca [last August], helped a lot in making the decision to stay. I have my son, my family and my friends. I'm happy here -- and being happy at work is the best thing.
To pay your salary and compete with the offers from abroad, Santos is getting help from sponsors. Is this the start of a new era in Brazilian soccer?
It could be a step toward a new era. What Santos is doing with me, other clubs can do with their own players instead of letting every good player leave. Some stars are coming back to play in the Brazilian league, players who 10 years ago would have left the country or stayed in Europe.
Following Santos' loss to Barcelona at the Club World Cup in December, it was widely reported that you approached outgoing Barcelona manager Pep Guardiola about a possible future with the Spanish team. Is that true?
I have spoken with Guardiola. But it was nothing like it was reported or like what people imagine. It was more to give him my compliments and to speak with a guy you see only on TV. He's a very important figure in world soccer. I wanted to congratulate them and that's it. But to say I went there and asked him to do this or that is totally wrong. It was totally out of order. I see it more like a conversation between a fan and his idol.
If the Spanish newspapers are to be believed, one day you're signing for Real Madrid and the next for Barcelona.
I'm more than used to that already. According to them, I play for a different club every day.
Do you think you'll have to change your style if you ever play for a European club?
No. From the moment people start to notice your game, it is because you're doing things right and you've become an interesting player. If one day it happens and I go to play in Europe or somewhere else, I don't think I'll have to change my game. I have to stay true to who I am.
Follow The Mag on Twitter (@ESPNmag) and like us on Facebook.
SPONSORED HEADLINES
MORE SPORTS HEADLINES
MOST SENT STORIES ON ESPN.COM
ESPN The Magazine: May 28, 2012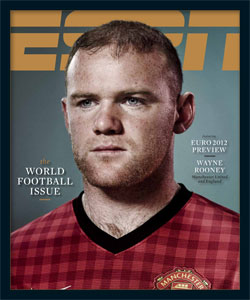 FEATURES IN THE WORLD FOOTBALL ISSUE

COLUMNS

MORE FROM THE WORLD FOOTBALL ISSUE