Liverpool's Kenny Dalglish fired
Updated:
May 16, 2012, 11:44 PM ET
Associated Press
LONDON -- The adulation of Liverpool fans wasn't enough to save "King Kenny."
Kenny Dalglish's lackluster second stint in charge of the fallen English power was halted by the club's American owners Wednesday after less than 500 days in charge.
Displaying its ruthless streak, Fenway Sports Group terminated the club great's contract after realizing he was unlikely to replicate his trophy-laden first spell with the team.
Ubha: What's Next for Liverpool?

With Kenny Dalglish sacked, Liverpool needs to find a new manager as well as retool its squad and find a way to afford new players, writes Ravi Ubha. But don't expect the Reds to recover their former glory anytime soon. Story
Dalglish produced the last of Liverpool's 18 English league titles before quitting a year later, in 1991. His expensively overhauled 2011-12 team ended the season in eighth place, underperforming on the field and damaging the club's reputation after a racism incident involving forward Luis Suarez.
Winning the League Cup to end Liverpool's six-year trophy drought and reaching the FA Cup final wasn't convincing enough, however. The decision to dismiss him was taken after Dalglish flew to Boston this week for an end-of-season review with the ownership group, which also runs the Red Sox. After the 2011 baseball season, the Red Sox replaced manager Terry Francona with Bobby Valentine.
"Results in the Premier League have been disappointing, and we believe to build on the progress that has already been made we need to make a change," chairman Tom Werner said. "We are committed to delivering success for our supporters and our ambition remains resolute to return this great club to the elite of England and Europe, where it belongs."
[+] Enlarge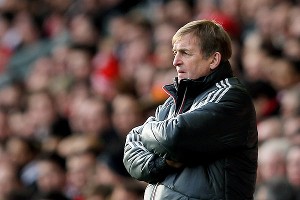 Alex Livesey/Getty ImagesKenny Dalglish rescued Liverpool from possible relegation in 2011, but he was unable to push the team to a top-four finish this season.
Liverpool came within four points of winning the league in 2009 under Rafa Benitez, who delivered a fifth European Cup title in 2005 and also led the team to the 2007 Champions League final.
Dalglish won eight league titles as a player and coach from 1977 to 1990. He returned to Anfield shortly after the Fenway takeover to replace Roy Hodgson in January 2011, with the club hovering above the relegation zone.
After lifting Liverpool from its perilous position to sixth place, Dalglish was given a three-year contract at the end of the 2010-11 season.
"Kenny came into the club as manager at our request at a time when Liverpool Football Club really needed him," Werner said. "He didn't ask to be manager; he was asked to assume the role. He did so because he knew the club needed him. He did more than anyone else to stabilize Liverpool over the past year and a half."
There were moments of controversy, though.
Dalglish was widely condemned for initially backing Suarez, who served an eight-match ban for racially abusing Manchester United left back Patrice Evra. Dalglish and his players wore T-shirts featuring the Uruguayan's picture in a show of solidarity that angered anti-racism groups.
Dalglish, 61, is the latest senior figure to leave Anfield during the Fenway overhaul, following the exits in the past month of director of football Damien Comolli, head of sports medicine Peter Brukner and communications chief Ian Cotton.
Too Little, Too Late
Kenny Dalglish led Liverpool to the Carling Cup and the final of the FA Cup. But the team's second-half performance doomed his chance of returning.
| | 1st half | 2nd half |
| --- | --- | --- |
| W-L-D | 9-3-7 | 5-11-3 |
| Pct. of points won | .596 | .316 |
| Goals | 24 | 23 |
| Goals allowed | 15 | 25 |
Despite about $200 million being spent on players during Dalglish's reign, the Reds ended the season with their fewest points in the Premier League era. Liverpool finished behind crosstown rival Everton for the first time since 2005 and only the second time since 1987.
"Whilst I am obviously disappointed to be leaving the football club, I can say that the matter has been handled by the owners and all concerned in an honorable, respectful and dignified way and reflects on the quality of the people involved," Dalglish said.
"I said when first approached about coming back as manager that I would always be of help if I can at any time, and that offer remains the same," he said.
Owner John Henry insisted that Dalglish "will always be a part of the family at Anfield."
"Kenny will always be more than a championship-winning manager, more than a championship-winning star player," Henry said. "He is in many ways the heart and soul of the club. He personifies everything that is good about Liverpool."
Liverpool has three months until the new season begins to replace Dalglish, and 38-year-old Spanish manager Roberto Martinez has emerged as a strong contender after impressing with limited resources at Wigan.
"Our job now is to identify and recruit the right person to take this club forward and build on the strong foundations put in place during the last 18 months," Henry said.

Copyright 2012 by The Associated Press
SPONSORED HEADLINES
MORE SPORTS HEADLINES
MOST SENT STORIES ON ESPN.COM
Soccer on ESPN.com

Follow Soccer on ESPN: Twitter
Coverage on ESPN FC
Euro 2012 in Review