Commentary
Will you root for Chelsea or Bayern?
Updated:
May 17, 2012, 2:03 PM ET
By
Roger Bennett
| ESPN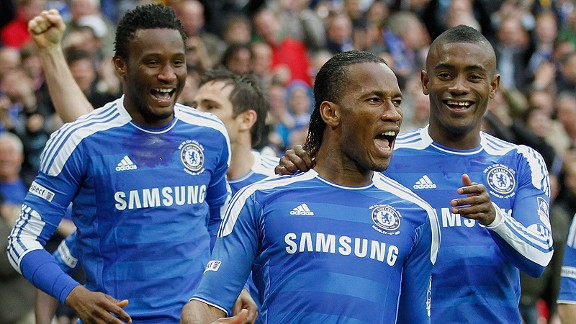 Ian Kington/AFP/Getty ImagesFor neutrals, deciding who to pull for in the Champions League final -- Chelsea or Bayern -- isn't so easy. It's a torturous proceed, in fact.
I have cheered for the Germans just twice in my life. Once when my seventh-grade history class learned how Austria and Prussia joined Britain and Russia to put Napoleon back in his box after his return from exile in 1815. And a second time when Manchester United faced Bayern Munich in the 1999 Champions League final.
I watched that game in Dupont Circle in Washington, D.C., at my local bar, which was overflowing with English Premier League fans. When Bayern's dead-ball specialist Mario Basler spanked a free kick past Peter Schmeichel in the Manchester United goal after just six minutes, I sprang off my barstool, punched the air and emitted a belly laugh that was James Earl Jones-deep in tenor.
To my horror, the celebration was a solo affair, met by crickets. The bar man, a gregarious United fan, broke the silence by publicly dressing me down. "Roger, you're English! How could you?" he exclaimed, adding, with a hint of jingoism, "Besides, they're German. Does war mean nothing to you?"
The bar was too packed and the game too gripping for me to debate the point. Suffice it to say, when United summoned two stunning goals in injury time to pull off a miracle victory (now known, in modern parlance, as "Manchester City-esque") I was as crushed as if I had been Bavarian, born and bred.
I will admit to experiencing a sense of unease in the wake of United's victory. A brief and rare period of self-examination followed in which I attempted to understand what had possessed me to renounce the land of my birth and emotionally invest my support in a foreign power, albeit for 90 minutes. I forget what conclusions I drew at the time, but any team featuring Gary Neville, David Beckham, Andy Cole and the Whitewalker, Jaap Stam, must have been all too easy to despise. If they had lined up against a "Historic Despots XI" featuring Vlad the Impaler in goal, Genghis Khan in the holding midfield role and King Joffrey slotting in the hole behind Attila the Hun, I would have cheered for the guys with blood on their hands.
On the eve of this Saturday's Champions League final, I am faced by the same predicament. Bayern Munich stars again, this time against the relentless Chelsea. Thirteen years later and, theoretically, 13 years wiser, I must define a rooting interest once again -- a task complicated by soccer support tending toward the emotional than rational, and is often all the more powerful for being inarticulate.
Bayern chairman Karl-Heinz Rummenigge made an early and bold claim that his team will be the neutrals' choice, proclaiming, "There are many non-Bayern fans who will be keeping their fingers crossed for us." But if you are an English Premier League fan of a team other than Chelsea, by what criteria do you go about making a decision?
[+] Enlarge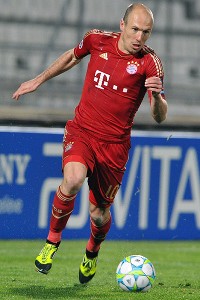 Gerard Julien/AFP/Getty ImagesChelsea might not be the most likeable team, but Arjen Robben and Bayern Munich have their share of detractors, too.
1. If you believe in fairytales ...
Bayern impressed in outlasting Real Madrid on penalties after disposing of Basel and Marseille in convincing fashion, but Chelsea's Champions League odyssey has been carved from the same lore as St. George and the Dragon. Roberto Di Matteo inherited a confused squad low on confidence after the failed Andre Villas-Boas experiment. The collective levels of courage and determination the players displayed to come back from the dead against Napoli were awe-inspiring. Watching the muscle and resilience they used to vanquish Barcelona may have been akin to looking on helplessly as Gargamel defenestrated Smurfs, but the admirable qualities were undeniable.
For the final, Chelsea must go into the cauldron of Bayern's home Allianz Arena, crippled by suspensions to John Terry, Branislav Ivanovic, Raul Meireles and Ramires. One more backs-against-the-wall performance will win it all.
Conclusion: If you love fairytales, albeit of the Brothers Grimm variety, Chelsea is the team for you.
2. If you like to wrap yourself in flags ...
The drama of the Premier League is driven by the intense rivalries forged over decades of competition, but once the teams cross the English Channel, there is a school of thought that suggests regional rivalries are trumped by national pride. My partner in the "Men In Blazers" podcast, Michael Davies, is the living embodiment of this perspective. Few men are prouder to carry the Queen's Crest on their passport. Few believe more ardently that the spleen and bile spewed within the Premier League on a weekly basis should simply fall away when there are foreigners on the other side of the ball.
Conclusion: If you are an Anglophile or believe the sun is yet to set on the British Empire, Chelsea, as an English Premier League representative, is playing for God and Country.
3. If you are a Spurs fan ...
Your team's roller-coaster Premier League season was sufficient to grab fourth place. You have one hand on the EPL's fourth and final Champions League place, which only a Chelsea victory can rip from your fingers.
Your choice is simple: Scream for Bayern as if you were at a Rammstein concert.
4. If in Arsene you trust ...
Arsenal fans view the world through the narrow prism of their North London rivalry with Tottenham Hotspur. Most hunger for the Chelsea victory that will deprive Spurs of their coveted Champions League spot, dooming them to the footballing circle of hell known as the Europa League. But a number of particularly sadomasochistic Gunners will pine for a more complex scenario, as the notion of Chelsea becoming the first London team to lift the Champions League trophy would be too much for their sensitive constitutions to bear.
Conclusion: Cheer for Bayern and hope that Spurs propensity to self-harm leads them to implode and suffer a speedy elimination in the Champions League qualifying round.
5. If you are handcuffed by a sense of morality and value ...
Outside of the Champions League, Chelsea's season has been stained by incident and controversy: charges of racism against Terry and the subsequent barracking of QPR's Anton Ferdinand, whose only crime was to be the alleged target of racist abuse; the ongoing saga of on-again, off-again prematch handshakes; the booing of Liverpool's minute's silence at Wembley. All have been well-covered. All can make Chelsea hard to empathize with.
But football is a game of the gray, not of black and white. Bayern Munich, Germany's powerhouse, may be adored by its fans, but elsewhere in the Bundesliga it is a roundly despised for its Evil Empire tendency and dubbed "FC Hollywood" or "Lucky Bayern."
Conclusion: This one may be a Sophie's Choice. Find something to root for that can sustain your interest in the game, like a meteor strike or a Hellmouth to reveal itself and swallow up the damned.
6. If you are Timothy Geithner or Suze Orman or enjoy fiddling around on TurboTax ...
The term "fiscal responsibility" is not often synonymous with global soccer, but the Guardian's David Conn has articulated the case that Bayern deserves praise for its collective ownership structure. Eighty-two percent of its shares are possessed by 130,000 members, ensuring a fan-friendly culture in which ticket prices are kept low, especially for young supporters. Chelsea's ownership structure could not be more starkly different. Step forward one Russian oligarch, Roman Abramovich.
ESPN FC on Twitter
Don't miss a moment of the latest soccer coverage from around the world. Follow us on Twitter and stay informed. Join »
If the technical details of ownership structure leave you cold, there is one economic statistic that may yet register. Champions League glory is projected to be worth more than $178 million for the winners in terms of broadcast revenue and increased commercial potential. A treasure trove sufficient to enable Chelsea to rearm for the 2012-13 season by snapping up Napoli's Edinson Cavani, FC Porto's Hulk and Everton's Marouane Fellaini.
Conclusion: If you are a dollar-conscious fan of one of Chelsea's rivals hoping to challenge for the Premier League title next year, pray for Bayern.
The $178 million argument is sufficient to send me scurrying to storage to dust off the lederhosen. Bayern will be my team. A reality that has been sugarcoated by its recent, remarkable revelation of a secret anti-Nazi history.
So come kickoff, I will roar for Arjen Robben and Franck Ribery to exploit the width with which they bypassed Real Madrid; beseech Toni Kroos to control the game with his precision passing; urge the clumsy yet deadly Mario Gomez to shin a couple tricklers over the line from point-blank distance; and hope to end the game singing, "Gibt es denn was Schöneres als einen Bayern-Sieg?" ("Is there anything nicer than a Bayern victory?")
A sentiment I will believe with all my heart, for one night only.
Roger Bennett is a columnist for ESPN, and with Michael Davies, is one of Grantland's "Men In Blazers." He can be reached at @rogbennett.
SPONSORED HEADLINES
MORE SPORTS HEADLINES
MOST SENT STORIES ON ESPN.COM
Soccer on ESPN.com

Follow Soccer on ESPN: Twitter
Coverage on ESPN FC
Euro 2012 in Review