Commentary
U.S. prepares for critical matches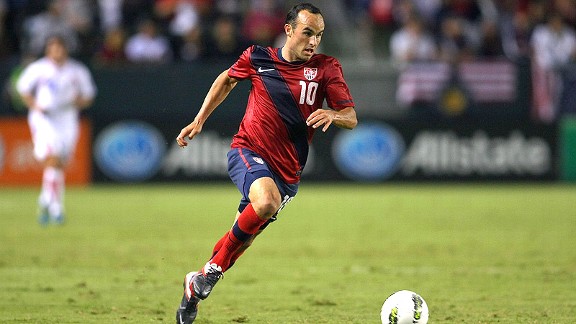 Victor Decolongon/Getty ImagesOnly twice in his 11-year international career has Landon Donovan's production been lower than it was in 2011. What does the future hold?
The time for experimentation may be over for U.S. national team manager Jurgen Klinsmann, but that doesn't mean there aren't plenty of questions to be answered as the team prepares to face Scotland on Saturday in Jacksonville, Fla.
Klinsmann is calling the upcoming stretch of games -- friendlies against Scotland, Brazil and Canada, along with World Cup qualifiers against Antigua & Barbuda and Guatemala -- a "five game tournament," the better to simulate the ebbs and flows of the real thing two years from now. That still leaves Klinsmann with considerable wiggle room as to how his lineup will evolve during this stretch.
"If Klinsmann comes out with guys who are on the fringes of the starting lineup, then we know he's treating Brazil as the game," said former U.S. international and current ESPN analyst Taylor Twellman. "But he keeps talking about this five-game tournament. Does that mean against Scotland, Brazil and Canada you go with all starters and then the World Cup qualifiers? I've played in Guatemala. That ain't easy. So it will be interesting to see how Klinsmann treats the three friendlies."
But either way, events have conspired to throw a wrinkle or two into Klinsmann's plans.
Clint Dempsey's injured groin likely means he will take no part in the Scotland match, thus denying once again the opportunity to see him and Landon Donovan on the field together for the first time since last summer's Gold Cup. With Dempsey ailing, there is also the issue -- for about the millionth time -- of where to put Donovan on the field. His previous, albeit limited, appearances under Klinsmann saw him stationed out wide, only to look much more effective when moved to more central locations late in matches. That said, with numerous published reports highlighting Donovan's doubts about how much longer his career will last, his role is an open question.
There's more. The back line looks less settled than Klinsmann would no doubt prefer. In the middle, it seems likely that Carlos Bocanegra will partner with Oguchi Onyewu, although Geoff Cameron's strong impression during camp could see him get some time on the field. But with Timothy Chandler going into his now annual -- and perhaps permanent -- hibernation away from competitive internationals, the left back spot is up for grabs again. Edgar Castillo has been mentioned as a possible replacement. And while he's coming off an outstanding season with Mexican side Club Tijuana Xoloitzcuintles, it remains to be seen if the defensive deficiencies he previously has shown at international level have been improved upon. A more logical choice would be Hoffenhiem's Fabian Johnson, especially coming off his solid performance against Italy.
[+] Enlarge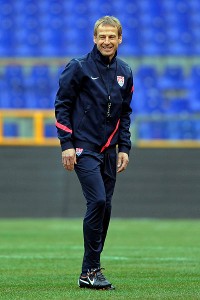 Claudio Villa/Getty ImagesJurgen Klinsmann is calling the upcoming stretch of games -- friendlies against Scotland, Brazil and Canada, along with World Cup qualifiers against Antigua & Barbuda and Guatemala -- a "five game tournament."
"What's very intriguing about Johnson is, for a young player, how composed he is in tight spaces," Twellman said. "He was under pressure a lot against Italy and always seemed to make that 5-to-6-yard pass."
Questions abound in midfield as well, where Michael Bradley's Man of the Match performance against Italy has raised the issue of whether he'll be deployed as the No. 6 or reprise the right midfield role he had against Slovenia last November in which he added plenty to the attack while also contributing to the defense. Up top, the old one striker versus two conundrum remains to be settled, especially with Jozy Altidore not arriving into camp until May 28.
"Against Slovenia, the team played with two strikers and they looked deadly," Twellman said. "That was the team Jurgen has been talking about."
The U.S. will no doubt be hoping that things become clearer against a Scotland side missing many of its top players. Manchester United midfielder Darren Fletcher remains sidelined by illness, while James Forrest and James Morrison are out injured as well.
Scotland's understrength state means that the U.S. will be expected to carry the game. While this fits with the philosophy that Klinsmann espoused when he was hired last July, it's one that hasn't always manifested itself on the field. In this instance, not only does it require the Americans to find ways to unlock what will undoubtedly be an organized Scottish defense led by Wigan center back Gary Caldwell, but they'll need to be mindful of staying organized themselves, the better to prevent counterattacks when the ball invariably turns over.
"One of the things we've emphasized this week is moving forward and backward as a group, as a unit," U.S. defender Steve Cherundolo said. "When we're at the opposite end, we need to move our back line up, and vice versa. When the game gets stretched out and we're losing guys forward and losing guys back, that's not what we want to see. We want to see this group moving as a unit."
ESPN FC on Twitter
Don't miss a moment of the latest soccer coverage from around the world. Follow us on Twitter and stay informed. Join »
Just who will comprise that unit remains the big question, however. At which point it's expected that Klinsmann's preferred approach will be crystallized at last.
Jeff Carlisle covers MLS and the U.S. national team for ESPN.com. He is also the author of "Soccer's Most Wanted II: The Top 10 Book of More Glorious Goals, Superb Saves and Fantastic Free-Kicks." He can be reached at eljefe1@yahoo.com.
Soccer
Jeff Carlisle covers MLS and the U.S. national team for ESPNsoccernet.
Soccer on ESPN.com

Follow Soccer on ESPN: Twitter
Coverage on ESPN FC
Euro 2012 in Review