Commentary
Can U.S.'s new style work vs. Brazil?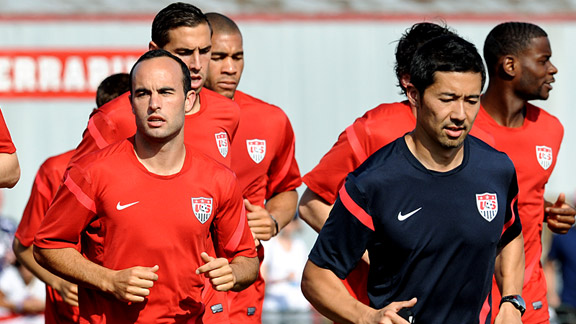 Nicholas Kamm/AFP/GettyImages)Scotland was one thing, but now the U.S. is preparing to face Brazil. Will the Americans' new high-tempo, high-pressing game work again?
Last Saturday, the U.S. men's national team at last looked capable of implementing the concepts that manager Jurgen Klinsmann has been preaching since he took over last July: playing the ball out of the back, pressing high up the field and playing at a high tempo. The payoff came in the form of a 5-1 thrashing of Scotland.
But as good as the result was, it came with a huge caveat, namely that the opponent already had one eye on its summer vacation. That will be far from the case against a Brazil side whose ability to implement the same concepts is akin to breathing. Yet when the two teams meet Wednesday at FedEx Field in Landover, Md. (you can watch the match on ESPN2 and ESPN3 at 7:50 p.m. ET), the U.S. will aim to execute the same concepts. For that reason, this particular encounter against Brazil has a bit more anticipation attached than those in the past.
"The game is important, not only for Klinsmann but also for the team to recognize that this new way of playing can be successful even against the world's elite," said former U.S. international and current ESPN television analyst Alexi Lalas. "That's an important experience and message for them to have in terms of buying in. That would be huge in terms of the team's evolution."
In previous matches, the question wasn't so much could the U.S. hang with the Selecao, but for how long. And would the inevitable defend-and-counter approach result in an upset like the one the Americans nearly pulled off in the 2009 Confederations Cup final. Such is the nature of things when a team boasts the level of talent that Brazil has.
[+] Enlarge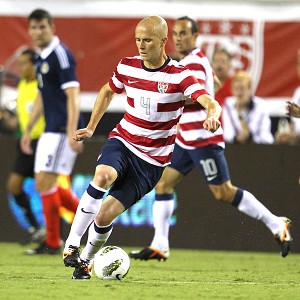 AP Photo/Alex MenendezMichael Bradley could be one of the keys to cutting off the supply line to Brazil's Neymar.
This time, the U.S. approach will be less predictable. Without question, pressing Brazil to the degree that was done against Scotland would be tactical suicide, given the Selecao's ability to play its way out of pressure situations. The spaces behind the U.S. defense would be ruthlessly exploited. But the Americans have shown under Klinsmann that they aren't afraid to try to pick their spots against talented opponents like Belgium, France and Italy. Taking a similar approach against Brazil would be an indicator of just how much progress the team has made.
"We have to see how far we can take it into their half, if it's possible, and how often we can do that," said Klinsmann at Tuesday's press conference. "It has a lot to do with discipline; it has a lot to do with sacrificing [for] your teammate in closing down gaps. Maybe the first one who goes into a one against one battle will lose that battle, but the second guy's then there and picks it up."
Doing so will require a greater degree of recognition and discipline. While this Brazil team is young -- defender Thiago Silva, with his 26 caps, counts as the team's most experienced player -- it still boasts an impressive array of attacking talent as well as the added motivation of preparing for the Olympics. AC Milan's Alexandre Pato is raring to find his form again after an injury-plagued campaign, and Porto striker Hulk -- with his otherworldly combination of quickness, power and finishing -- announced his arrival on the international scene with his first two international goals in last weekend's 3-1 win over Denmark.
Yet the brightest star Brazil will have on display is Neymar. It was 21 months ago that the Santos attacker scored against the U.S in his international debut in what would prove to be a comfortable 2-0 win. The key to containing him this time around, if such a thing is possible, would appear to lie with midfielders Michael Bradley, Jermaine Jones and Maurice Edu. Klinsmann has shown himself to be tactically flexible during his time with the U.S., and there's no guarantee that this trio that performed so well against Scotland will be allowed to reprise its role against Brazil. The U.S. manager could do a lot worse than to persist with the same personnel, and all three players excel on the defensive side of the ball in terms of closing down space and clogging passing lanes, the better to cut off the supply line to Brazil's most dangerous player.
"Neymar is built in the mold of most of the Brazilian players -- really technically gifted, fearless, and likes to run at defenders," Edu said. "We have to just stay disciplined and organized, whether that means the midfielders dropping into support of the fullbacks, or making sure we have cover for one another, just as long as we stay compact and limit the space he has to attack, it will definitely give us a chance. We've seen him now, and we have knowledge of what his game is like."
As for the U.S. attack, it seems unlikely that the full complement of attacking options will be available. Jozy Altidore just joined the team Monday after his club, AZ Alkmaar, refused to release him earlier. Clint Dempsey sat out Saturday's match with a groin strain, and while he has returned to training, prudence demands that he be limited to a substitute's role with two World Cup qualifiers looming.
ESPN FC on Twitter
Don't miss a moment of the latest soccer coverage from around the world. Follow us on Twitter and stay informed. Join »
The silver lining in this case is that Klinsmann is spared having to sit a player such as Jose Torres, who looked sharp combining in the attacking third with the likes of Terrence Boyd and Landon Donovan. His ability to keep possession will also come in handy against a side that is used to hogging the ball. If the likes of Torres, Donovan, Bradley and Jones can tilt the possession battle more in the Americans' favor, a result isn't out of the question. And that would be progress indeed.
Additional reporting by Luke Cyphers.
Jeff Carlisle covers MLS and the U.S. national team for ESPN.com. He is also the author of "Soccer's Most Wanted II: The Top 10 Book of More Glorious Goals, Superb Saves and Fantastic Free-Kicks." He can be reached at eljefe1@yahoo.com.
Soccer
Jeff Carlisle covers MLS and the U.S. national team for ESPNsoccernet.
Soccer on ESPN.com

Follow Soccer on ESPN: Twitter
Coverage on ESPN FC
Euro 2012 in Review
MOST SENT STORIES ON ESPN.COM