Commentary
Eric Wynalda's sights set on an upset
[+] Enlarge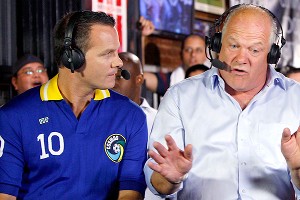 AP Photo/Kathy WillensEric Wynalda, left, insists it's nothing personal when his amateur side Cal FC takes on the Portland Timbers in the Open Cup.
The crazy uncle is about to crash the family reunion. The only question now is: How big a scene will he make?
In this case, the gathering is the Lamar Hunt U.S. Open Cup, a nationwide, single-elimination soccer tournament that involves professional and amateur clubs alike, similar to England's FA Cup. And the crazy interloper is none other than former U.S. international Eric Wynalda.
On Wednesday, the amateur side Cal FC, run by Wynalda, will take on the Portland Timbers of MLS in the Open Cup third round. The game represents a rare opportunity for the outspoken broadcaster to tweak the nose of the system that has shunned him for years. Ever since retiring as a player in 2002, Wynalda has been very open in his attempts to landing a coaching job, be it in MLS or within the U.S. national team setup, yet no permanent offers have ever materialized. As a consequence, Wynalda teamed up two years ago with Mexican third-tier outfit Murcielagos FC as its president of international development and has run Cal FC in part as a means of identifying talent that could be sent south of the border.
Yet Wynalda insists he isn't out for revenge of any kind, nor does he have anything to prove.
"For whatever reason, everybody has made this personal, and it isn't," he said via telephone. "It never was. Cal FC was founded for the sole purpose of helping players achieve some of their potential. This wasn't ever a premeditated thing, 'Let's enter the Open Cup and show everybody up.' It was, 'Let's give these kids an opportunity to make a name for themselves.' That's it."
That doesn't mean he wouldn't relish a victory by his upstart club, which plays in Oxnard, Calif., in what is called the Gran Liga, roughly equivalent to the fifth tier of U.S. soccer. It currently occupies ninth place in the 12-team league, behind the likes of Positive Animals and United Oxnard, training just once or twice a week and sometimes not at all.
"Everybody has jobs," Wynalda said. "They have lives."
But Wynalda has managed to piece together a team of former pros and ex-collegians that has twice beaten sides higher up the U.S. soccer pyramid, including a 4-0 pasting of USL-PRO's Wilmington Hammerheads.
ESPN FC on Twitter
Don't miss a moment of the latest soccer coverage from around the world. Follow us on Twitter and stay informed. Join »
"There's two things we go by," Wynalda said. "One, nobody is faster than the ball. Two, it's not a time to show off, it's a time to show up. They all have the ability to show off, but they wait for it until it's absolutely necessary to do something fancy, if you will. We don't even play a system. We are a puzzle that works. We play the game we're in."
The team's creative force is former UC Santa Barbara midfielder Danny Barrera, who was recently playing in Serbia for Spartak Zlatibor Voda. Covering his back is El Salvador U-23 international Richie Menjilvar, who plays collegiately at Cal State Bakersfield. At outside back is former L.A. Galaxy defender Mike Randolph.
Getting players with such diverse backgrounds to play with one cohesive style seems near impossible, but Barrera insists that is precisely what has taken place. A shared hunger, it would appear, can also be a galvanizing force.
"The atmosphere that the team is giving off and the way everyone is vibe-ing is incredible," Barrera said. "It feels like all of these players are good enough for the next level. Some of them have been knocked down for maybe their size, or not even given a chance at all because they play the game differently, they think differently. But what's awesome about this team is we all think alike. We're all on the same page, everyone plays the same style, we're all very technical, clever players."
And those players are itching to get a chance to show what they can do.
"Some of our guys have been just really unlucky," said Randolph, who started his pro career with the Timbers back in 2006. "You get to a combine and coaches have to make decisions on hundreds of people. It's hard to get noticed unless you're Messi. But this is the perfect time to be noticed for the individuals that we are, and we have shown in the last couple of games that we can play."
There is a precedent for amateur sides doing some damage in the Open Cup. Back in 2006, Dallas-based Roma FC progressed to the fourth round, beating MLS and USL opponents along the way before falling to the L.A. Galaxy.
But duplicating that feat will be a tall order. Portland may be hovering near the bottom of the Western Conference, but it has begun to turn things around in recent weeks, going 2-1-3 in its past six league games. And the team still possesses quality players such as striker Kris Boyd, the versatile Jack Jewsbury and midfielder/forward Darlington Nagbe.
Of course, MLS sides typically use Open Cup games as a way of giving fringe players a chance to get in a competitive game, but Timbers manager John Spencer insisted on Tuesday via telephone that he was preparing for the match "the exact same way we'd approach an MLS game." Spencer said he was watching video of Cal FC's previous Open Cup match and hinted that he'll put most of his first-choice lineup on the field.
"We, as a staff, aren't sitting here having margaritas, not worried about this game," Spencer said. "[CFC] has ex-professional and young, hungry players looking to make a name for themselves.
"If you approach the game in the correct manner, you will be a heavy favorite. If you don't, you'll find yourself in a difficult situation and making the game more difficult than it should be."
That will be precisely Cal FC's goal come Wednesday. And even if they can't pull off an upset, it's possible that just making a lasting impression could lead to a huge payoff.
"All of these guys have been trialists, and they've been told that they aren't good enough," Wynalda said. "I just have a different opinion of them. Maybe they don't fit into the system or the idea of the coach where they tried out. That doesn't mean they're not good soccer players. I just felt that there were some players that maybe needed a second chance in finding their way."
The same could be said for the coach as well.
Jeff Carlisle covers MLS and the U.S. national team for ESPNsoccernet. He is the author of "Soccer's Most Wanted II: The Top 10 Book of More Glorious Goals, Superb Saves and Fantastic Free-Kicks." He can be reached at eljefe1@yahoo.com.
Soccer
Jeff Carlisle covers MLS and the U.S. national team for ESPNsoccernet.
Soccer on ESPN.com

Follow Soccer on ESPN: Twitter
Coverage on ESPN FC
Euro 2012 in Review
MOST SENT STORIES ON ESPN.COM