Commentary
Playing with house money
Heculez Gomez has seen his unique and fractured career come full circle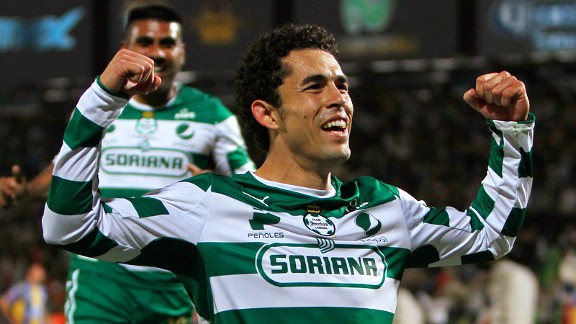 Armando Marin/Jam Media/Latin Content/Getty ImagesHerculez Gomez said his unusual career has made him mentally stronger.
WASHINGTON, D.C. -- He knew not to count his chickens before they hatched. If nothing else, he knew that. Learned it the hard way. After a two-year absence from the U.S. national team, which had followed another three-year absence, Herculez Gomez was pretty sure he was going to be the starting striker against Brazil on May 30. After practice the day before, coach Jurgen Klinsmann took Gomez aside and told him how pleased he was with his performance, and to "take advantage of tomorrow."
That's when Gomez figured he was getting another chance. At age 30, the only American to ever lead a foreign league in goals -- the Mexican league, no less -- was to earn just his 10th cap. He did start, at the top of a 4-3-2-1 formation. Before his conversation with Klinsmann, he had not expected this, especially since he had come into camp eight days after most of his teammates.
"Absolutely not," Gomez said the day after the U.S.'s 4-1 loss. "I knew coming in that it would be difficult to get into these types of games. I knew at some point [Klinsmann] would test me but I didn't think it would be against Brazil, let alone as a starter, let alone the lone striker role."
Gomez had learned not to expect anymore.
"It's been a rollercoaster," Gomez said of his career, understating the facts considerably. "It's just been so many highs and lows. You can't script it. It's just been one of those crazy stories."
Gomez had just begun his third act as a U.S. national team striker. He played two games in 2007 but made his debut not against Panama or Cuba, but against Argentina at the Copa America, he bemoans. Upon his return to his club, he tore an ACL and didn't get another call to the national team for three years. Ahead of the 2010 World Cup, Bob Bradley, combating a dire shortage of serviceable strikers called Gomez back. He scored in a send-off game against the Czech Republic, made the squad, scored again in a preparation game against Australia and played in three of the U.S.'s four games in the tournament. He made another appearance against Brazil on Aug. 10, 2010. And then his phone stopped ringing again.
In the meantime, he never stopped scoring down in the Mexican league. Following his first season, when he scored 10 goals in 15 games for Puebla and shared the 2010 Clausura lead for goals, he scored five league goals for Pachuca in 2010-11 and a dozen in 2011-12, which he split between Estudiantes Tecos and Santos Laguna. Several times he went on scoring benders, such as the 11 goals he scored in eight games this spring. But the call never came.
"I didn't see myself as part of the national team anymore because I hadn't been called in in two years," Gomez said. "There had been no communication for two years, so it was impossible or unrealistic for someone in my position to actually think they were part of something like that."
Finally, last month, just as Gomez had given up hope, he got yet another call. So it's a good thing he didn't quit altogether, then.
"I almost gave up the game in 2004," Gomez said. "I was cut by a coach from the Los Angeles Galaxy, who told me soccer wasn't in my future. And Andy Herzog, who is one of the assistant coaches [on the national team] was on the team that year and he goes, 'Tell me again why you were cut?'
"This soccer world goes around in circles. Who knows why it happens, and it all happens for a reason. I believe in cause and effect. But it all ties in, it's weird."
You can't blame Gomez -- who was born to a Mexican family in California and grew up in Las Vegas -- for resenting the way his career has unfolded, for the way he went undrafted and unsigned in the U.S., headed to Mexico and then washed out with Cruz Azul and then Aguilas. The way he clawed his way to MLS via the San Diego Gauchos of the third division, getting picked up by the Galaxy. How the Galaxy loaned him back to the minor leagues, where he broke his foot playing for the Seattle Sounders, and later cut him. How he had to join an indoor league team to force his way back to the Galaxy. How he scored 18 goals for the double-winning Galaxy and was voted team MVP on a mere developmental contract. How he got moved to the midfield, and then traded to the Colorado Rapids, where he got hurt again. How he was traded to the then-Kansas City Wizards, who offered him an insulting $70,000 a year for four seasons when his contract ran out, forcing him to scramble for a team and head down to Mexico.
But all he can do is accept and embrace that it has made him a good story.
"Everything I've experienced has made me who I am," he said. "So I have to be grateful -- grateful to the coaches who said I wasn't good enough, or for the times I was making 50 bucks a game, for the developmental contract I had in L.A. for $800 a month for three years in a row."
Weirdly, he's even sort of grateful to Kansas City.
"They pretty much low-balled me and said, 'Take it if you want, and if not go elsewhere,'" Gomez recalled. He smiles. He makes more in a month now than he would have per year if he'd taken their offer.
"At that point, the way they treated me was like being punched in the gut," Gomez said. "For two weeks I had no options and sent videos out to contacts I had in Mexico. And one of those videos hit Puebla and they offered me a crap contract, but it was a way to get my foot in the door so I took it."
It was a six-month deal that "backfired," Gomez said, because "after six months I'm goal-scoring champion and now I have some offers. But before that point I thought, 'Maybe this is as good as it's going to get for me.' I didn't think going to Puebla things would happen for me like that. I definitely thought it might be a one-and-out type of deal."
"

My sophistication of the game is a product of the failures I've had and my ability to learn from those.

"

-- USMNT striker Herculez Gomez
Your struggles only become romantic when you've moved onto an indescribably better place and can reminisce fondly. When you've come to realize that you've pushed through so many ceilings and exceeded your potential to the point where you can only marvel at your own good fortune.
"I'm playing with house money, and I've been playing with house money for a while," Gomez said. "I don't think anybody in their right mind would look at my resume without saying, 'What? Really? This kid? He's done all this?'
"I feel like I'm to the point right now where I've been so blessed with the experiences I've had, the opportunities I've had that everything else is just extra. It's a cherry on top to represent my country; it's a cherry on top to start against Brazil."
His circuitous career has benefited his game.
"Everywhere I've gone I've had to be a different player and that's helped me tremendously," Gomez said. "When I was in L.A., I was all speed and shot. I really lacked a lot. Technically, tactically, I was just very one-dimensional. Then I went to Colorado and tore my knee. I came back and all of a sudden I don't have the same speed. I went to Mexico and then had to readapt myself again. I've never been a very big guy but I've played big. I've got 36-or-something goals in the last two-and-a-half years and over 20 are with my head.
"I feel I've developed a certain understanding wherever I go on how I need to be next. If I had to get goals at Tecos I had to fight more. If I have to get goals at Santos I have to be smarter.
"I wasn't always this player," Gomez said. "I think that's been my greatest attribute in my career, my ability to keep learning and adapting and reinventing myself. My sophistication of the game is a product of the failures I've had and my ability to learn from those."
As his career has meandered south, Gomez's evolution from a classical American to a more Mexican striker has made him a hybrid of the two soccer cultures.
"I've used both styles of play to my benefit," he said. "I'm like somewhere in the middle."
This, he argues, is what the North American striker of the future looks like: like him, a combination of American mentality and strength and Mexican technique and savvy.
"There are a lot of us," he said. "I've never been shy about saying this: the Chicano player is going to become the most important player in North America. It's the most coveted player right now in Mexico. All the youth teams are loaded with kids from the States."
He has done all those Chicano kids a favor. He has made it a little easier to play in Mexico.
"There's still a stigma to this day," Gomez said. "I think the best thing is turning those people over. Every club I've been to I've been the gringo but I've been their gringo. It's been pretty cool to see.
"If guys like Eric Wynalda and Dominic Kinnear, those guys going down [to Mexico], have given Americans somewhat of a name and opened the door for us. Me and Jose Torres have kicked it down. That's the honest-to-God truth. I'm more of a household name in Mexico than I am in the States -- absolutely. In Torreon everybody knows my face and around the country everybody knows my name. For me, it's definitely a new frontier."
Having already completed three transfers within the Mexican league of just less than $2 million each, according to Gomez, interest in him remains high.
He's a complete striker now, not the biggest but capable of using his body. He's not the fastest but fast enough, sharp in his running and on point in his finishing, hard-working but cunning too. The extent of his growth was evident against Brazil. With little support and almost no time at all before being closed down, Gomez held down the front line as one of just a few Americans capable of going toe-to-toe with their opponents. And if he was isolated against Canada on June 3, Gomez again provided his worth against Antigua and Barbuda June 8, when he poached a goal, his second in three games.
In the 45th minute of the Brazil game, though, with the U.S. down 2-0, Gomez neatly summed up his career arc in a single play, employing all that he'd learned in the various incarnations of himself. Brazil defender Juan wrapped a hand around him at the top of the box. Gomez nudged HIM off, creating some room for himself in Juan's back. As Fabian Johnson reached the back line on a deft through ball from Michael Bradley, Gomez cunningly ran out of Juan's back and raced diagonally to the first post, from where, having beaten his man, he could get a head on Johnson's square ball, which skipped up off a defender and scored the U.S.'s only goal.
He was asked: Would the Herculez Gomez of any other point in his career have scored that goal?
"Probably not," he conceded. "Mentally I wouldn't have been prepared for it."
As he recreates the play, Gomez clutches onto a Brazil jersey. He's looking after it for Oguchi Onyewu, who traded his own for it with Thiago Silva, his one-time fellow central defender at AC Milan. I suggest Gomez is more entitled to it, having tussled with Silva all game long.
"Nah," he said. "I've seen enough of him." Then he chuckled a victorious chuckle. Gomez could laugh. He left the field to rave reviews.
"I think we found a striker that is very mobile, one that is a fighter, that keeps defenders busy, that is also nasty to do to certain things and that's good to see," a contented Klinsmann, otherwise aggravated by the loss, said after the game. "He gives more movement up front there. We're not scoring enough goals yet so we're going to give that message to our strikers to go for it and Herculez did a good job."
"Herculez Gomez did add a lot, he had a great game for us up top," added captain Carlos Bocanegra. "On offense, he makes nice runs. He's clever, he gets in good spots and when he gets a shot on goal he's got a great strike. When he found a little bit of space he caused problems and for not a big guy he did well to hold up the ball. We're lucky to have a player like that on our team."
Gomez answered all questions with a smirk on his face following the game.
"I'm hoping I get a second chance," he said. "I'm hoping Jurgen liked what he saw."
"If this was my last cap for the U.S. I'd be pretty bitter," he admitted the next day. "I'm addicted to soccer. Every time I put on this jersey I'm proud to represent my country and I will play like I'm an addicted animal."
It wasn't. He'd start twice more before the following week was out. He is, at least for a brief moment, the incumbent U.S. striker. And while he's been that, he hasn't relented, hasn't stopped playing like a once-caged animal.
Leander Schaerlaeckens is a freelance soccer writer for ESPN.com. He can be reached at leander.espn@gmail.com. Follow him on Twitter @LeanderESPN.
SPONSORED HEADLINES
MORE SPORTS HEADLINES
MOST SENT STORIES ON ESPN.COM
Soccer on ESPN.com

Follow Soccer on ESPN: Twitter
Coverage on ESPN FC
Euro 2012 in Review