Commentary
U.S. faces tough test vs. Guatemala
Updated:
June 12, 2012, 5:09 PM ET
By
Arch Bell
| Special to ESPN.com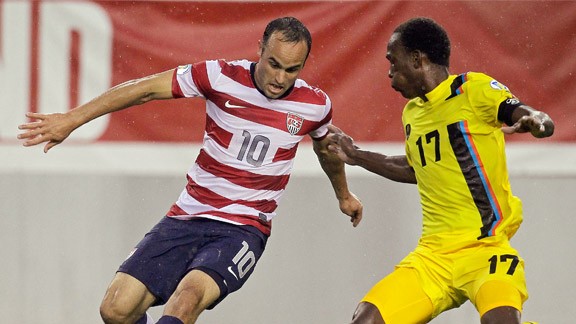 AP Photo/Chris O'MearaLandon Donovan & Co. were a bit flat against Antigua and Barbuda. They'll need to raise their game against Guatemala at Estadio Mateo Flores in Guatemala City.
The United States men's national team resumes 2014 World Cup qualifying with a visit to Central America as it takes on Guatemala at Estadio Mateo Flores on Tuesday evening in Guatemala City.
What's at stake?
It is the second match day in Group A of this third round of CONCACAF qualifying, with Guatemala in the hunt for at least a point after it was beaten 2-1 by Jamaica on Friday in Kingston. U.S. head coach Jurgen Klinsmann's group did not exactly dazzle observers in its lackluster 3-1 win over Antigua and Barbuda, either, but a win on a muddy field in the Guatemalan capital will provide a big boost to the Americans.
Style and tactics:
Guatemala head coach Ever Almeida already has notched a major win over a U.S. team when he coached the Guatemalan under-20 team to a stunning win over Thomas Rongen's under-20 team in last year's CONCACAF Under-20 World Cup qualifier. The result earned Guatemala its first appearance in a World Cup of any kind. The formula the Paraguayan boss used in that historic win will likely be on display again in the clash of senior sides.
The U.S. can expect Guatemala to remain compact in its own third with five defenders. It is a similar strategy the U.S. faced versus Antigua and Barbuda. But Klinsmann's group will have to be far more clinical in its 4-3-3 formation against the Guatemalans should it want to come home with all three points.
ESPN FC on Twitter
Don't miss a moment of the latest soccer coverage from around the world. Follow us on Twitter and stay informed. Join »
Goal-hungry Herculez Gomez should get the nod up top at striker with Jozy Altidore ready to lend some fresh legs off the bench. Clint Dempsey and Landon Donovan will assume their usual roles in attack, however, it would not surprise anyone if Klinsmann slotted in a fresh face beside Michael Bradley by starting Kyle Beckerman in place of Maurice Edu or Jermaine Jones. The latter two showed signs of fatigue against Antigua and Barbuda and have received the bulk of the minutes during this so-called "five-game tournament" of friendlies and qualifiers.
"We're going to have to move quickly against Guatemala," Edu said via phone from Guatemala City. "We'll be looking to play a penetrating ball but also get out on the wings, cross into the middle and get shots on goal."
On the offensive side of the ball for Los Chapines, two names familiar to MLS fans will be counted on by Almeida to offer any goal scoring: The seemingly ageless and former FC Dallas man, Carlos Ruiz, who now plays for Mexican side Veracruz, and Marco Pappa of the Chicago Fire.
Ruiz is a classic poacher who revels in outsmarting defenders, while Pappa is a threat to unleash a bullet from outside the area. Their chances may be fewer, but opportunity is sure to knock at some point against a U.S. back four that could see the sparingly used Michael Parkhurst get a start at the Bermuda Triangle that is the U.S. left back position (due to injuries to Fabian Johnson, Edgar Castillo and last game's starter, Jose Torres). There's a chance Klinsmann could slot team captain Carlos Bocanegra at that position. But the prospect of a slow-footed Oguchi Onyewu -- who was toasted by Peter Byers for Antigua and Barbuda's lone goal Friday -- filling in at center back in place of Bocanegra may be too much of a risk.
Intangibles:
There is nothing quite like a World Cup qualifier in Central America to give a U.S. fan a 90-minute aneurysm, and Tuesday night should be no different. Despite the pall of alleged match fixing in the Guatemalan domestic league that led to the removal of Guillermo Ramirez, Gustavo Cabrera and Yoni Flores from Almeida's squad, the same raucous crowd that lifted the Guatemalan under-20 side to victory over Rongen's team will be back in full force to ignite its senior side.
The best friend the U.S. could have is an early goal, which would force the Guatemalans to play outside of their organized counterattacking comfort zone.
"We have guys who have played plenty of these kinds of matches in Central America before, so we're not naive," Edu said. "The conditions are always difficult with rain and muddy pitches, but as long we play our game and be aggressive, we'll get a quality result."
Bottom Line:
Ironically, the U.S. has never lost to Guatemala in World Cup qualifying and owns a 17-match unbeaten streak against La Bicolor, including a gutsy 1-0 win in Guatemala City in 2008. It will not be easy, but the veteran presence of players who have played in similar adversarial conditions before should help carry the U.S. to victory.
Arch Bell is a freelance writer for ESPN.com. He can be reached on Twitter at @ArchBell.
SPONSORED HEADLINES
MORE SPORTS HEADLINES
MOST SENT STORIES ON ESPN.COM
Soccer on ESPN.com

Follow Soccer on ESPN: Twitter
Coverage on ESPN FC
Euro 2012 in Review