Belgium rising
Belgian talent is taking over the field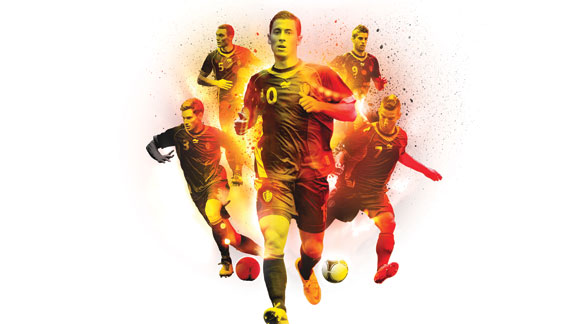 Illustration by Chuck AndersonChelsea's Hazard is at the center of a wave of gifted young Belgian players.

This story appears in the June 25 Debate Issue of ESPN The Magazine. Subscribe today!
BELGIUM, A TINY NATION comprising bickering factions of French and Flemish speakers (who have threatened to secede), could use a little unity, the kind of bonding best forged over football. Unfortunately, the Belgians haven't qualified for a major tournament since 2002 and missed the cut for Euro 2012.
Still, Belgium's prospects are looking up. Its latest export, Chelsea's new 21-year-old midfielder, Eden Hazard, is the most promising player in a startling generation of talent from a country of fewer than 11 million people. "Belgium has become a reservoir of talent for all of the big leagues in Europe," says Jean-Francois De Sart, head coach of the Belgian U21 team from 1999 to 2011. "Because there's so much of it at once."
That's no accident. When the advent of free agency in the mid-'90s drained the Belgian pro league of talent, the national federation began doubling down on the future. "The federation realized that our youth development was structurally poor," De Sart says. So the national teams made elite coaches available to supplement the training of the very best young players and encouraged clubs like Standard Liege and Anderlecht to put money into their academies.
The products of those investments are now entering their collective prime. Last season, Vincent Kompany (Manchester City), Hazard (Lille), Jan Vertonghen (Ajax) and Kevin Mirallas (Olympiacos) each claimed player of the year honors in England, France, the Netherlands and Greece, respectively. Even Belgium's original golden generation of the 1980s is in awe. "I think this is the best talent Belgium has ever had," says Leo Van der Elst, whose shootout winner sent Belgium to the semifinals of the '86 World Cup, the country's best finish. But the old guard winces at the new wave's entitled behavior, which caused the entire medical staff of the national team to quit in 2009. "Our strength was our unity," Van der Elst says. "There are more egos now."
As Europe's top clubs continue to splurge on Belgian prospects, those egos may only grow. Still, with a wealth of technically adept attackers on high-profile teams, this new golden generation has the firepower to finally live up to its potential. It could be the difference between spending 2014 in Brussels or Brazil.
Follow The Mag on Twitter (@ESPNmag) and like us on Facebook.

Contributing writer, ESPN.com
Leander Schaerlaeckens is a contributing writer for ESPN.com. He has previously written for The Guardian, The Washington Times and UPI.
ESPN The Magazine: June 25, 2012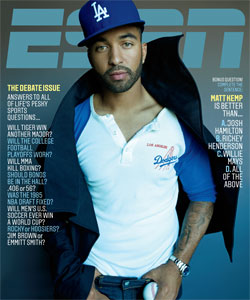 DEBATE ISSUE FEATURES

COLUMNS

MORE FROM THE DEBATE ISSUE
MOST SENT STORIES ON ESPN.COM