Commentary
Football's summer of wonder
Updated:
July 6, 2012, 12:56 PM ET
By
Roger Bennett
| ESPN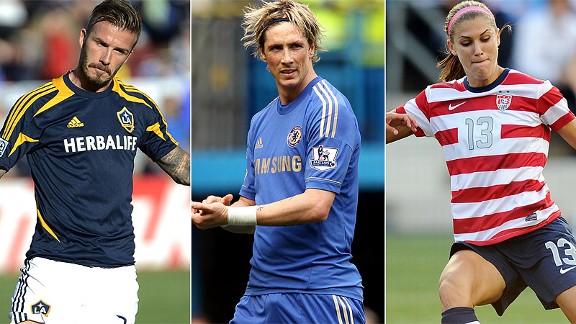 Getty ImagesSummer break? Not when you consider the MLS All-Star Game, Chelsea visiting the U.S., and the U.S. women's team at the Olympics.
After gorging on the feast that was Euro 2012, are you now suffering the symptoms of withdrawal? Do you find yourself jonesing for the exquisite release of Seven Nation Army? Have you suffered feverish dreams of Gigi Buffon bellowing his national anthem solo in an empty stadium punctuated only by the repetitive Oh-Oh-Oh-ing of Endless Summer. Or are you aching for a fix of Alexi Lalas and Michael Ballack, who became America's sweethearts in the mold of Archie and Edith Bunker?
That European soccer is on its summer break can make this malady feel like an itch that cannot be scratched. Snooping through tweeted vacation photographs of Lionel Messi in Ibiza or Wayne Rooney slobbing around Los Angeles quickly wears thin. Worse, the English season does not kick off until Chelsea and Manchester City compete half-heartedly Aug. 12 for the curtain-raising Community Shield, a date that is five torturous weeks away.
Worry not. Even during soccer's break, there is an abundance of the sport to be found. In addition to MLS action, here are five events that should fill you up like a bar of dietetic chocolate before the English Premier League kicks off Aug. 18 during this summer of wonder:
1. Men's Olympic soccer (July 26-August 11)
The countdown to the tournament has been overshadowed by the non-selection of David Beckham to the Great Britain squad, but the Olympics will showcase some of the finest young talents in the game littered across 16 teams from Uruguay to United Arab Emirates.
To ensure the event does not impinge on the dominance of the World Cup juggernaut, the tournament is formatted primarily as an under-23 event (with three overage players), which has tended to dampen its global significance. But Olympic soccer is wildly popular in Brazil, mostly because it remains the one tournament the South American power has not won. Precocious talents Neymar and Ganso will try to change that. Spain, featuring Euro 2012 stars Jordi Alba, Javi Martinez and Juan Mata, as well as Manchester United's David De Gea, plan to stop them.
Great Britain -- the combined might of England, Wales, Scotland and Northern Ireland -- will make its first Olympics appearance since 1960. Political reasons mean the squad is composed solely of English and Welsh players, a little like the poor man's Antigua & Barbuda. Manchester United's Ryan Giggs will make his major-tournament debut at the age of 38, donning one of the worst-designed jerseys in the history of synthetic fabrics, on a squad that includes players such as Bolton's Marvin Sordell and Middlesborough's Jason Steele, who may make you thank God for Google.
The United States and defending champion Argentina did not qualify for the tournament, but do not let that diminish your viewing pleasure, which should revolve mostly around identifying young stars for the future such as Mexico and Chelsea's Ulises Davila and Takashi Usami of Japan.
[+] Enlarge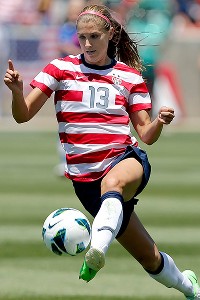 George Frey/Getty ImagesAlex Morgan will help lead the U.S. team at the London Games.
2. Olympics women's soccer (July 25-August 9)
Tape that pink headband onto your forehead in anticipation of watching the U.S. women's national team grapple for gold. Abby Wambach and Hope Solo will be back in the spotlight, along with the sparkplug that is Megan Rapinoe and the clinical Alex Morgan. World Cup winner Japan will bring its paper-cut passes, replete with team leader Homare Sawa, who will play in her fourth Olympics. Brazil and Marta also will be looking for revenge. The United States' opening game July 25 against the ambitious French, led by "The Female Zidane" Louisa Necib, should be a barnstormer.
3. Mexico-U.S. friendly (Aug. 15)
The U.S. will experience its first "friendly" in Mexico, at the Azteca, in 28 years. The game will be a litmus test for Jurgen Klinsmann's team before World Cup qualifying resumes in September. Can the U.S. improve its all-time away record against El Tri of 0-23-1?
4. MLS All-Star Game, plus Liverpool-Roma (July 25)
At the end of July, the entire American continent will become a vast training ground for a selection of Europe's elite soccer teams as Chelsea, Real Madrid, Paris Saint-Germain and AC Milan seek to burnish their brands in North America. Oh, and Stoke City and Swansea tag along in their draft. (Can Stoke get it done on a wet night against Orlando City at the Citrus Bowl? We'll find out July 28.)
Two standout games take place July 25. Chelsea will seek to fend off the combined might of MLS at the MLS All-Star celebration in Philadelphia, while up in Boston, Liverpool will clash with Roma -- the club Michael Bradley is about to join -- on the hallowed turf of Fenway Park. Both sides are owned by factions of the Red Sox's ownership group, making this the first "Derby Della Fenway."
5. Transfer window shenanigans
If you need your fix of the soap-opera stylings of the English Premier League, you can always follow the salacious gossip spewed forth on a daily basis as transfer rumors swirl. The hyperbolic nature of the storylines offer all of the insanity without any of the soccer as Chelsea, Tottenham and Liverpool seek to close the gap with defending champion Manchester City.
ESPN FC on Twitter
Don't miss a moment of the latest soccer coverage from around the world. Follow us on Twitter and stay informed. Join »
This year's offseason shenanigans have been boosted by two colossal financial stories involving American investors. Arsenal is embroiled in an internal battle for control between lead shareholder Stan Kroenke, owner of the St. Louis Rams, and Uzbek-born Alisher Usmanov. Manchester United's owner, the Tampa Bay Buccaneers' Glazer family, attempts to tackle its crippling debt by moving the club's registration to the tax haven of the Cayman Islands and floating shares on the New York Stock Exchange.
Savor the spectacle as the powerhouses make loud checkbook rustling noises in Robin van Persie's direction, and compete to sign Euro 2012 standouts such as Mathieu Debuchy and Joao Moutinho. Enjoy the hilarity as tabloid newspapers desperate to sell copies and agents eager to unsettle their players foster rumors about players unlikely to move, including Manchester City's flavor of the month, Mario Balotelli, and Chelsea's John Terry, rumored to be a target of Paris Saint-Germain.
Grimace as the smaller clubs fight over the scraps, and poor-house teams such as Everton provide the answer to a question you have no doubt always harbored: What does $2.76, half a sausage roll and a stale Curly Wurly buy you on the player free market?
All in all, the summer of 2012 is a veritable soccer feast offering some terrific international and domestic men's soccer and an elite women's tournament. All that is missing is some Ian Darke. Roll on Aug. 12th.
Roger Bennett is a columnist for ESPN, and with Michael Davies, is one of Grantland's "Men In Blazers." Follow him on Twitter: @rogbennett.
Soccer on ESPN.com

Follow Soccer on ESPN: Twitter
Coverage on ESPN FC
Euro 2012 in Review
MOST SENT STORIES ON ESPN.COM