Commentary
For Bradley, Roma would be wise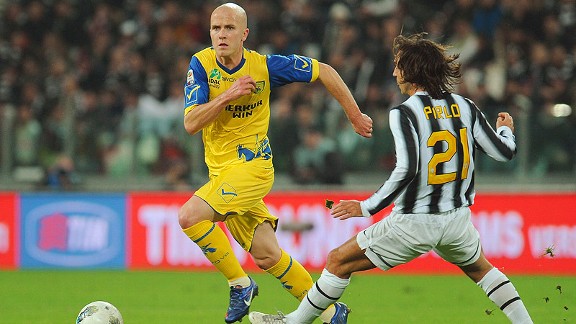 Valerio Pennicino/Getty ImagesIf Michael Bradley left Chievo for Roma, he would have to battle for a starting place in the midfield. But if he succeeds there, his game would be the better for it.
Rare have been the moments when American players have signed with big clubs. Even rarer have been the periods of success afterward. So with his move to Serie A side Roma nearly complete save a few formalities, that is the challenge facing Michael Bradley.
Not since Oguchi Onyewu signed with AC Milan back in 2009 has a move drawn so much attention stateside. And with it follows a host of questions, among them: Will Bradley play regularly for the first team? And if he does, will he find success that translates into the national team? Conversely, if he doesn't, how much will the U.S. national team be damaged by one of its best players rotting on the bench?
Bradley knows all too well that there are no guarantees. He experienced the downside of moving to a new club when he went on loan to Aston Villa in January of 2011. He landed with a team struggling to avoid getting sucked into a relegation dogfight. In those moments, managers tend to go with known quantities, not new arrivals. As a consequence, Bradley never established himself in the first team and playing time was scarce. His loan was not picked up.
ESPN FC on Twitter
Don't miss a moment of the latest soccer coverage from around the world. Follow us on Twitter and stay informed. Join »
Of course, since then, Bradley resuscitated his career with an astute move to Serie A side Chievo. He drew rave reviews for his ability to quickly adapt to a new league and a new country, and his performances in several different roles helped a side widely expected to struggle against the drop secure a comfortable mid-table finish.
That development is significant in this instance and is one of several reasons why the Roma move seems to be a good fit for Bradley. While there are always challenges in settling into a new club, Bradley possesses a body of work in Italy that is recognized by his new employers, which should allow him every opportunity to succeed.
That's just the start, however. One month ago, Roma hired Zdenek Zeman as manager, a man whose reputation as a maverick is well deserved. According to Gazzetta dello Sport, Zeman opened Roma's preseason training camp by banning coffee and sweets, and reducing the players' intake of some carbohydrates and protein. In terms of style, Zeman's teams have historically played a high-energy, up-tempo version of the 4-3-3. In a June article in the Wall Street Journal, Zeman explained that, in attack, he expects all three forwards to be in the box with two out of the midfield three pushing forward as well.
"Then you put the ball in the box, and because you have more men, you have more chances of scoring," Zeman said. "It's not rocket science. It's simple math."
That flies in the face of Serie A's defensive orthodoxy, but it's a system that would appear to suit Bradley well. The U.S. international scored plenty of goals in the Netherlands while with Heerenveen, but that was deemed to be more due to that league's wide-open style and paucity of quality defenders. Since then, as Bradley moved into more challenging leagues in Germany and England, he has mostly been played as a holding midfielder. His role at Chievo was primarily defensive as well, but there were moments there, as well as with the U.S. national team, where he was counted on to push more into the attack. He showed a solid level of comfort in taking on that responsibility, and his passing has improved as a consequence. That said, Zeman's hyper-attacking style will test Bradley's technical ability even more, and it will be interesting to see how this aspect of his game holds up over the course of a season.
Bradley's fitness has never been in question. In fact, the concern was that perhaps he ran a bit too much, but a year in the tactical cauldron of Serie A appears to have curbed those instincts. Bradley's attention to his defensive duties is something that could come in handy given how Zeman's teams typically aren't defensively strong and are prone to fade down the stretch.
As for the competition, vice-captain Daniele De Rossi seems likely to occupy the dedicated holding midfielder spot, although he has played other positions in the past, both in midfield and at the back. That leaves Bradley aiming to occupy one of the more forward-thinking midfield positions, and the departure of on-loan midfielder Fernando Gago creates the perfect opening for him to step into. That said, there are plenty of other players with the same aspirations. Former Italian international Simone Perrotta, who will turn 35 in September, along with 32-year-old Simplicio are more likely to fill the role of super sub/wise old head these days. Miralem Pjanic is a more creative type of midfielder who seems to fit Zeman's blueprint well. Twenty-year-old Federico Viviani will also be in the mix and is pegged as a player to watch for the future. Another midfielder, Genoa's Panagiotis Tachtsidis, is rumored to be a transfer target as well and could increase the competition if he arrives.
But perhaps the biggest competitor for Bradley will be Marquinho, a box-to-box type of midfielder. The Brazilian arrived last January on loan from Fluminense, and the fact that his loan was picked up for the coming season indicates the high regard the Roma brass holds for him. Marquinho is described as being a bit light defensively, and that could be Bradley's edge.
The temptation is to think that Bradley will slide seamlessly into the starting XI, but that was the thinking when he moved to Villa. Rather, it amounts to a difficult, but by no means impossible, assignment for the American midfielder. U.S. manager Jurgen Klinsmann has stated more than once the importance of players getting steady time with their clubs. But he's also challenged them to play at the highest possible level, and this move will certainly do that. All told, it's a risk well worth taking.
Jeff Carlisle covers MLS and the U.S. national team for ESPN.com. He is also the author of "Soccer's Most Wanted II: The Top 10 Book of More Glorious Goals, Superb Saves and Fantastic Free-Kicks." He can be reached at eljefe1@yahoo.com.
Soccer
Jeff Carlisle covers MLS and the U.S. national team for ESPNsoccernet.
SPONSORED HEADLINES
MORE SPORTS HEADLINES
MOST SENT STORIES ON ESPN.COM
Soccer on ESPN.com

Follow Soccer on ESPN: Twitter
Coverage on ESPN FC
Euro 2012 in Review