Commentary
Waning Wayne?
Rooney is sublime for Manchester United but labors for England. Is it his fault?
Updated:
July 10, 2012, 3:17 PM ET
By
Michael Cox
| Special to ESPN.com
Amazingly, it is now 10 years since Wayne Rooney's first appearance in a Premier League matchday squad for Everton. In 2012, he seems to be a perennial youngster, remaining talented but undisciplined while his physique and playing style have barely changed since his debut goal at Goodison Park against Arsenal.
Over that period of time, his club form has been exceptional. He's won four Premier League titles, a European Cup and a Player of the Year trophy, and has proven to be one of Sir Alex Ferguson's most successful signings.
With England, however, things are more complicated. Rooney was an international superstar before he became an icon at Manchester United, with his superb Euro 2004 form prompting a bidding war for his services. Playing up front with Michael Owen in a wonderfully fluid, attack-minded England team, Rooney was fearless with the ball, running directly at opposition defenses and skipping past challenges with both guile and raw power before he suffered a tournament-ending foot injury against Portugal in the quarterfinal. It was a huge disappointment, though his effort provided something of a teaser for England supporters -- more, apparently, was still to come.
Yet that hasn't been the case and Rooney's first international tournament remains his best. Much like Paul Gascoigne and Michael Owen, two previous Englishmen who received comparable levels of acclaim at a young age, Rooney hasn't come close to reproducing that form. It's not as if he was a flash in the pan -- his performances for United disprove that theory. Yet are any players of his caliber more inconsistent?
[+] Enlarge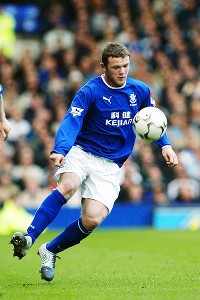 Laurence Griffiths/Getty ImagesWayne Rooney was a star long before he made it to Old Trafford, but his failures at the international level remain a frustrating career constant.
Rooney has suffered from everything -- injury, suspension and loss of form -- since first representing the Three Lions. England's buildup to the 2006 World Cup was dominated by another Rooney foot injury. He returned in time, played poorly, then was sent off against Portugal for stamping on Ricardo Carvalho, and England exited swiftly.
Ahead of the 2010 World Cup, Rooney enjoyed a great individual season but missed matches during the run-in and looked unfit in South Africa, with rumored personal problems contributing to his anonymity. This year, England awaited the reappearance of its star man while he served a two-game suspension, reduced from three on appeal. When he returned, aside from a simple headed winner against Ukraine, Rooney's performances were again disappointing. England was outclassed by Italy, and Andrea Pirlo dictated the game precisely because Rooney was failing to pick him up -- at one point, Joe Hart could be heard screaming at the striker to get tight to the Azzurri playmaker.
It's not a new problem, either; two years ago in South Africa, he also played too high up the pitch. In qualification for that tournament under Fabio Capello, England ran a flexible 4-2-3-1, with Steven Gerrard cutting in from the left to combine with Rooney between the lines. It worked superbly, but England seemed to revert to 4-4-2 at the World Cup; instead of dropping deep to collect the ball, Rooney remained close to Emile Heskey. This was particularly obvious in the embarrassing 0-0 draw against Algeria -- England kept two men high up the pitch, playing perfectly into the hands of the Algerian back three of two markers and a sweeper. The way to expose a back three is to drag them out of shape, whether bringing them forward or stretching them laterally. At United, this kind of thing would be second nature to Rooney, but at the international level he seems to lose any sense of positioning.
It's a weakness that has significantly hampered England at the last two major tournaments. The flaws of the 4-4-2 are obvious, and it is illogical that England often appears that way in 2012 -- when Owen and Alan Shearer were clearly England's best two forwards, a two-striker system was necessary. But now, Rooney should be the natural No. 10 to make England more intelligent in possession, offer a short passing option and link the midfield and attack. Equally, it should mean that England isn't outnumbered when the opposition has the ball, but Rooney's failure to track Pirlo made this impossible. Unless Hart was contradicting Hodgson's instructions, which seems unlikely, Rooney simply wasn't doing his job.
ESPN FC on Twitter
Don't miss a moment of the latest soccer coverage from around the world. Follow us on Twitter and stay informed. Join »
This is the most surprising aspect of Rooney's poor international form. At club level, he was perfectly happy to sacrifice individual freedom for the sake of the team when Cristiano Ronaldo was the star man, playing a defensive-minded role on the wing without argument. Even if he was attacking poorly, Rooney would run, chase and tackle until he felt he'd made a worthwhile contribution to the team. Now, such obvious displays of work rate are rare, and while we shouldn't fall into the trap of thinking that more running equals greater effort, when Rooney is flouting his duties so blatantly, it's a natural source of frustration.
Of course, Rooney is not the only one -- at the Euros it was clear to see Franck Ribery and Cristiano Ronaldo simply not bothering to track their opposing fullbacks. When they compensate for this with brilliance in the final third -- as both did, in patches -- it's acceptable. But Rooney's failure to spark England into life made him Hodgson's biggest problem against Italy.
Most worryingly of all, his failure to perform might be taken as a sign that England isn't giving him enough attention. Rio Ferdinand, for example, voiced this opinion shortly after England's elimination. "Wayne is our best player; he's world-class, and we have to build the team round him, not get him to fit in with it," he said. "If we are to go forward, making Wayne a more central figure has to be the way." But international tournaments aren't won by basing the team solely around one player -- they're won when a coach creates a cohesive team based around a particular style of football.
Besides, Rooney isn't a consistent enough performer to dominate the side. Among the injuries, the suspensions, the fragile mental state and his reputation as a streaky player who can endure spells of poor football, Rooney is yet to prove himself as a leader. He remains an extremely valuable player for England, but more collectivism and less dependence upon a single player would be best for everyone, Rooney included.
Michael Cox is a freelance writer for ESPN.com. He runs zonalmarking.net.
Soccer on ESPN.com

Follow Soccer on ESPN: Twitter
Coverage on ESPN FC
Euro 2012 in Review
MOST SENT STORIES ON ESPN.COM