Commentary
Ready for London
Pia Sundhage has the U.S. women looking strong ahead of the Olympics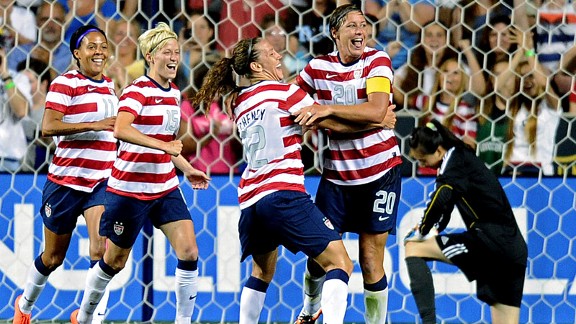 Drew Hallowell/Getty ImagesComfy warm-up wins over China, Sweden and Japan have the U.S. women primed for the Olympics.
Ever since last year's heartbreaking loss to Japan in the Women's World Cup final, U.S. manager Pia Sundhage has been looking for that extra edge that will turn World Cup silver into Olympic gold. She has tweaked formations and changed personnel, but 11 months after that penalty shootout defeat in Frankfurt, Sundhage appears to have arrived at a formula that has the U.S. favored to win it all in London this summer.
In some ways, Sundhage has come full circle. After the World Cup, the Swede set about swapping her preferred 4-4-2 formation for a 4-2-3-1 set, one that gave the U.S. attack a "more sophisticated" look by making better use of the talented midfielders at her disposal. There was only one problem: The new alignment didn't allow for forwards Abby Wambach and Alex Morgan to be on the field at the same time, thus forcing the latter to the bench.
Opponents soon realized that without a second forward to worry about, they no longer needed to concern themselves with getting beaten for speed, pressing further into midfield as a result. So Sundhage adjusted, pairing Wambach and Morgan together in a 4-0 win over Canada in the final of the CONCACAF Olympic qualifying tournament, a game in which each player scored twice. In the 11 games since, the two strikers have combined for a whopping 20 goals.
"So much of the U.S. attack used to depend -- maybe too much -- on Wambach's superiority as a target striker and as a force in the box," Even Pellerud, who led Norway to the 1995 World Cup title and now manages the Trinidad & Tobago women's national team, said in an email. "Now all teams will be forced to defend deeper in the field in trying to anticipate and maybe cover for Morgan's smart and well-timed runs into the space between an opponent's back line and goalkeeper. But not only can Alex outrun everyone in a quick transitional play; she also has the balance and the needed composure to score following an exhausting sprint with a defender chasing her and trying to tackle her."
[+] Enlarge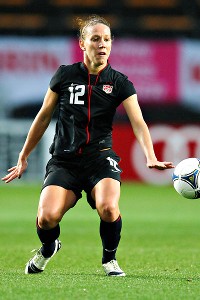 Koji Watanabe/Getty ImagesLauren Cheney shift to central midfield has helped give the U.S. midfield and attack more "unpredictability" according to coach Pia Sundhage.
Sundhage didn't stop there, however. In a bid to get playmaker Lauren Cheney on the ball more often, Sundhage moved her to the center of midfield and benched presumed regular starter Carli Lloyd. Right midfielder Heather O'Reilly, another fixture in the starting lineup, has been replaced by Tobin Heath, while Megan Rapinoe plays on the opposite wing.
"I would say O'Reilly is predictable," Sundhage said. "Sometimes that's good, when you know you really need to go at a left back or we really need to get behind the back line. We know what she will give us. With Megan Rapinoe, Tobin Heath and even Lauren Cheney, we are more unpredictable. It's great to have that luxury to choose between those four. The thing is with the 4-4-2, as long as Morgan is playing well with Wambach, we need players getting behind the back line. We need crosses. Whoever provides that will be in the starting lineup."
The internal logic behind the moves runs deeper still. When Lloyd and Shannon Boxx were paired together in the center of midfield (a constant over the past four years), there was confusion at times over who should go forward and who should assume the holding role. That left the U.S. vulnerable to opposition counterattacks.
Now that Cheney is partnering Boxx, their roles are more clearly defined: The former plays as an out-and-out attacking midfielder while Boxx provides a safety valve in attack and cover in defense. That said, Sundhage feels there is still some room for improvement in the middle, especially as it relates to Cheney.
"I think right now, Cheney is a little too concerned about defending, to be honest," said Sundhage. "We need to encourage her to be more dangerous and find the final pass, take more shots and get in the box. She covers a lot of ground, but I want her to get behind the back line as well.
"I want [Boxx] to stay central, be ball side, and hopefully she is behind the ball in attack and defense. She slows down the counterattacks against us, but more importantly, keeps the ball, and when we want to change the point of attack in the attacking third, she will be the one."
ESPN FC on Twitter
Don't miss a moment of the latest soccer coverage from around the world. Follow us on Twitter and stay informed. Join »
Sundhage added that if Boxx isn't on the field -- and given the quick turnaround between games at the Olympics, she'll have to be rested at some point -- Lloyd would assume the holding role behind Cheney. But Boxx figures to be on the field when it matters most and her presence in the center of midfield will play a critical role, namely shielding a back line that hasn't been airtight lately.
Some of this defensive shakiness is due to the ACL injury suffered by right back Ali Krieger at the Olympic qualifying tournament back in January. This forced Sundhage to accelerate the experiment of playing Kelley O'Hara -- who has been an attacking player for most of her collegiate and professional career -- at left back. Amy LePeilbet, a converted center back who played on the left at the World Cup, will take Krieger's spot.
"Overall, I think [defense] is where the U.S. is a little bit vulnerable," former U.S. head coach and current ESPN analyst Tony DiCicco said. "They're good individually. Rachael Buhler is tough. I don't think we have great pace in the back like we used to. Having said that, O'Hara brings a little bit more speed, but it's really Christie Rampone who is the glue back there."
Rampone is indeed the key, as the U.S. captain's speed allows her team to recover and reorganize in almost any situation. Just as critical will be the play of goalkeeper Hope Solo, who will be hoping to reprise her heroine's role in the gold-medal victory over Brazil four years ago. But the developments at the back also explain Heath's inclusion in the lineup. While Heath isn't one to contribute that much in the final third, her willingness to tackle will provide some defensive support for the inexperienced O'Hara as well as allow the left back to get into the attack more often.
[+] Enlarge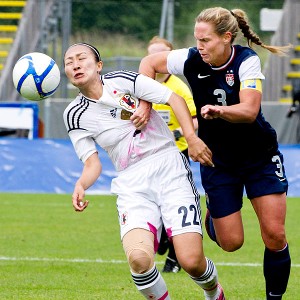 Bobbo Lauhage/Getty ImagesCaptain Christie Rampone's toughness and reaction speed will help keep the U.S. solid in defense, arguably its only real weakness.
That said, Sundhage indicated that her starting lineup isn't completely set yet and that performances at the team's pre-Olympic camp will dictate in part who takes the field for the Olympic opener against France on July 25 (soccer competition begins prior to the opening ceremonies). And for their part, both Lloyd and O'Reilly insisted they will continue to do everything they can to get on the field.
"I'm ready and willing to accept any role that is needed for the team, whether that's starting, coming on in the second half or coming on for the last 30 minutes," said Lloyd. "I'm fully confident knowing that I can bring something different to the table. I'm ready to go ... It's going to be a long tournament, and we're going to need all 18 players to get this gold medal."
But regardless of who starts, it is a group that is brimming with self-belief as it heads to London. In particular, convincing wins over Sweden and Japan last month have the U.S. approaching peak form, even if the Americans struggled at times in defeating Canada 2-1 in their send-off match.
"I think the U.S. has evolved to another level," DiCicco said. "They don't squander as many chances. So I think they're better offensively, and they were already a pretty good offensive team."
That's not to say the path to the gold will be easy. The U.S. has a difficult test right from the start in facing France, which pushed the Americans to the limit before losing 3-1 in the semifinals of the World Cup. Sweden and Japan figure to be better once the Olympics begin, while Brazil, no doubt haunted by its inability to win a major tournament, definitely has the talent to challenge for gold. Sundhage, however, remains undaunted.
"We're getting stronger, smarter and better," she said.
The hope -- and expectation -- is that these improvements will help the U.S. to bring home the gold.
Jeff Carlisle covers MLS and the U.S. national team for ESPN.com. He is also the author of "Soccer's Most Wanted II: The Top 10 Book of More Glorious Goals, Superb Saves and Fantastic Free-Kicks." He can be reached at eljefe1@yahoo.com.
Soccer
Jeff Carlisle covers MLS and the U.S. national team for ESPNsoccernet.
SPONSORED HEADLINES
MORE SPORTS HEADLINES
MOST SENT STORIES ON ESPN.COM
Soccer on ESPN.com

Follow Soccer on ESPN: Twitter
Coverage on ESPN FC
Euro 2012 in Review