Commentary
Jurgen Klinsmann's dilemmas
Nearly one year in as U.S. men's coach, many questions still remain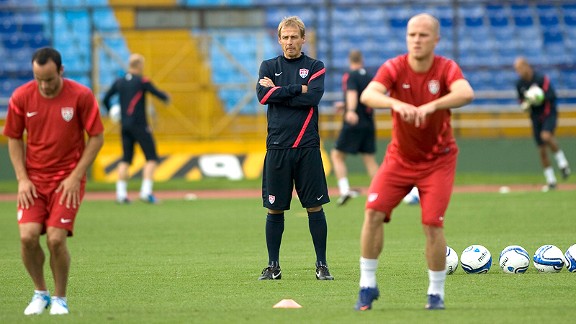 Johan Ordonez/AFP/Getty ImagesKlinsmann's first year has brought plenty of positives, but there's still much work to be done.
July 29 marks the one-year anniversary of Jurgen Klinsmann's time in charge of the U.S. men's national team, but judging his tenure is a bit like looking in one of those carnival fun house mirrors. The high expectations that accompanied the German's arrival do plenty to distort both the positives and the negatives, but ultimately, the reality is that while the team has made some progress during this calendar year, there are still plenty of unanswered questions.
No doubt, Klinsmann is sitting a bit more comfortably than he was after winning just one of his first six games as manager. In the months since, the U.S. has rebounded to go 7-5-3 overall and there's a growing belief that the U.S. program is headed in the right direction.
But even the team's best moments in 2012 have been marred by visits from Captain Caveat. The U.S. did beat Euro 2012 runner-up Italy on the road, but it was on a night when Azzurri manager Cesare Prandelli clearly was experimenting. The U.S. hammered Scotland 5-1, but its opponent was decidedly underwhelming.
Then there are the more sobering scorelines such as the 0-0 draw with Canada and the 1-1 World Cup qualifying tie with Guatemala, in which the U.S. squandered a late lead. Granted, road games in CONCACAF are by no means easy; the U.S. has endured hiccups before. But those two draws have left a gnawing sense that even as Klinsmann has tried to get the U.S. to play a more proactive style, some of the grit and mental toughness needed to grind out results has been lost.
That said, the decisions of opposition managers can't be held against Klinsmann, and the USMNT has begun to look more comfortable pressing higher up the field, even if the end product isn't always there. More pragmatism -- exemplified by his willingness to play with two strikers at times -- has crept into Klinsmann's thinking, as well.
[+] Enlarge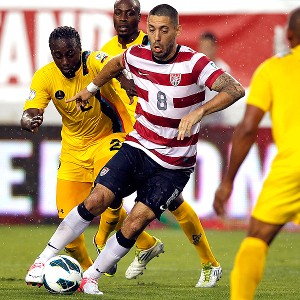 J.Meric/Getty ImagesClint Dempsey has been magnificent for Klinsmann's U.S. team, but one senses that a consistent position for the utility forward -- mitigated by a better striker -- will make him even better.
"I think you have to do a little trial and error to see what works," former U.S. international goalkeeper Kasey Keller said. "Everybody has ideologies on how they want to play and at international level, you're very dictated to in terms of what players you can put on the field, and what they're capable of . . . With someone like Klinsmann, who has been used to maybe a different player, both mentally and physically, you might have to make some adjustments as you go along and I think he's starting to figure that out a little bit more."
The fact that Klinsmann is at the mercy of his player pool is at the root of many of his current dilemmas. That Clint Dempsey has played several different attacking positions under Klinsmann is a testament to the Fulham player's versatility, but it also highlights a few weaknesses in the U.S. attack. Will Jozy Altidore, Herculez Gomez, Terrence Boyd or some other unnamed forward step up to galvanize the offense and push Dempsey into more of an attacking midfielder role? Or will another creative element in midfield emerge to nudge Dempsey closer to goal? There are no easy answers.
"I kind of feel for Klinsmann," former Liverpool midfielder and ex-New England Revolution manager Steve Nicol said. "I think [the U.S.] is more than capable of defending further up the field. But when they get into that final third, they really don't have that cutting edge that other teams might have. That's Klinsmann's biggest problem. Obviously Dempsey, by getting on the end of stuff, is going to score goals if you can give him a supply. [Landon] Donovan at times has given him that.
"But after Clint and Landon, where is it coming from? I think Klinsmann has done a great job, he's absolutely galvanized them, but at the end of the day, you can only take that next step if you have that quality in the final third. I think that's what is missing."
With reports indicating that oft-injured midfielder Stuart Holden won't be match-fit until early October, one possible solution is to give Michael Bradley more attacking responsibility. For most of his career, the presumptive AS Roma starting midfielder has been looked upon as a destroyer who could wreak havoc on the attacking end with late runs into the box. But Bradley showed in the 4-1 loss against Brazil that his ability to play penetrating passes has improved the past year. Jose Torres is another candidate to step up, and though his comfort zone is as a deep-lying distributor, he has been effective in flashes when pushed farther up the field.
ESPN FC on Twitter
Don't miss a moment of the latest soccer coverage from around the world. Follow us on Twitter and stay informed. Join »
The emergence of either one of those players as more of an attacking force would free Dempsey to play facing goal more often instead of retreating deep into midfield just to get touches on the ball. Getting more consistent hold-up play from whatever forwards are in the lineup also will help. Gomez impressed during the latest round of games -- including two World Cup qualifiers -- with the timing of his runs revealing his game's increased sophistication. That said, Altidore's physical gifts would appear to give him the inside track, provided he can continue the development with club side AZ Alkmaar that reignited his career last season.
"I can't tell you how important it is to have a guy willing to do the dirty work; hold it up and lay it off to someone else and allow the attack to develop," said former U.S. international defender Jimmy Conrad, who now does media work for YouTube's Kick TV channel. "If that person continually loses the ball, it's hard to generate any kind of attack.
"Altidore has obviously matured a ton in the last couple of years, but the more he can embrace that hold-up part of the role, the better off the whole team is going to be. It seems like it's such an innocent thing, not that big a deal, but it's such a huge part of how we're going to generate attacks and get people forward."
The back line is another area that could do with some fresh faces, particularly in the center of defense. Though both are 33 years old, Carlos Bocanegra and Steve Cherundolo continue to play at a high level, and Keller insists that any concerns about the duo's age is misplaced.
[+] Enlarge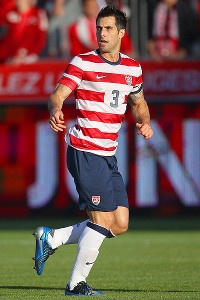 Tom Szczerbowski/Getty ImagesCarlos Bocanegra has been steady and strong in the heart of the U.S. defense, but at 33 years old, a quality replacement will soon be needed. But who will it be?
"My concern is if a guy is playing well or not. I could care less what his age is," he said. "Either he's too slow or not good enough; not, 'Oh God, he's 35.' But the question isn't, 'Is he good enough or not good enough?' The question is, 'Is there somebody better than him?'
"If somebody else is better than him, and is 21, then great. If somebody is better than him and he's 38, then play that guy. I think that's what we've got to start worrying about. There's some good young talent, but are they going to be where Klinsmann wants them to be at the right time? That's the judgment."
With Timothy Chandler's U.S. Soccer future still up in the air, Eric Lichaj now looks to be the heir apparent to Cherundolo at right back. It still boggles the mind that the Aston Villa defender wasn't called up in June, but if he continues the fine form he displayed late in the season with his club, his time will come.
But in the middle, things are far more muddled. Players such asTim Ream, Omar Gonzalez, and Geoff Cameron all are talented but in various stages of development. It remains to be seen how well Gonzalez has recovered from an ACL injury he suffered last January. Ream looks set to benefit from his first full season overseas, though it'll be the second-tier English Championship after Bolton was relegated from the EPL. And Cameron's performance in the second half against Guatemala offered some hope that he's ready to take the next step, a process that could continue if his reported move to EPL side Stoke City comes to fruition.
It seems unlikely, however, that any changes to the pecking order will take place before World Cup qualifying resumes in September with tricky back-to-back matches against Jamaica. That means Klinsmann will have to persist with the players currently at his disposal and hope that the Americans' aim of World Cup qualification comes more into focus.
Jeff Carlisle covers MLS and the U.S. national team for ESPN.com. He is also the author of "Soccer's Most Wanted II: The Top 10 Book of More Glorious Goals, Superb Saves and Fantastic Free-Kicks." He can be reached at eljefe1@yahoo.com.
Soccer
Jeff Carlisle covers MLS and the U.S. national team for ESPNsoccernet.
Soccer on ESPN.com

Follow Soccer on ESPN: Twitter
Coverage on ESPN FC
Euro 2012 in Review