Commentary
AVB's second chance
In taking the Tottenham job, Andre Villas-Boas has another opportunity to excel
Updated:
July 13, 2012, 2:57 PM ET
By
Michael Cox
| Special to ESPN.com
Maybe it was due to Andre Villas-Boas' sheer confidence that he predicted Tottenham could challenge for the league title immediately. Perhaps it was because the media focused upon his quest for revenge over Roman Abramovich, as Villas-Boas had complained that the Russian "cut the project short" and was "the one who was not putting up the things he promised."
Whatever the reason, there was relatively little discussion about Villas-Boas' suitability for the Tottenham job after his opening press conference. Yet, it's still somewhat surprising; Villas-Boas' only prior English Premier League role ended prematurely at Chelsea, while his assistant Roberto Di Matteo would later demonstrate how the squad should have been achieving significantly better results.
No one doubts that AVB is an extremely bright young manager, but it rather sums up the Premier League managerial merry-go-round -- once you're on it, and people associate you with a big club, you can always pick up another top job.
[+] Enlarge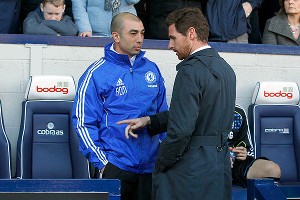 Ian Kington/AFP/GettyImagesVillas-Boas might feel aggrieved that his assistant (and successor) Roberto Di Matteo pushed Chelsea to an FA Cup/Champions League double. Can he put that emotion aside in leading Spurs?
Whatever doesn't kill you makes you stronger, they say. In theory, Tottenham is well-placed to take advantage of Villas-Boas' failure at Stamford Bridge that, in hindsight, served as a high-profile Premier League apprenticeship. He arrived with a pre-determined formula for success largely based around the way he played with Porto throughout 2010/11. He demanded 4-3-3, heavy pressing, a high defensive line and relentless attacking. Yet, it was a long-term project that never reached maturity.
The questions that greeted his unveiling at Stamford Bridge 12 months ago -- about age, experience, gravitas -- are equally salient now as those fears were proven justified when AVB struggled to deal with his squad. The lack of debate about his credentials for the Spurs job indicates a consensus that he's learned lessons.
Though barely 10 days into the job, it's still far too early to tell. Villas-Boas is clearly an extremely stubborn character; he is single-minded, driven and focused, qualities he shares with every great coach. The question is not about whether he can get revenge over Abramovich and Chelsea, but about whether he can admit personal errors during his time with the Blues. Does he understand why things went wrong? Or does he solely blame an impetuous chairman and a difficult group of players?
ESPN FC on Twitter
Don't miss a moment of the latest soccer coverage from around the world. Follow us on Twitter and stay informed. Join »
At Chelsea, he showed glimpses of adapting his philosophy. For example, at Porto he liked to rotate his midfield triangle of Fernando, Joao Moutinho and Fredy Guarin but found this approach less successful in England. "We decided it doesn't work here, so that's one of the things I have adapted," he said midway through last season. "You lose a little bit of balance in the Premier League if you play that way. Transitions here are much more direct, making the importance of the number six [the holder] to stay in position more decisive."
He also gradually adjusted the team's defensive positioning, starting out with a 'high block' -- pressing and an aggressive defensive line -- but turned to a more cautious, reserved approach after Chelsea were constantly outpaced at the back. (Robin van Persie's hat trick in Arsenal's 5-3 win at Stamford Bridge was his harshest lesson.)
So Villas-Boas is capable of adaptation and does feel that Chelsea improved him. "The experience was extremely gratifying, not professionally in terms of success, but it made me a better coach now than I was at Chelsea," he says.
But what will Villas-Boas change at Tottenham? The most pressing concern is the situation of Luka Modric, who is set to leave after a four-year spell at White Hart Lane. "It's fair to say that the club respects Luka's ambitions and his willingness to move on, and he respects the fact that he's an important player for the club and can help us move forward," Villas-Boas said. It sounds like he's admitting defeat -- Spurs managed to delay Modric's move by a year, but perhaps no more.
[+] Enlarge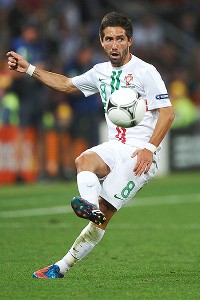 Laurence Griffiths/Getty ImagesJoao Moutinho flourished under Villas-Boas at Porto and thrived at Euro 2012. The price tag might have increased, but the midfielder would be a great buy for Spurs if Luka Modric departs.
A replacement will be needed, both symbolically (because Tottenham must be seen to be replacing its star players) and on the pitch, as Modric was crucial to Spurs' play, spreading the ball from flank to flank and playing penetrative passes upfield.
The obvious replacement would be Moutinho, who transformed into a top-class player under AVB in 2010/11. He was excellent at Euro 2012 -- Tottenham will, therefore, face strong competition for his signature -- but Moutinho would love to link up with Villas-Boas again. "I have not spoken with Villas-Boas, but it is natural that he likes Moutinho," current Porto coach Vitor Pereira conceded. "We really want him to stay, but this is football and there are release clauses." The figure is supposedly $49 million -- very high, but less than Spurs will demand for Modric.
Aside from that, it's difficult to predict how Villas-Boas will approach Tottenham's tactics, as he's so different from predecessor Harry Redknapp; though both managers like attacking football and playing with width, Villas-Boas' approach is much more structured and scripted. "There are no long and boring speeches about tactics," Rafael van der Vaart enthused when he first joined Redknapp at Tottenham. The Dutchman is set for a shock when he returns for preseason, and you can imagine van der Vaart -- talented but anarchic -- struggling to fit into Villas-Boas' system.
If Villas-Boas decides to move from Tottenham's 4-4-2 (or 4-4-1-1) to his usual 4-3-3, the problem area is on the flanks. Whereas Emmanuel Adebayor, likely to be signed on a full-time basis, is a good lone striker and a midfield trio should have no problems, Aaron Lennon and Gareth Bale would be playing very high up the pitch, though both prefer getting the ball to feet before picking up speed and dribbling.
Besides, Villas-Boas prefers to play with one wide forward rather than two wingers in his forward three, and Spurs have been strongly linked with Hulk and Daniel Sturridge, players who excelled under Villas-Boas in the outside-right role.
It's natural for Villas-Boas to try and replicate previous success stories; his attitude toward past failures is more crucial.
Michael Cox is a freelance writer for ESPN.com. He runs zonalmarking.net.
Soccer on ESPN.com

Follow Soccer on ESPN: Twitter
Coverage on ESPN FC
Euro 2012 in Review
MOST SENT STORIES ON ESPN.COM