Commentary
Here come the Cosmos
Can the NASL contain the iconic franchise's grand, global ideas?
Updated:
July 17, 2012, 1:41 PM ET
By
Roger Bennett
| ESPN
The second coming of the New York Cosmos is having its own second coming. That iconic team of Pele, Franz Beckenbauer and Giorgio Chinaglia, exhumed in 2010 with a volley of empty hype, t-shirts and vanity staffing appointments despite never building an official squad, announced last week it will return to action in 2013. "We're back said with none of the posturing; just a sound business plan," said new chairman Seamus O'Brien. "From now on, I want our deeds to match our words."
Soccer romantics will be further heartened by the news the Cosmos will not be returning to just any league, but in the refurbished North American Soccer League (NASL). It too is vastly different, no longer the star-soaked entity that drew 77,691 in 1977 to witness the Cosmos trump the Fort Lauderdale Strikers at Giants Stadium. Rather, the organization relaunched in 2011, sitting one tier below MLS, the major league at which the Cosmos' previous caretakers had made a crass public play to become the much-rumored 20th team. Yet O'Brien, an infectiously enthusiastic Englishman, casts the team's announcement as a shrewd footballing strategy that is far from slumming it.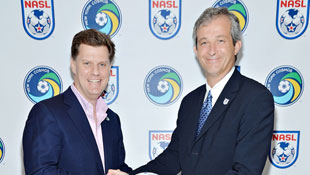 Mike Coppola/Getty ImagesNew chairman Seamus O'Brien with NASL commissioner David Downs, announcing the Cosmos' entrance into the league for 2013. It's the first significant step on the road back to the peak of American soccer.
"We evaluated the NASL opportunity alongside the MLS opportunity and came to the conclusion that it was the better fit for the business we are in today," he explained, referring to Major League Soccer's restrictive single-entity structure, salary cap, central contract system and revenue share. "Simply put, in NASL we have the freedom to do whatever we need to in a way we would not have in MLS. Our goal is to own our own brand, media rights and player contracts."
The MLS opportunity also came with a rumored $100 million price tag that was also a factor. "We realized we would be better off as owners by investing that $100 million capital in our own brand and owning it."
O'Brien, who refused to comment on how much the Cosmos had paid to be part of the NASL or how long a commitment the team had made to the league, would not be drawn on whether the gambit was made with an eventual eye on MLS. "The leagues have no promotion or relegation when I last looked, and I don't know what the future will hold in terms of the evolving relationship between NASL and MLS, but I do know there is a global football model out there," he explained. "Our focus is on that global football economy. We are not yet a Real Madrid or a Manchester United but as the football world converges, we intend be part of that game."
"What attracted us to the Cosmos in the first place was the brand -- a historic brand that has such resonance domestically and worldwide," explained O'Brien, a man on a roll, intent on passionately setting out an ambitious vision for his club. "We understand we need to be able to deliver on that history today by doing the things other truly global teams do: I want to develop a Cosmos TV deal that is viewable around the world. I want to have apparel everywhere from Beijing to Tokyo. I want offseason tours against teams like Real Madrid."
ESPN FC on Twitter
Don't miss a moment of the latest soccer coverage from around the world. Follow us on Twitter and stay informed. Join »
"Global football economy" and "global community" are mantras O'Brien repeats to mesmeric effect. Listening to him, it almost becomes possible to forget his team will soon be playing against the likes of the Carolina RailHawks and San Antonio Scorpions in the fallow fields of the U.S. Soccer's official Second Division.
O'Brien is undeterred, identifying two great assets the Cosmos have at their disposal -- their location and their past. "New York City has the most diverse, multicultural population in the world, so I want to focus on growing our fan base out of this city across the world," he explained, "and while the past won't allow you to write your own revenue line, we have a great heritage."
Ever the sports marketer, O'Brien is sufficiently realistic to identify his brand's limitations: "You can't live in the past without creating your own future, and I believe we have a business team here who have done it before and will do it again by applying good sound business techniques."
The Cosmos' latest enterprise is backed by Sela Sport, a Saudi Sports marketing group that claims to be the "first sports marketing company in the Kingdom of Saudi Arabia." O'Brien refrained from revealing the identities of the investors but admitted it has been a rocky experience transitioning from the vacuous hyperbole of previous chairman, Paul Kemsley, to a new strategic and achievable reality. "The Cosmos was in an extremely unprofessional state. To start a club today, what you don't do is to expend vast sums of money before you have a revenue line. We have had to reduce costs and staff numbers but now we are onto the fun part where we can create a team, pull on the jerseys, let the ref blow his whistle and off we go."
[+] Enlarge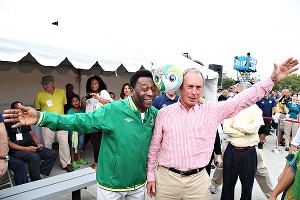 Neilson Barnard/Getty ImagesThe Cosmos relaunched in 2010 with Pele and New York City mayor Michael Bloomberg welcoming the club back into existence. In 2013, its squad will finally take the field in a competitive game.
The challenges that lie ahead are all practical. "We have to hire a general manager, identify a head coach and give him a brief, a budget and a philosophy. Then we have to hire the best team we can afford within the capacity of our business," he explained.
In a way that was perhaps typical of the previous regime, former Cosmos star turned Club Ambassador, Shep Messing, had opined on the record that "you can imagine a New York Cosmos team with a Beckham and a Messi and a Cristiano Ronaldo." O'Brien was quick to correct the record. "Ronaldo or Messi won't be here, but there will be the odd name you have heard of. This is America's global city, and we have to play to that audience."
O'Brien grew up a Tottenham Hotspur fan but remembers the Cosmos' heyday in the 1970s. "They represented the peak of sporting entertainment," he recalled. "It took a decade for NASL to peak last time and it may take that long again second time around."
When asked what kind of crowds he estimates the Cosmos will draw in their impending inaugural season, O'Brien is realistic. "15,000,'' he says, snorting. "To trot out before 70,000 fans on day one only happens in comic books. We have to build from the ground up and engage those thousands of kids who love soccer in Queens and Long Island. This time when we get hold of them, we won't let go."
Roger Bennett is a columnist for ESPN, and with Michael Davies, is one of Grantland's "Men In Blazers." Follow him on Twitter: @rogbennett.
SPONSORED HEADLINES
MORE SPORTS HEADLINES
MOST SENT STORIES ON ESPN.COM
Soccer on ESPN.com

Follow Soccer on ESPN: Twitter
Coverage on ESPN FC
Euro 2012 in Review