Commentary
Why Olympic men's soccer matters
Seen as a nuisance, the quadrennial tournament breeds winners
Updated:
July 17, 2012, 9:22 PM ET
By
Michael Cox
| Special to ESPN.com
Who cares about the Olympic soccer tournament?
This has been a common question raised across Great Britain this summer, with the indifference tested further by David Beckham's surprise omission from Stuart Pearce's 18-man squad.
It's a rhetorical question, but one that has a suitable answer: Brazil cares about the Olympic soccer tournament. So does Uruguay. Spain is taking it seriously too. The three most important soccer nations competing are putting 100 percent into the Olympics.
Brazil, in particular, is determined to win. Argentina and Uruguay have won Olympic gold in the past, but Brazil's lack of success is a source of great embarrassment. As such, the soccer competition is seen as the Olympics' major event in Brazil. Thiago Silva, the world's finest center back, is captaining the squad, while Hulk and Marcelo are the Selecao's two other overage players.
[+] Enlarge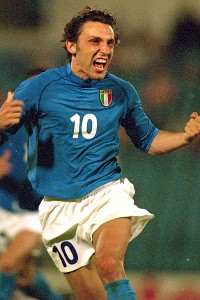 Phil Cole/Getty ImagesAndrea Pirlo, the Azzurri's England slayer at Euro 2012, played many "fringe" tournaments for Italy, winning the U-20 Euros in 2000 and Olympic bronze in 2004.
Uruguay, whose nickname of La Celeste occasionally becomes La Celeste Olimpica, has the opposite motivation. It wants to continue its excellent record in the competition, having recorded famous triumphs in 1924 and 1928 prior to the advent of the World Cup. Edinson Cavani, Luis Suarez and Egidio Arevalo Rios will launch its charge. Like Brazil, who will be coached by Mano Menezes, Uruguay national team coach Oscar Tabarez will lead the Olympic squad.
It's just over two weeks since Spain clinched Euro 2012, but some familiar names will be competing in the Olympics; Jordi Alba and Juan Mata were goal scorers in the final while Javi Martinez will captain the side.
In Britain, however, there is less enthusiasm. Today, Olympic organizers removed more than 500,000 tickets from sale in recognition that they would go unsold. Granted, there are political difficulties in assembling a Great Britain squad from four countries that compete separately in every other soccer competition, but this should have highlighted the uniqueness of the event. Britain is only here because it is the host. Its inability to qualify for any other Olympic soccer tournament means that its inclusion might never be repeated.
Besides, why were England's European Championship representatives not considered for selection? To prevent burnout is the obvious answer, but when you see Alba, Mata and Martinez -- players who got much further in the competition than any Englishman -- ready to compete, it makes less sense.
The Olympic tournament doesn't overlap with the Premier League season, but its start could have been delayed by a fortnight to give the players more time to rest. In 2000, Italy won the European Under-21 Championship in the summer with Andrea Pirlo as the captain who also took home the MVP award. A similar squad traveled to the Olympics with much expectation, and so the start of the Serie A season was delayed until October. In the end, Italy didn't triumph in Sydney, but it was at least given the freedom to properly compete.
There's certainly an element of "chicken and egg" to it, but the countries that take these competitions seriously tend to perform well in them -- and at the full international level. Spain isn't just the World and European Champions; it can also boast of being champions at the European U-19 and U-21 levels. Uruguay was the only non-European side to reach the World Cup semifinals two years ago and won the Copa America, while Brazil won the World U-20 championship last year.
ESPN FC on Twitter
Don't miss a moment of the latest soccer coverage from around the world. Follow us on Twitter and stay informed. Join »
That tournament was a fine example of English ignorance at youth level. Coach Brian Eastick had, in theory, a fine selection of players to choose from, yet many clubs refused to let their players compete. As a result, Eastick lost access to 36 players who could have helped the Three Lions' cause.
"Until the Football Association insists on clubs releasing players for competitive fixtures, it's very difficult for England to send its best team," Eastick said. "The English game revolves around the clubs."
In the circumstances, Eastick can be proud that his squad wasn't embarrassed in the competition. England recorded three goalless draws in the group stage before losing 1-0 to Nigeria in the quarterfinal. With such a decimated squad, Eastick decided England's best bet was to be highly defensive. It was an understandable approach, but at a time when English soccer lacks attacking drive and creativity, it was a wasted opportunity. The main problem wasn't Eastick but the fact that England weren't giving the competition enough respect.
[+] Enlarge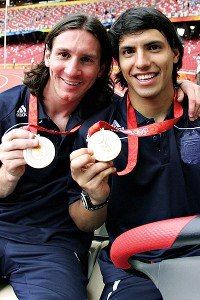 Koji Watanabe/Getty ImagesBarcelona originally blocked Lionel Messi, left, from playing in the 2008 Olympics, but new coach Pep Guardiola let him go. Argentina won gold, and he (along with Sergio Aguero) returned to La Liga as a superstar.
The takeaway point is simple. If you want to be a force in international soccer, you must take youth soccer seriously. At the very least, those formative years set an example that underage tournaments aren't merely about creating a harmonious group and developing talent (though this should be the main focus); It's also about trying to win a trophy for your country.
England's stars see international soccer as disposable, trying to get out of friendlies and often retiring early. You don't see Xavi Hernandez, 32 with a history of Achilles problems and nothing left to win, hanging it up just yet. He has been representing Spain for 15 years -- through the U-17, U-18, U-20, U-21 and U-23 levels -- and the importance of the national team was drilled into him from an early age. It's the same with Mata and Martinez. They played in the U21s when they were already World Cup winners.
Lionel Messi was another who benefited from an Olympic experience. In Graham Hunter's book "Barca: The Making of the Greatest Team in the World," he recalls how the Barcelona hierarchy tried to prevent Messi from competing at the Olympics four years ago despite the player's desperation to play. In stepped new Barcelona coach Pep Guardiola, who remembered his pride in winning Olympic gold in 1992, and sided with Messi.
The rest, as they say, is history. Messi travelled to Beijing, where he combined brilliantly with Juan Riquelme, Angel di Maria and Sergio Aguero in a stunning Argentina side. He came back with a gold medal, the hunger to continue that success and, in Messi's own words, an understanding that he "owed Guardiola." He certainly paid back his coach over the next four years.
If the Olympics are good enough for Messi, it should be good enough for every soccer player in the world.
Michael Cox is a freelance writer for ESPN.com. He runs zonalmarking.net.
Soccer on ESPN.com

Follow Soccer on ESPN: Twitter
Coverage on ESPN FC
Euro 2012 in Review
MOST SENT STORIES ON ESPN.COM