Commentary
Manchester United's company man
The Glazers have saddled United with massive debt, yet Alex Ferguson continues to support them
Updated:
July 23, 2012, 3:30 PM ET
By
Gabriele Marcotti
| ESPN
There are times when being the manager -- or, more accurately, The Boss in (almost) every sense -- of the biggest Premier League club in the world calls for a bit of creative license.
Asked about the impact the ownership of the Glazer family has had upon Manchester United in its seven-plus years at the helm, Sir Alex Ferguson pulled no punches. "They have been great," he said. "They have always backed me whenever I have asked them. I have never faced any opposition.
[+] Enlarge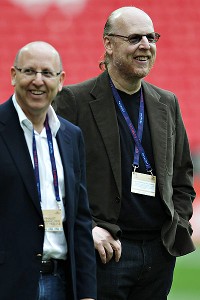 Adrian Dennis/AFP/Getty ImagesThe Glazer family, represented here by Malcolm (left) and Avram, bought United in 2005 when there was virtually no debt. Now the club is about $650 million in the red.
"I think the majority of real fans will look at it realistically and say [the Glazers' ownership strategy] is not affecting the team," Ferguson added.
Now, it's almost too easy to blow holes in this argument. So let's get this part out of the way quickly. Manchester United currently has debts of around $650 million. It had virtually no debt when the Glazers acquired the club in 2005 and has made steady profits ever since. So how does it end up with so much debt? Easy. It's a result of the Glazers' leveraged buyout of the club. In other words, they borrowed money to acquire United and then slapped the debt on the club itself.
As anyone with a mortgage can tell you, debt costs money. You have to pay interest on it regularly. And this has proved to be very expensive. Every year, some $50 million to $80 million flows out of the club to the banks to service the debt via interest payments and other fees.
By most estimates, more than half a billion dollars generated by Manchester United has effectively gone up in smoke (or swallowed by a bank) because of the Glazers' acquisition and the way it was engineered. Put another way, United has paid more than half a billion dollars for the privilege of having the Glazers as owners. Was it worth it?
It's true that United won four Premier League titles and a Champions League crown in the seven seasons that the Glazers have been around. But that's as many as the club won in the seven years before they came on board. And it's true that profits -- which were already high -- have generally risen under their ownership. Then again, the folks in charge at Old Trafford, Sir Alex and chief executive David Gill, were there before the Glazers' arrival.
Make up your own mind on that front. Suffice it to say that many United fans feel the Glazers' ownership has not been worth it, as evidenced by the hugely successful "green-and-gold" campaign and the nearly 200,000 strong membership of the club's supporters' trust.
[+] Enlarge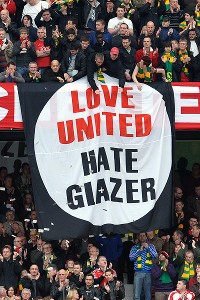 Paul Ellis/AFP/Getty ImagesSome United fans show their sentiment toward the Glazers.
What seems evident to most is that United's recent success has come in spite of the Glazers and not because of it. And it's not just about failing to spend big in the transfer market, the way Chelsea and Manchester City have done. (United is one of the few clubs in the world -- maybe the only club -- that could come close to that expenditure and still be profitable.) Sir Alex talks about "value" and doing things the right way in the transfer market and, given his track record, you tend to believe him.
Rather, you wonder if the Glazer effect isn't felt in other ways.
Cast your mind back to October 2010. Wayne Rooney's contract negotiations had been stalled for months. Suddenly, Sir Alex himself reveals at a press conference that his star striker "wants to leave." Forty-eight hours later, Rooney's people issue a statement in which he confirms that he wants out because the club can't "match his ambition" in terms of strengthening the squad. Then, another about-face: Rooney signs a five-year deal paying him some $15 million a year, and all is forgotten.
Fifteen million dollars a season for what Rooney represented to the club at the time (and based on what he has achieved since) is not a crazy salary. In a Glazer-less universe, might United and Rooney have reached the same deal without all the aggravation? Might Sir Alex have been spared the (indirect) public humiliation of being called unambitious by his star player? Might Rooney have looked less of an egotist?
With that extra half a billion dollars kicking around the club, the answer to all of the above would likely have been "yes."
And if all this still doesn't persuade you, ask the Glazers themselves. The prospectus for their upcoming IPO -- which, presumably, they approved -- includes the line "our indebtedness could adversely affect our financial health and competitive position."
But back to Sir Alex. Why defend the Glazers in this way?
It's not just the fact that they pay his salary. At age 70 and having achieved all that he has achieved, Sir Alex doesn't need them or their money. The answer is probably a lot simpler. He's a company man. And he's putting United first.
ESPN FC on Twitter
Don't miss a moment of the latest soccer coverage from around the world. Follow us on Twitter and stay informed. Join »
There was a time when he could have stood up to them, but that was in 2005. That ship has long since sailed. Now, for better or worse, his fate is aligned with the Glazers. Were he to cast even the slightest doubt on their stewardship of the club, were he to suggest that, without all those debt repayments, he might have done a better job and made the club more successful, it could damage the upcoming IPO. And with it the Glazers' attempt to reduce the club's debt.
And in the long run, that would be even more damaging. For United and for Sir Alex himself.
Gabriele Marcotti is a London-based journalist and broadcaster who covers world soccer. He is the author of three books, the world soccer columnist for The Times of London and a correspondent for the Italian daily Corriere dello Sport. You can catch him on ESPN Press Pass and read him here twice a week.
Soccer on ESPN.com

Follow Soccer on ESPN: Twitter
Coverage on ESPN FC
Euro 2012 in Review
MOST SENT STORIES ON ESPN.COM