Commentary
Pippo Inzaghi made his own luck
In praise of the "everyman" who has called it a career
Updated:
July 25, 2012, 5:05 PM ET
By
Gabriele Marcotti
| ESPN
Sometimes 90 minutes sum up a player's body of work. Perhaps no match epitomizes Pippo Inzaghi, who retired this week after a 21-year career, better than the 2006-07 Champions League final.
Inzaghi wasn't even supposed to start the final, a rematch against Rafa Benitez's Liverpool two seasons after that crazy night in Istanbul when the Reds staged one of the greatest comebacks ever. Alberto Gilardino had been the Rossoneri's first-choice center forward for much of the year. Inzaghi had managed just two league goals all season and, before the game, had made only four starts in the previous four months.
But Milan boss Carlo Ancelotti went all-in on Super Pippo and was repaid with both goals in the Rossoneri's 2-1 win which sealed their seventh European Cup victory. Fittingly, it was as Inzaghiesque a brace as you'll ever see. He scored his first when he got in the way of Andrea Pirlo's goal-bound free kick and his shoulder deflected the ball past Pepe Reina. The second came when he sprung the offside trap, making his seemingly zillionth run off the shoulder of the last defender, and poking the ball home.
Unless you're a Milan fan, it was ugly. You could also say it was fortunate, but you'd be wrong. When a guy makes the same seemingly fruitless run 20 times a game and is eventually rewarded for it, that's called making your own luck.
[+] Enlarge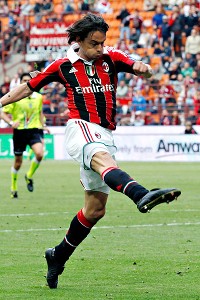 AP Photo/Luca BrunoPippo Inzaghi made a career out of being in the right spot at the right time. In short, he knew how to play the game.
That's what Inzaghi did for more than two decades. He made his own career out of the limited tools at his disposal. He was neither strong nor particularly quick. He was neither graceful nor technically gifted. But he had two qualities in which he was near peerless. Inzaghi was frighteningly persistent in a chicken-legs pumping, arms flailing, veins popping sort of way. And he had an almost supernatural knack for being in the right place at the right time, part of it a function of impeccable timing, part of it that mysterious trait we call "having a nose for the ball."
What does all that add up to?
Two-hundred and eighty-eight goals at club level, plus another 25 for Italy. Three Serie A titles, two Champions Leagues crowns, a Coppa Italia and a World Club championship. Then there was an Under-21 European title and, of course, the 2006 World Cup. Inzaghi is also the sixth all-time leading goal scorer in the history of the Azzurri and the second all-time in UEFA competitions.
Not bad for a guy who, when broken down into his component parts, really should never have been playing the game at the highest level.
There were times -- like when he missed wide-open sitters or when he screwed his body into the most contorted of shapes as he shot on goal, often shanking the ball to kingdom come -- that this was painfully obvious. Just as the frustration of some of his colleagues was clear when, head down, he'd pounce on a loose ball and fire away from some impossible position, even when teammates were better placed. And yet goals are the basic building block of the game, and few players provided as many as he did.
Inzaghi will now coach Milan's Under-16 team, which is somewhat ironic. A coach is, after all, a teacher, yet the qualities that made him great are exactly the ones which, supposedly, you can't teach. They are what Jorge Valdano calls "saber jugar a futbol" -- knowing how to play the game -- and it's something you carry within you.
Sir Alex Ferguson once told me he marveled at Ruud Van Nistelrooy because he had "one of the quickest minds" he had ever seen: speed of thought made up for sluggishness of foot. Nor can you give someone heart or bloody-mindedness or hunger, traits which Inzaghi reeked from every pore. Odds are, unless he can somehow bottle his mojo, he'll have to find something else to teach the youngsters.
ESPN FC on Twitter
Don't miss a moment of the latest soccer coverage from around the world. Follow us on Twitter and stay informed. Join »
Yet, at the same time, the fact Inzaghi will serve as a role model to kids is somehow appropriate. Because, in so many ways, he's "everyman." You could pass him on the street and not realize he was a professional athlete. (This, by the way, is in sharp contrast to his little brother, Simone, whom most would agree was the gifted Inzaghi and really did look the part, except he never reached the heights of Super Pippo). In that sense, Inzaghi serves as a reminder that skill and athleticism are only part of the equation; you can make up for them in other ways. And that what you achieve is more important than how you look doing it. He's the embodiment of those two lessons and they're definitely ones worth teaching.
Gabriele Marcotti is a London-based journalist and broadcaster who covers world soccer. He is the author of three books, the world soccer columnist for The Times of London and a correspondent for the Italian daily Corriere dello Sport. You can catch him on ESPN Press Pass and read him here twice a week.
SPONSORED HEADLINES
MORE SPORTS HEADLINES
MOST SENT STORIES ON ESPN.COM
Soccer on ESPN.com

Follow Soccer on ESPN: Twitter
Coverage on ESPN FC
Euro 2012 in Review