Commentary
Mixed results for Olympic football
Updated:
July 27, 2012, 11:34 AM ET
By
Michael Cox
| Special to ESPN.com
The opening ceremony for the 2012 Olympics may be taking place Friday evening, but the men's soccer tournament commenced Thursday, with all 16 sides playing on the same day. The eight matches were of varying quality, but the main theme was how even the games were -- none were won by more than one goal.
Here are five conclusions from the opening day:
1. This should be an enjoyable men's competition
Soccer always feels like something of a sideshow at the Olympics. In the modern era, it simply can't compete with the World Cup, European Championships or Champions League in terms of prestige, which means many hard-core soccer fans simply don't bother watching.
But the beauty of the Olympics is a more relaxed atmosphere -- you'd like your country to win, but you're not bothered if it doesn't. Combine that with the freshness and occasional naiveté that stems from the age restrictions, and you can enjoy a pleasant tournament that fits in with the general Olympic spirit of openness and opportunity. Coaches encourage players to express themselves, while shocks -- like Japan's victory over Spain on Thursday -- seem to occur relatively frequently.
The structure of the opening day, with matches spread over the course of eight hours, means you could dip in and out of the action, casually watch a match, give up if it's not very good, then come back an hour later to try another game. There is little pressure on the players, and little pressure on the viewer to consume as much action as is humanly possible, as often feels the case at the World Cup.
[+] Enlarge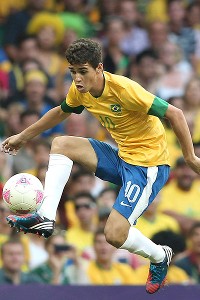 Alexandre Cassiano/Getty ImagesBrazil's Oscar, who picked up two assists against Egypt, showed a keen tactical understanding in the No. 10 role.
2. Brazil is the side to beat
When taking into account the sheer quality of its youngsters, the presence of one of the world's finest center backs in Thiago Silva, plus its overwhelming desire to win the Olympic football tournament for the first time, Brazil was the pre-tournament favorites.
It justified that status with a superb opening half hour against Egypt. Rafael, Leandro Damiao and Neymar were the goal scorers as Brazil raced to a commanding 3-0 lead, but the real star was new Chelsea signing Oscar, who picked up two assists. He played some terrific passes through the defense, clearly understanding that the purpose of his role in the No. 10 shirt was to connect the two deeper midfielder with the front three, ensuring Brazil never became a broken side. This was what Ganso struggled with at the Copa America last year -- he played far too high up the pitch -- and Oscar's superior tactical understanding means he deservedly started ahead of Ganso.
But Brazil endured a nervous final 15 minutes after sloppy defending allowed Egypt back into the game. Silva's partner Juan Jesus looked nervous, Rafael concentrated upon attacking and Marcelo was pinpointed as a weak link by Egypt in the second half. After the Dunga era, when Brazil was solid at the back but lacked attacking invention, it's oddly refreshing to watch a Brazilian side that is essentially trying to score enough brilliant goals to compensate for its inevitable defensive lapses.
3. Team Great Britain lacks cohesion
Perhaps it shouldn't be surprising considering Great Britain hadn't competed as a football nation for 50 years, but it was difficult to understand manager Stuart Pearce's game plan against Senegal. Team GB used a quick forward trio of Craig Bellamy, Daniel Sturridge and Danny Rose, but frequently hit long balls for these three -- average height 5-foot-10 -- to challenge in the air against an extremely physical Senegal side.
Bellamy opened the scoring following a set piece, but Team GB rarely created good opportunities until Wales captain Aaron Ramsey was introduced in the second half. The players also seemed completely oblivious to Senegal's main threat, which was on the counterattack; Great Britain threw too many defenders forward for a corner kick, so Senegal promptly raced down the pitch and scored.
The last time Britain hosted a major football tournament, the European Championships of 1996, Pearce was one of the stars. He is remembered for his ballistic, emotional celebration after slamming home a penalty in the shootout against Spain in the quarterfinal, having missed a crucial spot kick in the World Cup semifinal six years previously. He was a national hero. Now Pearce appears to be a national figure of derision. Great Britain isn't out of the competition, but performances will need to markedly improve to escape a feeling that Pearce has wasted a once-a-half-century chance for Britain.
ESPN FC on Twitter
Don't miss a moment of the latest soccer coverage from around the world. Follow us on Twitter and stay informed. Join »
4. Spain can be pressed effectively
Spain's approach to youth development is excellent. It is champions at both the under-19 and under-21 levels in Europe, but more important is the cohesion between the youth sides and the full national team. The likes of Xavi Hernandez and Andres Iniesta have taken passing football to new heights with their constant ball hoarding throughout major tournaments, and the next generation attempts to play the same way.
A key feature of Spain's play is its commitment to passing the ball out from the back -- not thumping goal kicks forward, but instead building short passes from deep. When it works, it's highly impressive, but this strategy repeatedly got La Roja into trouble Thursday. Keeper David De Gea passed the ball to the defense, which was pressed immediately by an energetic Japanese side. La Roja kept conceding chances this way; midway through the first half, Hiroshi Kiyotake picked up a wayward backpass, rounded De Gea, but couldn't finish from a narrow angle. Minutes later, Inigo Martinez was sent off after he miscontrolled a pass across the defense, then brought down Kensuke Nagai. Spain was already 1-0 down, and Japan dominated the rest of the game.
Will Spain change the way it plays? Certainly not -- it goes against its entire football philosophy. But judging by the team's nervousness on the ball, it will be worth future opponents following Japan's lead and closing down quickly.
[+] Enlarge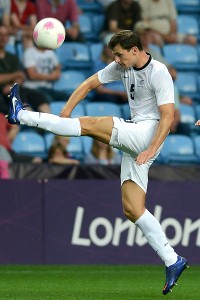 Khaled Desouki/Getty ImagesMany football matches on Day 1 failed to draw big crowds, including just 15,000 who turned up for New Zealand vs. Belarus.
5. Will Britain regret hosting the Games?
It has been a struggle for the organizing committee to convince Britain that the Olympics are worth the estimated 11 billion-pound cost, particularly in a time of economic crisis. Tessa Jowell, the former Olympics Minister, admitted that the government wouldn't have bid for the Games in the first place had it known about the imminent economic downturn.
The 11 billion-pound figure is a cost to Britain as a whole, yet the Games are held almost solely in London, prompting questions across the rest of the country. What were they to get out of it? Consequently, football matches were staged across Britain -- in Glasgow, Manchester, Newcastle, Coventry and Cardiff.
The response has been rather underwhelming: 500,000 football tickets were removed from sale before the Games even started, and most of Thursday's matches were played in front of largely empty stands. No one is surprised that only 15,000 turned up to watch New Zealand against Belarus (indeed, that's higher than many anticipated). yet favorite Brazil played at Cardiff in a stadium just 35 percent full. It was a similar story elsewhere -- only Old Trafford was close to capacity, for Great Britain's game.
This remains London's Olympics, rather than Britain's Olympics.
Michael Cox is a freelance writer for ESPN.com. He runs zonalmarking.net.
SPONSORED HEADLINES
MORE SPORTS HEADLINES
MOST SENT STORIES ON ESPN.COM
Soccer on ESPN.com

Follow Soccer on ESPN: Twitter
Coverage on ESPN FC
Euro 2012 in Review