Commentary
City's plans for football domination
Updated:
July 31, 2012, 5:01 PM ET
By
Roger Bennett
| ESPN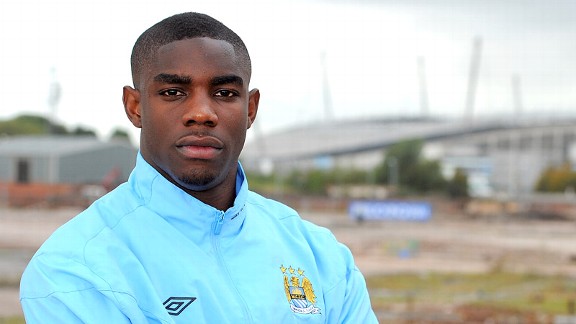 Andrew Yates/Getty ImagesMicah Richards stands in front of the proposed site for the new Man City football academy, which is part of the club's ambitions to dominate the game at all levels.
"Manchester City would love to have an elite American player who can score 20 goals a season for us," said Gary Hopkins, the man tasked with overseeing the club's international development in the United States.
"But this U.S. player can't be token," Hopkins said. "If we can find a guy with an American accent who can score like [Sergio] Aguero, pass like [David] Silva and tackle like [Vincent] Kompany, we will be in business."
While the transformative powers of the $1.57 billion that owner Sheikh Mansour poured into last season's champions since 2008 have been well documented, the second phase in City's development has received less attention.
"We needed to compete straight away," said Brian Marwood, City's football administration officer. "But we always planned that in tandem with strengthening our first team, we would reorganize our youth and academy levels and build for the future."
City may have demonstrated seemingly infinite economic muscle to stockpile a squad with two world-class players at every position, but UEFA's Financial Fair Play regulations designed to rein in spending loom large.
"Financial Fair Play mean teams have to become sustainable," Marwood said. "We are working toward meeting the requirements while ensuring the balance of our squad meets the demands of the various tournaments we are competing in. And identifying emerging talent is a key part of that strategy."
In its pre-Abu Dhabi formulation, City has defined a proud tradition of nurturing young talent with names such as Alan Oakes, Peter Barnes and Paul Lake breaking through the ranks in the 1960s, '70s and '80s, but in this past title-winning season, Micah Richards was the only product of the club's academy to star on the first team.
Upon taking over the club, Sheikh Mansour had promised fans in an open letter, "Whilst we want to bring in the best players in the world, we also want to see the academy continue to develop talent. ... We are building a structure for the future not just a team of all-stars."
The club has dedicated substantial financial and mental resources to making good on this promise. In the past, its scouting focus was strictly within an hour-and-a-half drive of Manchester. Nowadays, the search for emerging talent has gone global, including the U.S.
"We scout across Europe and worldwide now," said Mark Allen, director of Manchester City's academy, who taps into City's complex database that tracks the world's best young players. "We start scouting nationally at ages 5 to 6 and carry about 20-25 players for every age group 9 to 18."
[+] Enlarge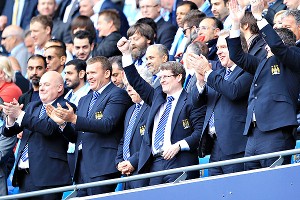 AP PhotoCity's brain trust -- including (center) Brian Marwood, the club's football administration officer -- celebrate at Etihad Stadium after the Sky Blues clinched the EPL title last season.
North America has become a fixture on the club's radar.
"There is a real talent pool in the United States now," Marwood said. "We monitor it on a regular basis. We have realized it is an area we need to look at further as the talent is getting stronger and stronger."
Allen, who attended college in San Diego, has also detected a dramatic transformation in the American youth system.
"Thirty years ago, the players were very physical types who could run all day," Allen said. "What they lacked in technical ability, they compensated for with endeavor and willingness to win. But the technical and tactical sides have made huge strides."
Despite this acknowledged well of talent, City lacks a full-time scouting infrastructure in North America. In old-school fashion, the Sky Blues rely on an informal network of talent spotters to tip them off, while building relationships with MLS teams such as the Los Angeles Galaxy, Portland Timbers and Vancouver Whitecaps.
"Stuart Holden, Clint Dempsey, Tim Howard and Brad Friedel have put America on the map, but right now we depend upon our South American- and United Kingdom-based scouts to drop in to the U.S.," Hopkins said. "They are fascinated by the skill and stamina of [U.S.] players, including the Latino-American hybrid, which we have seen in elite local teams like Fullerton Rangers, or the physical and mental strength demonstrated by young guys like Gedion Zelalem." Zelalem is a 15-year old Ethiopian-born, Maryland-based midfielder who has trained with Arsenal's youth system.
For reasons of confidentiality, none of City's staff could specify exactly which young Americans it had tapped.
"We have brought U.S. talent over to train," Allen confirmed. "The way we work at youth level in England is a little more developed than they are used to. I think the experience opened their eyes."
Regrettably, there are a slew of hurdles between aspiring young Americans and their dreams of edging toward the Premier League. Work-permit restrictions create legal challenges for players without European ancestry, and the traditional reliance on the college soccer system in America has prevented clubs from engaging with players while they are young enough to be molded tactically and mentally.
Hopkins believes this is changing, pointing to more than 50 American-born players he estimates to be training in Mexico's youth systems.
"The MLS did not offer the money to make a kid bypass college at the outset," Hopkins said. "But over the past five years more and more Americans have become exposed to the world's best on television -- the Messis, Ronaldos and Agueros -- and are now aware of the possibility of building a lucrative career in soccer."
Manchester City also faces challenges when attempting to engage elite talent.
"We lack the winning tradition," Hopkins admitted. "And so City are 10 to 20 years behind Manchester United, Barcelona, Real Madrid from a brand-building perspective." To compensate, the club has begun work on a state-of-the-art $314 million academy and training center on 75 acres in the shadow of Etihad Stadium. According to Hopkins, "This will be the kind of place every top 15-year-old in the world wants to come."
Chief infrastructure officer Jon Stemp has been charged with overseeing the redevelopment, traveling four continents to perform due diligence by analyzing centers of sporting excellence from Real Madrid and Barcelona to the Miami Dolphins and New York Knicks. City's facility will include 16½ football fields with different pitches replicating every grass length the team will encounter in the Premier League.
"We will even scout the grass of potential Champions League opponents," Stemp said. "It is attention to detail like this that can give the players a competitive edge."
The details are important to Stemp.
"To acquire a young person, we have to convince their parents that the environment we provide will not only allow their son to develop as a football player but also as a full person, so they do not become the Joey Bartons of the future," Stemp said. "In the past, we have made great footballers who are not always good people. Our goal now is to do both."
"Our mission is not to develop U.S. soccer," Hopkins said. "That is Jurgen Klinsmann's job. We are looking to identify Champions League-caliber players for Manchester City while they are at the youth level."
ESPN FC on Twitter
Don't miss a moment of the latest soccer coverage from around the world. Follow us on Twitter and stay informed. Join »
Marwood believes this will occur and the U.S. can play a part.
"The way American boys are developed, they are so mature from a character and value perspective," Marwood said. "I expect the quality of their technical game to continue to develop."
Hopkins concluded with a chuckle when asked whether we will see an American pull on City's sky blue jersey.
"Let's put it this way, the days when our scouts would get a report of a talented American kid and cynically dismiss it are long gone," Hopkins said.
Roger Bennett is a columnist for ESPN, and with Michael Davies, is one of Grantland's "Men In Blazers." Follow him on Twitter: @rogbennett.
Soccer on ESPN.com

Follow Soccer on ESPN: Twitter
Coverage on ESPN FC
Euro 2012 in Review
MOST SENT STORIES ON ESPN.COM