Commentary
Robin van Persie's next move
The pros and cons of each possible destination for RvP
Updated:
August 1, 2012, 6:40 PM ET
By
Gabriele Marcotti
| ESPN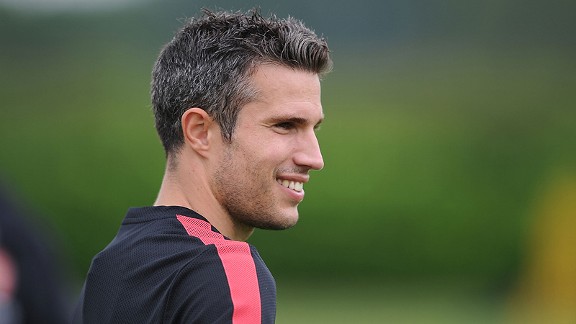 Stuart MacFarlane/Getty ImagesThere's plenty of interest in Robin van Persie, but which club would suit him best -- Manchester City, Manchester United or Juve? Or will he end up staying with Arsenal?
So Thierry Henry has come out and said that while he'd love it if Robin van Persie stuck around at the Emirates, he is confident the club can cope with his departure.
What else is he supposed to say? Go all Chicken Little and warn of falling skies over Goonerland?
Henry sums up the way many Arsenal fans (and manager Arsene Wenger himself) view Van Persie. He's an important asset, but not one who is worth keeping at any price. Where folks might differ is what value to put on his head.
And it's interesting to note that there hasn't exactly been a stampede to the Dutchman's door, suggesting that maybe Van Persie is somewhat overrating his value and what he may be worth to other clubs. Obviously, for any club, there's a price at which it makes sense to sign him and one at which you'd be best served to run the other way, especially if his agent starts talking five-year deals and eight-figure annual wages for a guy who turns 29 next Monday.
With this in mind, how about a cost benefit analysis among those reportedly chasing Van Persie?
Manchester City
Why it make sense: Van Persie has 47 goals in his past 54 Premier League matches, the kind of average which is quasi Messi-esque in the modern game. He combines strength and size with technique and creativity like few other strikers in the game today. City manager Roberto Mancini can make him an automatic choice up front and scare the bejesus out of everyone else. He could also slot RvP in the hole in City's 4-2-3-1. He's the reliable front man City has been crying out for. From Van Persie's perspective, he'd likely be tripling his wages and playing for a team that has won major silverware in each of the past two seasons, unlike his current employers, who haven't won anything since 2005.
Why it doesn't make sense: Van Persie scores plenty, but goal-scoring wasn't really a problem for City last season, as the team notched the second-highest Premier League total since the turn of the millennium.
[+] Enlarge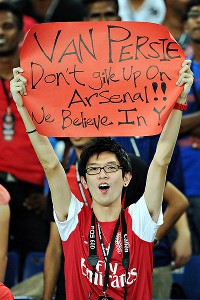 David Price/Getty ImagesAn Arsenal fan sends a message to RvP during Arsenal's preseason Asian tour.
And City already has four highly paid center forwards on the books: Mario Balotelli, Edin Dzeko, Carlos Tevez and Emannuel Adebayor. Van Persie scored a goal every 111 minutes on the pitch, which is exceptional, but actually marginally worse than Dzeko (one every 108) and Balotelli (one every 102). Tevez and Adebayor have shown they can be reliable scorers, too.
What's more, City -- already struggling with Financial Fair Play restrictions -- will need to shift at least two of the aforementioned quartet should RvP come on board. Committing to Van Persie will give the team even less leverage when it comes to selling. Throw in his injury record and the fact that he's older than the incumbents, and the deal doesn't look so good in the medium term.
Equally, from Van Persie's perspective, there's a real risk that he won't be the main man the way he was at the Emirates. There will be competition game in, game out for a starting spot, and he won't have 10 guys behind him trying to play him through on goal. Remember, Mancini is the kind of coach who can be ruthless once he changes his mind about you (just ask Adebayor, Tevez or even Craig Bellamy).
Manchester United
Why it makes sense: This would be the kind of massive "statement" transfer Manchester United hasn't pulled off since 2008, when Dimitar Berbatov came on board. Van Persie would take pressure off Wayne Rooney, both in terms of scoring and creativity, and he could shift the balance of power back to the red half of Manchester. Van Persie, who has presumably been crying out for silverware, would join the most decorated English club, one where trophies are virtually guaranteed year after year.
Why it doesn't make sense: United has been building around youth and this would be a radical departure. Wherever you put Van Persie, someone's development will be stunted. Sure, Sir Alex Ferguson likes to rotate his players, but with Van Persie and Rooney on board, there won't be too much room for others in the center forward and second striker roles. That wouldn't bode well for Danny Welbeck, 21, and "Chicharito" Hernandez, 24, up front, or 23-year-old Shinji Kagawa and 27-year-old Ashley Young in the hole. Yes, you can move some of those guys wide occasionally, but the flanks are already crowded with the likes of Antonio Valencia and Nani.
Unless there's a clearout, bringing RvP on board would smack of a vanity purchase.
What's more, Sir Alex isn't the type of guy to dole out playing time based solely on a hefty wage and/or transfer fee. Just ask Berbatov, who missed out on the 2010-11 Champions League final in the season he scored 20 Premier League goals and made just five Premier League starts the following year.
Juventus
Why it makes sense: The club has been in urgent need of a superstar up front who can score goals and galvanize a side that looks stacked in midfield and defense but has been a bit short up top. RvP would be a wonderful complement for whichever striker, whether Alessandro Matri or Mirko Vucinic, manager Antonio Conte chooses to deploy up front. It would show the world that the bianconeri are back in the most emphatic way. As for Van Persie, he'd get guaranteed Champions League football for years to come, the opportunity to test himself in a new league and the chance to play for a team that's on the rise.
Why it doesn't make sense: Van Persie's wages would upset the club's pay structure, particularly when it comes time to renegotiate the deals of Claudio Marchisio and Giorgio Chiellini. Juventus has spent heavily over the past few seasons and has spent well, but at some point the team needs to move toward break-even and this wouldn't help.
ESPN FC on Twitter
Don't miss a moment of the latest soccer coverage from around the world. Follow us on Twitter and stay informed. Join »
Plus, Van Persie would be swapping the Premier League for Serie A, which in terms of global appeal is a step back.
The bottom line? Right now, at the figures that have been reported and given the circumstances among his suitors, there's no rational place for Van Persie to go. Things could change in the next 30 days before the transfer window closes, of course, particularly if United or especially City manage to sell off some assets. But unless that happens, with every day that passes the possibility that Van Persie stays at the Emirates -- either running down his contract or signing a hefty one-year extension -- increases.
Gabriele Marcotti is a London-based journalist and broadcaster who covers world soccer. He is the author of three books, the world soccer columnist for The Times of London and a correspondent for the Italian daily Corriere dello Sport. You can catch him on ESPN Press Pass and read him here twice a week.
Soccer on ESPN.com

Follow Soccer on ESPN: Twitter
Coverage on ESPN FC
Euro 2012 in Review
MOST SENT STORIES ON ESPN.COM