Commentary
Reading between the lines
Five points from the fine print of Manchester United's IPO prospectus
Updated:
August 3, 2012, 2:09 PM ET
By
Michael Bertin
| Special to ESPN.com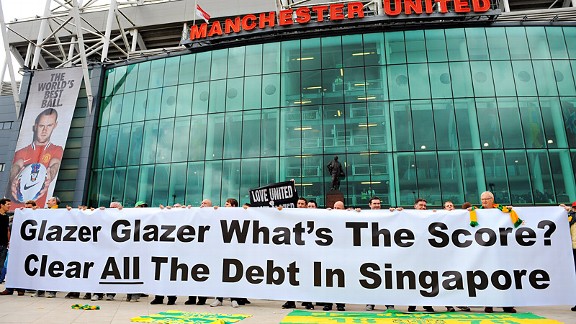 Andrew Yates/AFP/Getty ImagesThe Glazers are unpopular with United fans. Will that continue with the IPO prospectus?
The prospectus that Manchester United filed with the SEC is a large and rather tedious document but for those willing to dig through, it is also wildly entertaining. Hidden among numbers and the legalese, there is (some) good, there is (possibly more) bad and there is (plenty of) silly.
1) The Glazers fancy Manchester United as a bit of a startup.
In April 2012, President Barack Obama signed the JOBS Act into law. JOBS is actually an acronym for "Jumpstart Our Business Startups," and, yes, this is oddly related to United's public offering.
The JOBS Act was partially intended to ease the regulatory burden on small companies. Notable among the key provisions was one that exempts small businesses from parts of the Sarbanes-Oxley law, which was passed in the wake of the accounting scandals at several large corporations (Enron, WorldCom, Adelphia, etc.). Its basic goal: increase requirements for financial reporting so that such scandals wouldn't happen again. "Small" for JOBS, however, means "less than $1 billion" in revenue.
For that reason, Manchester United is considered "small" (technically, an "emerging growth company") and thus isn't subject to Section 404 of Sarbanes-Oxley, a provision that requires companies to have an assessment of internal controls. Basically it's management saying that, yes, their financial statements are indeed reliable and not works of light fiction.
What does that mean for United? Less regulation. In general, those regulations cost money to adhere to, but they also exist to safeguard against companies getting creative with their books. Just because the Glazers are exempting themselves doesn't mean they are witch doctors, but if you are already suspicious of the way the club is being run, the opt-out probably isn't reassuring.
As former Senator Paul Sarbanes -- the guy whose name is on the legislation -- said in the wake of the JOBS Act's passage, the decreased regulation for companies under the $1 billion threshold is a "scandal waiting to happen."
2) According to the Glazers, Liverpool fans are United fans
To be exact, they are Manchester United followers, as is one of every 10 people on the planet. Verbatim from the prospectus: "We and Kantar Media included in the definition of 'follower' a respondent who either watched live Manchester United matches, followed highlights coverage or read or talked about Manchester United regularly."
The actual number Kantar Media produced -- in a study the club paid for -- is that United has 659 million followers. There are legions of Liverpool fans who have "watched live Manchester United matches." According to the Glazers' definition, they would then count as Manchester United followers. Never mind that a good number of them were likely only watching because the games were at Anfield.
ESPN FC on Twitter
Don't miss a moment of the latest soccer coverage from around the world. Follow us on Twitter and stay informed. Join »
There's no transparency about how that number was calculated, but on the surface, it's ridiculous. Assuming there are 7 billion people on the planet, United's claim that 1 in 10.6 people is a United follower seems to be an inflated estimate of the club's global reach.
3) What do you get for your money?
Still want to own shares? When you make the purchase, you're actually buying an equity stake in Manchester United plc, registered in the Cayman Islands. The US company Red Football LLC will maintain a majority stake and voting interest in that same Manchester United plc (Cayman). Red Football Holdings Limited (UK) is a subsidiary of Manchester United plc (Cayman). And so we keep following the paper trail: Red Football Shareholder Limited (UK) is a subsidiary of Red Football Holdings Limited (UK). Red Football Joint Venture Limited (UK) is a subsidiary of Red Football Shareholder Limited (UK). Red Football Limited (UK) is a subsidiary of Red Football Joint Venture Limited (UK). Manchester United Limited -- we're finally at the football club at this point -- is a partially owned subsidiary of Red Football Limited (UK).
If you do buy shares, you are buying Class A shares that come with a tenth of the voting rights that the Glazers' Class B shares retain. (You can't buy the latter.) Once you do the math, you're left with a pool of 16.67 million shares that, collectively, gets a little over 1.3% of the voting rights.
So if your vote is effectively zero, what do you get? The answer is "not dividends." From the prospectus' Dividend Policy: "We do not currently intend to pay cash dividends on our Class A ordinary shares in the foreseeable future."
It's not at all unusual for a public company to not issue dividends to its shareholders; the Glazers, however, took out a 10 million pound dividend in April of this year. The subtext of this offering is, "We want you to give us your money, but we don't want to give you much of anything in return."
Now the good news (and there is some). The share offering is going to raise around an estimated $300 million. Though the prospectus says proceeds will retire about $140 million in outstanding debt, that still leaves an additional $160 million left coming into the club. So United might well pay down a chunk of debt and still be able to afford a few world-class players. Essential if the club is to remain competitive with its "noisy neighbors."
[+] Enlarge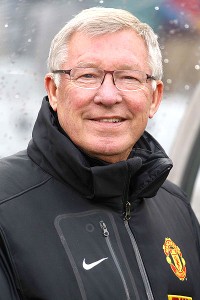 Luke Walker/Getty ImagesAlex Ferguson has denied that he stands to profit from the IPO flotation, though the fact that there are accusations is troubling enough.
4) What are Fergie's options?
One of the contentious provisions getting some media attention is the creation of the Equity Incentive Award Plan, which sets in reserve an additional 16M Class A shares "to attract, retain and motivate selected employees, consultants and non-employee directors."
In light of some of Sir Alex Ferguson's recent comments -- specifically that the Glazers have been "great" for the club -- United fans might understandably be concerned. If he's participating in any such plan, then his comments might be colored by that, though Ferguson has denied that he will get any IPO bonuses from the flotation.
5) Player power
From the "Risk Factors" section: "A downturn in the performance of our first team could adversely affect our ability to attract and retain coaches and players. In addition, our popularity in certain countries or regions may depend, at least in part, on fielding certain players from those countries or regions."
Park Ji-Sung was fantastic at United, playing his midfield role near perfectly when called upon, but his citizenship didn't hurt when it came to United trying to expand its presence in parts of Asia (as the quote section above implied). Even though Park has moved on to QPR, the club has brought in Shinji Kagawa. Korea's population is about 50 million people; Japan's roughly 125 million people. It is mildly surprising the prospectus didn't go to that level of granularity.
Michael Bertin is a former contributor to Deadspin.com. He currently resides in Austin, Texas and can be found on Twitter @bertinbertin.
SPONSORED HEADLINES
MORE SPORTS HEADLINES
MOST SENT STORIES ON ESPN.COM