Commentary
Time to prove their worth
Updated:
August 7, 2012, 9:36 AM ET
By
Ravi Ubha
| ESPN.com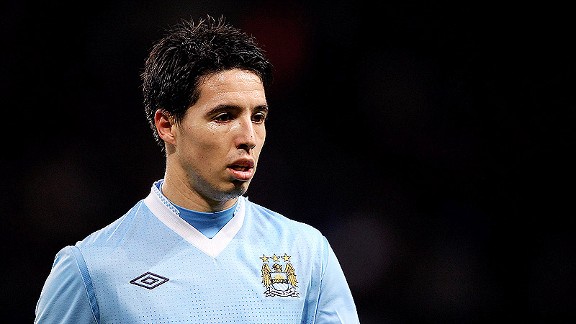 Alex Livesey/Getty ImagesSamir Nasri picked up his production near the end of the season for Man City, but he didn't justify his price tag.
They cost their teams more than 130 million pounds ($202 million) combined. But the value for the money hasn't been there for these five Premier League internationals, who weren't as advertised in 2011-12.
Career-defining seasons coming up, then?
For sure.
Samir Nasri, Manchester City: Since he's the oversensitive type who despises criticism, Nasri should look away now. Maybe that would be the best thing for all of us. After all, from a journalist's perspective, we wouldn't want Samir to see this and thus be on the receiving end of a "shut up" or similar.
Those poor French reporters.
Nasri contributed in spurts for Manchester City last season. Notable was his contribution for a few weeks in April, when he picked up the slack for a slumping David Silva.
But overall Nasri wasn't nearly good enough given his 24-million-pound price tag, and Manchester City claiming the Premier League title in dramatic fashion didn't hide that. (Thank Chelsea, City and now PSG for inflating player values.)
Nasri's most productive position is central midfielder, yet it was clear by season's end that Silva and Yaya Toure were better options in an advanced role in front of a holding midfielder.
So where does that leave Nasri? In trouble. He was linked with a move away from City in June, though that talk has died down.
Regardless, the time is now for Nasri to shine and make up for a problematic Euro 2012.
Andy Carroll, Liverpool: Yes, it's possible to have sympathy (only a little) for a footballer who makes more in a week than a nurse does in two years. For most of last season Carroll was manhandled by Kenny Dalglish -- and he let it be known he didn't like it.
The beneficiary, finally, of more playing time at the end of the season, Carroll found form and carried it into Euro 2012, in which Wayne Rooney's early absence for England opened up a spot for the 6-foot-3 striker.
But for most of the summer we've heard how Carroll and his style of play don't mesh with new boss Brendan Rodgers' philosophy.
Newcastle and West Ham have expressed their interest in Carroll, and moving on, either on loan or permanently, appears likely. Carroll will most certainly be off-loaded from Anfield for good come next summer if a permanent switch isn't on the cards this summer.
No one needs to tell Carroll that a switch to West Ham or Newcastle, his old club, is a step back. Further, players who've earned a reputation for underachieving at big clubs rarely get a second chance to shine for another big club in the same league, no matter how fortunes change.
Wherever Carroll is, banging in goals is a must. His confidence would return, and he would retain his spot on the national team with World Cup qualifiers on the way. If the goals don't come, his fall from grace will be faster than his rise to stardom.
ESPN FC on Twitter
Don't miss a moment of the latest soccer coverage from around the world. Follow us on Twitter and stay informed. Join »
Fernando Torres, Chelsea: Despite doing little for Chelsea following his 50-million-pound move from Liverpool -- seven league goals in 46 appearances -- some will leap to the defense of Torres. He's helped set up goals, works hard for the team and has scored a few key goals when the game is stretched or the opposition back four is tiring.
And they'll say: How can Torres perform when he knows he's not the main man up front at Chelsea? That title belonged to Didier Drogba. At both Liverpool and Atletico Madrid, Torres was a demigod, which no doubt elevated his ego.
There can be no excuses now.
Drogba left the riches of West London for the riches of China, and Torres will thus have every opportunity to rediscover his scoring form. If Chelsea's young, newly assembled midfield gels quickly, he's bound to be on the receiving end of good balls.
Another season of drought, however, and both Chelsea and Torres would likely want a separation.
Per Mertesacker, Arsenal: The intent was there, which would have pleased Arsenal backers: The Gunners actually went out and bought a high-profile defender.
But things didn't pan out as Arsenal fans had hoped for Mertesacker, the beanpole German international, in his first season in English football. Lacking pace and several pounds, he was more of a liability than an asset, and Mertesacker's valuable education was cut short when he missed the final three months with an ankle injury.
[+] Enlarge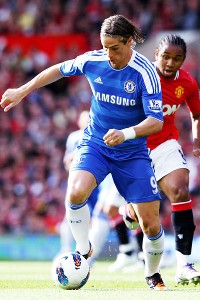 Clive Brunskill/Getty ImagesFernando Torres and Anderson each have struggled to find proper footing with their Premier League clubs.
An indifferent season and Mertesacker could turn into a Pascal Cygan or Igors Stepanovs -- tall central defenders who were laughingstocks in North London.
He'll be encouraged, though, by teammate Laurent Koscielny's progress. The French international struggled in his first season in the Premier League but was one of the division's best defenders in 2011-12.
Just how Mertesacker cracks the lineup remains to be scene, since Koscielny and Thomas Vermaelen is Arsenal's first-choice center back pairing. Vermaelen, however, is injury prone.
Anderson, Manchester United: Brazilians and Old Trafford have yet to truly bond.
For a start, Manchester United manager Alex Ferguson was foiled in his attempt to bring Ronaldinho to the club, with the toothy one opting for Barcelona instead and enjoying several fine years before he went pear-shaped at the end.
One Brazilian who did arrive, Kleberson, was nothing short of a flop in his two years in Manchester. The jury is still out on twins Rafael and Fabio da Silva.
What to make of combative midfielder Anderson? At his best, Anderson is just what United requires, someone who can win the ball, go in hard on tackles and intimidate the opposition. Yet even before he was struck by injury last term, he consistency lacked.
He may only be 24, but he's been at Old Trafford for five years and was no bargain buy at a reported 20 million pounds.
Fergie can lose patience quickly, so if Anderson can't do the job for United this term, will he stay with the Red Devils thereafter?
SPONSORED HEADLINES
MORE SPORTS HEADLINES
MOST SENT STORIES ON ESPN.COM
Soccer on ESPN.com

Follow Soccer on ESPN: Twitter
Coverage on ESPN FC
Euro 2012 in Review