Commentary
Cazorla symbol of Arsenal's ambition
Updated:
August 9, 2012, 6:51 PM ET
By
Michael Cox
| Special to ESPN.com
Santi Cazorla is a typical signing, and yet an atypical signing. There's nothing unusual about Arsene Wenger purchasing a creative attacking midfielder who specializes in linking play, and yet it's a big surprise to see the manager spending so much money. Cazorla was purchased for around 16 million pounds, Arsenal's record transfer fee.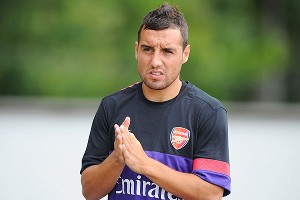 Arsene Wenger's latest signing, Santi Cazorla, represents Arsenal's ambition in the new season
Remarkably, in a transfer window in which Arsenal still appears likely to lose its best player, Robin van Persie, this has been Wenger's most productive summer in years. With Olivier Giroud, Lukas Podolski and Cazorla arriving, he's recruited three established international players (all three competed in Euro 2012) who offer different qualities. Giroud provides physicality and clever hold-up play, Podolski is about speed and directness and Cazorla specializes in clever, inventive playmaking from between the lines. The loss of van Persie would be a huge blow, but Wenger won't need to hunt for a direct replacement as he's completely reformatted the attacking department of his side. The Arsenal of 2012-13 will look completely different from the Arsenal of 2011-12.
Last season's Arsenal had no true playmaker, no consistent creator of chances. Wenger didn't want to lose both Cesc Fabregas and Samir Nasri in the same summer. "Imagine the worst situation -- we lose Fabregas and Nasri," he said one year ago. "You cannot convince people you are ambitious after that." He was shocked when Nasri decamped to Manchester City, and had no alternative plan. Mikel Arteta and Yossi Benayoun both arrived on the final day of the transfer window, and while Arteta played excellently throughout the season from deep in midfield, and Benayoun made some key contributions, neither was quite the player Wenger needed.
Furthermore, Jack Wilshere missed the entire campaign, Aaron Ramsey was exhausted by Christmas and Andrei Arshavin was widely out of form and eventually left the club on loan. Arsenal was an extremely basic side, predictable in its approach play and too dependent upon van Persie. It was close to a one-man team, the antithesis of Wenger's approach to football, which is based around collectivism and cohesion. The Gunners needed more sophistication on the ball.
Cazorla appears the perfect solution. His balance is wonderful, his appreciation of space and angles similar to that of fellow Spaniards Juan Mata and David Silva. Like those two, he made his name drifting infield from a wide position, but appears likely to play a central role for Arsenal -- with two central midfielders behind him, two quick wingers on either side, and a center forward to bring into play. He'll be the one providing the final pass, the incisive balls, but he'll also drop deep and become involved in buildup play.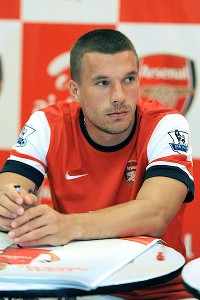 Another new signing, Lukas Podolski, is all about speed and directness.
He made his name at Villarreal, often playing in the same side as ex-Arsenal hero Robert Pires. At its best, Villarreal was often the most attractive side in La Liga, offering tremendous movement and flexibility in combination with a short passing game. After a short spell at Recreativo, where he first appeared to be a genuinely excellent footballer, Cazorla took over for Juan Roman Riquelme as Villarreal's chief playmaker. His 2010-11 campaign was probably his best to date, leading Villarreal to fourth place. Upon making a big-money move to Malaga last summer, Villarreal dropped from fourth to 18th, Malaga rose from 11th to fourth.
Cazorla is a physically unremarkable footballer. Even in the age of Barcelona's 5-foot-7 stars such as Lionel Messi, Xavi Hernandez and Andres Iniesta, Cazorla's 5-foot-6 stature is highly unusual for a top footballer. And whereas many short players compensate with a great deal of pace, Cazorla isn't particularly quick over long distances. Perhaps that was a barrier to success when he first emerged -- young attacking players are naturally expected to be quick and athletic, but Cazorla never was.
He is now 27, and still waiting to prove himself in the Champions League, having turned down a move to Real Madrid in 2008, saying he wasn't yet ready. Now, he was so keen to join Arsenal because, in his words, it was "the last train I could catch" to make the move to a big club. Interestingly, the average age of Arsenal's past 10 signings, including loans, is now 27.2, considerably higher than in recent years.
Cazorla's purchase has symbolic value in addition to his on-pitch qualities. After Nasri's departure left Arsenal looking like it lacked ambition (by Wenger's definition) and van Persie decided not to renew his contract because he disagreed with how the club was moving forward, this is a statement of intent. It's difficult to remember the last time Arsenal bought such a star player, someone who could get the fans excited ahead of the new campaign. Even the likes of Thierry Henry, Dennis Bergkamp and Pires were signed after they encountered difficulties at their previous clubs, while Cazorla arrives on the back of an excellent campaign at Malaga.
ESPN FC on Twitter
Don't miss a moment of the latest soccer coverage from around the world. Follow us on Twitter and stay informed. Join »
Still, he's not a guaranteed success. He must adapt to the physicality of the Premier League, and needs to cope with the lack of a winter break, something both Mata and Silva struggled with last season, dipping in form significantly after Christmas. For all his great ability and his international honors, Cazorla has yet to win anything at club level, and has enjoyed only one proper season of Champions League football with Villarreal -- when it was eventually eliminated by Arsenal in 2008-09, with Cazorla missing both legs through injury. Besides, it's relatively easy to be highly rated with a popular small club such as Villarreal -- and even Malaga -- that had never finished in the top four before last season.
Now, appropriately for Arsenal's smallest player, Cazorla will be under the microscope like never before, but he possesses both the talent and professionalism to prove himself as a world-class performer.
Michael Cox is a freelance writer for ESPN.com. He runs zonalmarking.net.
Soccer on ESPN.com

Follow Soccer on ESPN: Twitter
Coverage on ESPN FC
Euro 2012 in Review
MOST SENT STORIES ON ESPN.COM