Pitch imperfect
Coach Bruce Arena is primed to lead the LA Galaxy to a third straight title
Originally Published:
March 20, 2013
By
Doug McIntyre
| ESPN The Magazine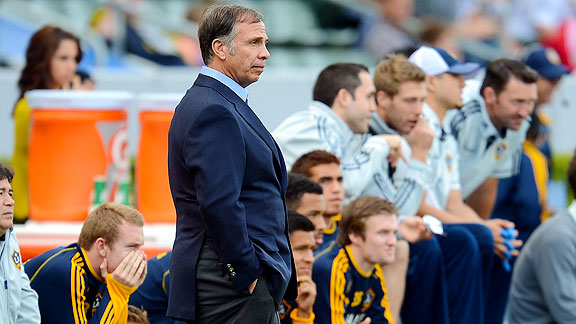 Jayne Kamin-Oncea/USA TODAY SportsLA Galaxy coach Bruce Arena thinks people who don't watch MLS are "pretty stupid."

This story appears in ESPN The Magazine's April 1 MLB Preview. Subscribe today!
MLS has a stated goal of becoming one of the best leagues in the world by 2022. How realistic is that?
We're a long way away, to be honest. Our teams still make roster cuts because of the salary cap. We continue to grow, but unless we spend considerably more on wages, we're not going to be competitive with the top teams in the world.
What do you say about people who watch the English Premier League but don't think MLS is worth their time?
I say they're pretty stupid. MLS is like any league: There are good games and bad games. If someone would rather watch Barcelona than an MLS game, I'd probably agree. But our league has grown substantially, and many people enjoy it. Our biggest problem is that we continually beat down on ourselves.
When will MLS produce its own global star?
We're interested in developing players for the Galaxy who can make our national team better. If players continue to develop, naturally they'll be pursued by big clubs. The goal is to improve the American players to make our league better and, at the international level, to challenge to win a World Cup. Unfortunately people think we're supposed to have a Lionel Messi and win World Cups overnight.
No team has won three consecutive MLS Cups. If the Galaxy pull that off this year, what would it mean for the team and the league?
I don't think the league would be happy. The league's plan is to not have any club be particularly good for an extended period of time. That's the basis of the single entity [ownership structure], to bring about parity. It would be good for our organization, but that's not our focus.
You've coached Landon Donovan for 12 of the last 13 years. Recently he took leave from the Galaxy. What persuaded you to let him skip the start of the season?
I'm not necessarily okay with it, but if a player doesn't want to play, you don't want him playing. He's unique. He just got to a point where fatigue became a factor and he needed to step away. If not, he was going to be useless to us anyway, so it made sense to let him have his time. I think Landon will come back and be better having had the rest. Do I think it's ideal? No. Again the modern athlete is a little different. That is an example of it.
How closely do you follow the national team?
Not as closely as I used to. I don't even know some of the players, which is odd as the former coach. Players on the national team should be -- and this is my own feeling -- they should be Americans. If they're all born in other countries, I don't think we can say we are making progress.
The players on the national team are now mostly European-based. When you coached the U.S. in 2002, more than half of your starters came from MLS.
It should still be the case, in my opinion.
Why isn't it?
I can't answer that. That's the job of the coach. But from what I've seen over the past couple of years, plenty of MLS players can play an important role on the national team.
Are they getting enough opportunities?
You can do the math and figure out if they are or not.
How do you think the national team coach, Jurgen Klinsmann, is doing?
That's not for me to state publicly. I think his goal is to get his team to the World Cup, and I think they'll do that.
The U.S. lost its first World Cup qualifier of 2013 in February. Hypothetical question: If the team is in danger of missing a trip to Brazil and you're asked to return as coach, what do you say?
I think it's not proper to respond to that question. There's a coach in place. I don't think it's right for a fellow professional to comment on somebody else's job.
Follow The Mag on Twitter (@ESPNmag) and like us on Facebook.
Doug McIntyre is a staff writer for ESPN The Magazine. He has covered American and international soccer since 2002.
SPONSORED HEADLINES
MORE SPORTS HEADLINES
MOST SENT STORIES ON ESPN.COM
ESPN The Magazine: April 1, 2013