King of the world
Soccer rules in England, and David Beckham is bigger than soccer
Updated:
March 22, 2013, 11:30 AM ET
By
Zev Borow
| ESPN The Magazine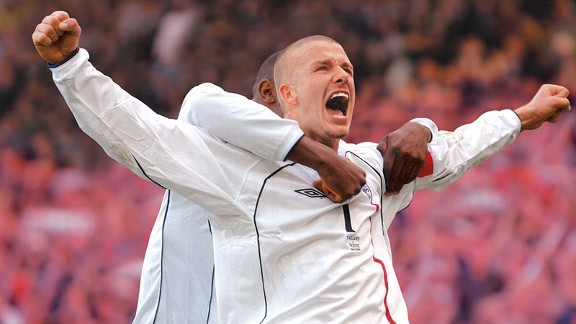 Peter Tarry/Action Plus/Icon SMIBeck's model looks are no less a part of his image than his model play.
This story appeared in ESPN The Magazine's May 27, 2002, issue. Subscribe today!
IF YOU want to feel tall, hang with short people. And if you want to feel okay that you care more about your team than you do about your mom -- or your favorite athlete more than, say, God (or Satan, for that matter) -- jump the pond, real soon, to catch a nation gone stark-raving, bloody mad over a soccer player named David Beckham.
The story behind the story
What I remember most about my time in London reporting the Beckham story is the freak "accident" that culminated, for me at least, with a bear eating my leg. In rereading the piece, however, I was surprised to be struck by something other than a painful reliving of a vicious bear attack. It was only just over a decade ago that I watched what seemed like normal, albeit English, people get weird around a very, very weird Madame Tussauds wax sculpture of Becks, with a fake beating heart, standing on a real beating floor. But presently it read to me as sort of quaint, old-timey weird. To be clear: There's nothing weird, old-timey or otherwise, about a nation losing its collective mind over an athlete. That wasn't even all that weird then. But what it made me think of was -- get ready for not the most accessible reference -- a novel by Mark Leyner called "Et Tu, Babe," which is not from 2002, but, I think, like 1995-ish. (Maybe earlier? Who knows? I'm writing this from somewhere where there is no Internet. I know, I know, which is to say what? Prison? Utah? Prison in Utah?) Anyway, that book, which I also recently reread and found I still very much enjoyed, is one deeply weird book, and it somehow struck me as similarly quaint and old-timey. Which is not to say that either the Becks exhibit or the novel is dated in its weirdness, just that, to me at least, they could both be labeled: Weirdness From Another (Relatively Recent) Time. But that's how stuff works, right? Weirdness, like all matter, is never destroyed, etc. The universe keeps on expanding, etc. People are still being weird about Becks, the wax version or otherwise. The other thing rereading my story made me wonder is what kind of hair Becks is currently rocking? Which is, of course, another amazing reason to go on the Internet, which of course I cannot do since I may or may not be writing this from a prison in Utah. I bet you he's not bald, though. That would just be too weird. -- Zev Borow
Beckham, of course, is the 27-year-old captain of England's national team, and a midfielder for Manchester United of the English Premier League. On April 10, United played Spain's DeportivoLa Coruna in the quarterfinals of the European Champions League, an annual tournament comprising the continent's best teams from the previous year. Early in the game, Beckham was tackled from behind by midfielder Aldo Duscher. He went down, wincing in pain and clutching his left foot, before being taken off on a stretcher. Beckham, it's fair to say, has a dramatic flair more pronounced than most; he'd reacted similarly to a tackle in United's previous game. So it was all the more shocking when it was revealed to the public that this time Beckham had broken the second metatarsal bone in his left foot. And it was downright cataclysmic when the word came down that the injury could force Beckham out of the World Cup tournament, which begins, for England, with a game against Sweden on June 2 in Japan.
The injury occurred 11 days after the death of Britain's hugely popular Queen Mother, a massive media event in its own right. Beckham's left foot ("NOWTHIS!" screamed one headline) effectively erased the Queen Mum's demise from the national consciousness, becoming, literally overnight, what seemed the only news in England -- or the only news that mattered, anyway. Up close, the hows and whys of this conflagration make up a modern blueprint of a country punch-drunk on pro sports, celebrity worship and its own rabid media. Amazingly, that country isn't the US.
AS YOU'D EXPECT, one of the first responses to a star athlete going down in a democracy is an official statement from the country's leader -- in this case, Prime Minister Tony Blair's words of concern. Meanwhile, from Fleet Street, The Daily Mail sneers "Face of a Laughing Assassin" under a photo of the culprit tackler, Duscher (who(looks neither mirthful nor armed). The more sober London Times blames Beckham's adidas Predator cleats. And pretty much all media outlets scramble to find their own teams of doctors to explain "metatarsal" and offer a prognosis. Six to eight weeks, say the optimistic ones (who are viewed as patriots); no fewer than 10, say doubters (who may as well be Germans).
"Gypsy women at railway stations across England can expect record takings for the sale of sprigs of heather," informs the BBC, assuming that all Brits know the healing powers of heather. The odds-making firm William Hill decreases England's chances of winning the World Cup from 9-1 to 10-1. "I can't remember ever changing odds for the sake of one man," says spokesman Graham Sharpe. (Betting is more robust on Beckham's comeback, with odds at 4-7 he'll play in at least one Cup game. The final is June 30.) The Sun runs the headline "Beck Us Pray," enlisting three bishops to lead calls for divine intervention. The Sun then joins the archrival Mirror in printing a front-page photo of Beckham's left foot for the country to "lay its hands on" while sending healing thoughts, at the stroke of noon on the Saturday after the injury. The next day, The Sun's front page shows England manager Sven Goran Eriksson taking part in the rite.
Some of this madness can be blamed on the national obsession with soccer. One study has estimated 10 percent of Brits will skip work to watch England's World Cup matches, costing businesses $548 million a match and possibly $4.4 billion total. "We all want to watch England do well," the trade and industry secretary, Patricia Hewitt, tells a British newspaper, "but clearly the last thing we need is the entire workforce taking a sickie." Of course, she won't schedule meetings for her department during England matches. "You can't do this for everything," says an aide, "but it is the World Cup." Public outrage, in fact, recently swayed Parliament to grant pubs license to open for breakfast so fans can watch the World Cup matches live with a proper pint. Or three.
Some of the madness can be attributed to his wife, former Spice Girl Victoria "Posh" Beckham. The two live in an estate dubbed "Beckingham Palace" outside London with their young son, Brooklyn. They are the most famous couple in England, their every move and sartorial whim documented compulsively.
But most of the madness is, frankly, Beckham's own fault. The bloke might be the most fame-friendly and fashion-conscious pro athlete since Michael Jordan, with model good looks and a constantly evolving hair style -- from spiky blond to punk-rock Mohican to his current shaved head -- every incarnation of which proves a new boon to England's barbers. He's graced the pages of Vogue and the covers of Esquire and Vanity Fair. Usually, though, Beckham can be seen in his red-and-white United jersey, No. 7. Coincidentally, it's the same number worn by George Best, Britain's first celebrity footballer, when he played for Man U in the '60s and '70s.
Explaining Beckham's fame begs for Jordan analogies. But while MJ was the best player ever at his sport, Beckham is, depending on whom you talk to, one of the five best players in the world or not even the best man on his team. And while Jordan was as much icon as superstar athlete, Beckham, despite his playmaking, is considerably more icon than athlete.
In fact, ask Brits today about the cult of personality surrounding Beckham and the name that comes up most often is Princess Di. "We've never had a pop-star footballer quite like David," says AlanSmith, a Daily Telegraph writer who once played on the national team. "People here simply can't get enough."
Which brings us to the recently installed David Beckham "attraction" at Madame Tussaud's Wax Museum in London. In the wake of the injury, fans have turned the wax figure of England's captain into a shrine, leaving cards and flowers and rubbing his wax foot while thinking happy thoughts. A museum guide explains: "We're trying to replicate the totality of the moment of his free kick against Greece." You hear the exhibit first -- crowd noise, and then ... loud, very loud, thumping, almost like...
"What you're hearing are speakers replicating the beat of Beckham's heart," says the guide. At the center of a large, slate-gray room stands the wax Beckham. Off to one side is Eriksson, also wax, sitting on a bench, staring intently at his star. Neon lights flash. Behind Beckham, six large screens run an endless video loop of a goal.
Not just any goal. Last October, England faced Greece in Manchester in a match the Brits had to at least draw to qualify for this year's World Cup. Down 2-1 three minutes into injury time, England was awarded a free kick 30 yards from the Greek goal. Beckham curled an imperious shot around a wall of Greek defenders and the keeper. Many regard it as the English goal of the past 30 years.
And, yes, the floor is beating.
"It helps you feel the tension build and build as Beckham approaches the ball," says the guide. "It's as if you're walking out onto the pitch." He points at Beckham's face. "You see the determination, the anxiousness, the resolve." On cue, the screens show the goal again. The speakers under the floor blare cheers. The lights flash. "Go and touch his heart," the guide says. "Really, touch it."
It's beating too.
Everyone at the exhibit, or for that matter, in England, is absolutely sure that Beckham will not miss the Cup. Even fans who hate United -- the Premier League's answer to the New York Yankees -- refuse to entertain another notion. In fact, while many of his countrymen think the furor surrounding Beckham's injury is overblown, they generally seem to like him. Or at least think they do in the way people can think they like famous people they've never actually met -- (as with Jordan. Guys think "Becks" is "a good bloke," the made-good son of a working-class East London family, while women have read enough about him to believe that he's a good husband and doting father.
Such are the sentiments of Tony, Rob and Jamie, three construction workers enjoying a few pints at a North London pub called The York. "What it is, is: The British need something they can put their hopes on," Tony tells me between sips. "That's David Beckham. And if we lose, we can blame him. That's what we like to do -- pull you up and knock you down."
It's already happened once. Originally a teen sensation for United, Beckham was one of the heralded young guns named to England's team for the '98 World Cup. That summer, in their match against Argentina (which England just happened to have been at war with in 1982 and which just happens to be the homeland of the "assassin" Duscher -- the plot thickens!), Beckham was given a red card for kicking los Gauchos' captain. After he was sent off, his undermanned squad had little chance. The blame for that loss, and England's quick exit from the tournament, was heaped upon Beckham with a fury both equal and opposite to the one that engulfs him now.
The Sun, the tabloid that just had bishops praying for Beckham, reportedly hung his effigy -- in sarong, head scarf and No. 7 jersey -- from a lamppost outside a London pub. Later, Beckham regularly endured stadiums of his countrymen chanting: "You're wife's a whore and hope your son dies of cancer."
"It makes the whole story better, doesn't it?" asks Rob.
"I think he's overrated, m'self," adds Jamie.
Will he back in time to play?
Tony, Rob and Jamie: "Absolutely!"
Right now, though, that's speculation, because pro athletes in England, particularly soccer players, aren't nearly as accessible to the media as their counterparts in the US are. "Fans see and hear far less from the players," says Patrick Harverson, press director for United. There aren't even regularly scheduled times for reporters to talk to athletes.
Until the injury, though, Beckham was always available to the nonsoccer press. (He's the June cover boy for British GQ.) And that has furthered the mythology: He's never seen shirtless and despondent in a losing locker room, only as a well-styled ubercelebrity in fashion magazines or on talk shows. "This thing with David is really new for us here as far as sports go," Harverson says. "David's contract is up after this year, and we've been negotiating with him on a new one, which we expect him to sign soon. But one of the contract issues is image rights. He wants a separate contract for those, something totally new here. In the US, entire leagues are marketed around players, and Beckham is heading us in that direction." [Ed.'s note: Beckham has since signed a three-year contract for approximately $48 million, the first soccer contract to include image-rights provisions.]
Harverson is having drinks with Patrick Barclay, soccer columnist for The Sunday Telegraph, who lets slip a scoop that will appear in his paper the following week: "Beckham's been sleeping in an oxygen tent to speed his recovery." (Harverson confirms that one has indeed been installed at the "Palace" -- "Becks in a bubble," he says, chuckling.) "But his wife can't sleep with him because she's pregnant," Barclay adds.
That these two otherwise grown-up men can sound like teen groupies says more about England than it does about football. England took modern pop-star worship to a new level in the 1960s, and the country has redefined the concept again and again. "It is all a minor remake of the death of Princess Diana," says David Lacey, chief soccer correspondent for The Guardian. "A person is built up by the media to such an extraordinary degree that when he or she is suddenly removed from the scene, the situation implodes. The anguish is in proportion to the disproportionate coverage the subject has already received."
Does Beckham relish all the fuss? "He's certainly a bit of a drama queen," says Harverson. "He doesn't pretend to not like being famous. My guess is that when he walks onto the pitch for the first time at the World Cup, he'll relish being the player the whole world is watching. And my guess is he'll respond well in the match."
In the two weeks following the injury, England's biggest box-office draw (beating out The Scorpion King) was Bend It Like Beckham, a comedy about an Anglo-Indian girl from West London who is so mad about David Beckham that she's driven to play for a girls club team over the objection of her parents. It's a small, independent film with a clear "girl power" slant. The director, Gurinder Chadha, had two reasons for choosing Beckham as the object of obsession. "One is his ability to bend the ball on those crosses and free kicks," says Chadha. "For the girls in the movie, it's the perfect metaphor, going around whatever's stopping you from your goal. The second reason is how much Beckham has done to de-macho the game. People here find it easy to support him -- from East Asian teenage girls to(old Cockneys down at the pub."
Not surprisingly, the filmmaker has a prognosis for Beckham's return. "I have an Indian mother who is psychic, and the night he was injured, I was watching the game with her. We were like, 'Oh, no!' -- partly because the next day was the movie premiere, which he and his wife were going to attend, and partly because of the World Cup. But right away, my mother said, 'Don't worry, he'll be gone for a little, but he'll be back and okay.' "
So it seems. Early May brings several signs that point to Beckham's returning in time to play Sweden. His manager at Manchester United, Sir Alex Ferguson, puts the midfielder's chances of playing at 100 percent , saying a recent scan has shown "he's quite all right." And Beckham feels fit enough to act as guest DJ on a recent BBC radio show. On May 4, in fact, his cast comes off. The mundane procedure receives almost as much attention as the first open-heart surgery.
Two weeks after Beckham breaks his foot, Gary Neville, a teammate on both United and the national squad, suffers a similar injury. The same week that Beckham's cast is removed, it's learned that Neville, the core of England's shaky back line, definitely won't play in the World Cup.
No one pays much attention.
Zev Borow, a former contributor to The Mag, is a screenwriter living in LA.
SPONSORED HEADLINES
MORE SPORTS HEADLINES
MOST SENT STORIES ON ESPN.COM
ESPN The Magazine: Mag 15