Negative Querrey homeward bound

By Greg Garber
ESPN.com
Archive
PARIS -- It's easy for an American to get homesick in Europe -- especially when you've been away from home for more than a month.
Sam Querrey, the lanky 22-year-old Californian, crashed into the wall Tuesday -- and out of the French Open. He won the tournament in Belgrade several weeks ago, but Querrey was a no-show for his first-round match against fellow American Robby Ginepri.
Ginepri dropped the first set, but prevailed 4-6, 7-6 (3), 6-4, 6-2 as Querrey seemed to lose all interest. He said as much afterward in a brutally frank interview with several American writers.
Complete results
Need the scores from any match played in today's French Open? Results
"Just tired, not into it," Querrey said. "Mentally not there. I don't know. I just need to be in a better mood or just need to enjoy the competition and enjoy being out there more than I do."
Andy Roddick was probably longing for Austin, Texas, when his match with Jarkko Nieminen oozed into the fifth set.
In the end, Roddick pulled it together, barely edging Nieminen 6-2, 4-6, 4-6, 7-6 (4), 6-3 in a match that lasted 3 hours, 15 minutes.
"There was a lot of ugliness out there," Roddick said. "But at the end of the day, I get to play again.
Roddick didn't play a single clay-court match coming into Paris. He typically doesn't play Monte Carlo, withdrew from Rome for "personal reasons" and, after playing a doubles match with Jurgen Melzer, withdrew from Madrid with what was described as a stomach virus.
"Spending three days in bed in Madrid wasn't the way we wrote it," Roddick said. "That was bad. That was not the preparation we wanted. It definitely was less than perfect, but I put in some time today."
He hit 19 aces and 56 winners against Nieminen and evened his career record at Roland Garros to a respectable 8-8. With two surprising Slovakian wins over well-regarded Argentines (Eduardo Schwank and Juan Monaco), Roddick's corner of the draw just got a lot lighter.
Roddick showed some fight in winning his first five-set match at Roland Garros since defeating Michael Chang here in the second round in 2001.
Querrey did not display that kind of fire.
Tweet, tweet
Don't miss a moment of the latest tennis coverage from around the world. Follow us on Twitter and stay informed. Join »
As he observed, "You're never going to win a match if you're just being negative. I'm only hurting myself."
Isn't that part of being a professional, asked John Martin of The New York Times, persevering under difficult circumstances?
"Yeah, I need to work on that," Querrey said. "I've not been a professional, on and off, for the past few months. When I lost that second-set tiebreaker and got broken in the first game, I was done. I wanted to be off the court. I just need to mentally get together in my head.
"Like I said, I just tank some points."
Querrey, 0-4 at Roland Garros, couldn't wait to get back home to California on Wednesday; he said he was going to withdraw from doubles with partner John Isner -- even though they were the No. 12 seeds and are on track to qualify for the season-ending ATP World Tour championships.
A year ago, the United States contingent produced a dozen singles victories on the red clay here. The early returns suggest -- even with the departure of Querrey -- they will surpass that number. After the first-round matches were completed (with the exception of Shenay Perry's late contest), Americans had already won 10 matches. American men famously went 0-for-9 here three years ago; now they have five guys with a chance to reach the third round. So do the women.
Bethanie Mattek-Sands was a Fed Cup heroine, recently helping the United States into the finals, but she was forced to qualify here. After two three-set victories, she lost her third-round match, but when Peng Shuai withdrew with stomach distress, Mattek-Sands was an uncommonly lucky loser.
Mattek-Sands, wearing black tube socks, a black skirt and wrist bands and a salmon top, beat fellow American Vania King 6-2, 6-2.
"I lost already, so I might as well just go for it," Mattek-Sands said. "Just the way I lost in the qualies was very tough for me. Just kind of a second chance. Yeah, it was pretty cool."
She won three qualifying matches here in 2008 and reached the second round before losing to Maria Sharapova. A year ago, she fell to Venus Williams in the first round. She'll meet Shahar Peer in the second round.
Meanwhile, 35-year-old Jill Craybas defeated Katie O'Brien 6-0, 4-6, 6-2.
The Williams sisters easily won their first-round doubles match 6-0, 6-1 over Kirsten Flipkens and Tamarine Tanasugarn.
3 Things I KNOW I think
Dinara Safina's back is just fine -- it's that area between the ears that still needs some work: Kimiko Date Krumm, 15 years her senior, ushered the 2009 French Open finalist to the exit Tuesday, winning 3-6, 6-4, 7-5 on Court Suzanne Lenglen.
Down love-40 in her final service game, Safina blooped an uninspired backhand well long, and the Japanese player, who will turn 40 in September, wept profusely.
Safina, in the privacy of the locker room, probably shed a few tears, too.
"I am very sad for her," Date Krumm said in her on-court interview, "very happy for me."
Given Safina's current state of disarray, it's easy to forget that before her back injury she reached the semifinals of four consecutive Grand Slam singles events and three of five finals. The fact that she couldn't manage to win one is the lead item on her résumé.
How she fared in Paris has been an object of curiosity. She had played only 10 matches coming in and lost half of them. That included a three-match losing streak, at the hands of Shahar Peer, Alexandra Dulgheru and, most recently in Madrid, Klara Zakopalova. Make that four.
Justine Henin, on the other hand, is just fine: After a three-year absence at Roland Garros, the pretournament favorite was a 6-4, 6-3 winner over Tsvetana Pironkova of Bulgaria in a match that was closer (and, at 88 minutes, longer) than it might have appeared. Henin, continuing her attack mode, came to net 23 times and won 14 of those points. After retiring for two years, she has now won 22 consecutive matches here. Henin hasn't lost a set since 2005.
"I was feeling very happy just to be back on center court," Henin said. "It's something that I never expected. I'm feeling happy about the decision I took to come back, but I have to fight. That is for sure."
It's great to see Juan Carlos Ferrero back: He was the 2003 champion here, but hasn't advanced past the third round ever since. He was a straight-sets winner over Pablo Cuevas on Tuesday and looks to an eminently winnable second-round match. The proud Spaniard is now 19-4 on clay this year; at the age of 30, he's already won titles this year in Buenos Aires and Costa do Sauipe, Brazil.
Greg Garber is a senior writer for ESPN.com.
Scouting the Americans

Roddick
U.S. mettle count: 10
Day 3 American win total: 4
This just in: Andy Roddick's trying five-set victory over Jarkko Nieminen guaranteed the United States a .500 record in the first round.
With Shenay Perry's loss, the Americans are 10-10. Last year, U.S. singles players produced a first-round record of 5-11.
Americans, like the dollar in Paris, seem to be recovering nicely.
Tweet of the Day

Querrey
"When will they learn how to make scrambled eggs in Europe?" --
Sam Querrey
, three hours before his loss to fellow American
Robby Ginepri
.
Scantily Clothed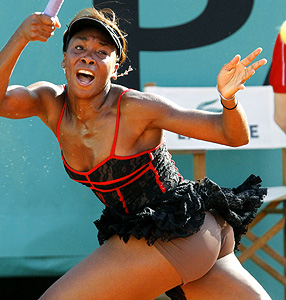 Patrick Kovarik/AFP/Getty Images
The star of this French Open in the early going, based on the volume of commentary generated, is the -- for lack of a better word -- underwear of Venus Williams. Although her sister Serena wore a more modest pair of lime-green britches under her blue dress in her first-round match, Venus (to the untrained eye) appeared to have on nothing at all.
After she took down Patty Schnyder 6-3, 6-3, Venus described the red dress and, uh, accessories that she designed herself: "The outfit is about illusion, and that's been a lot of my motif this year, illusion. It's obviously layers and kind of having that illusion of wearing layers and not having anything take away under it, the nude fabric. These days I just have a lot of fun with my designs."
She's not the only one. The press has had a field day. This from the Los Angeles Times: "Williams' corset-like get-up made her look as if she was ready to perform in a 19th century Parisian cancan chorus line."
"I know she's gotten a lot of crap for it in the media," said Bethanie Mattek-Sands. "But, you know, I think it's different. Good for her."
Inspiring Performance: Serena Williams
Critic's Choice

Soderling
Robin Soderling versus Taylor Dent: The 2009 French Open finalist --and slayer of Rafael Nadal -- lost all of five games in his first-round match. Dent, however, has something Rafa doesn't. He hit a serve 149 mph (240 kilometers per hour) in his first-round match, believed to be a Roland Garros record.
ESPN.com prediction: Soderling in four