Marathon loser now a winner
Nicolas Pierre Armand Mahut was already enshrined in the International Tennis Hall of Fame before he arrived 13 days ago in Newport, R.I.
Well, at least his Lacoste shirt and shorts, Nike shoes and Wilson racket were -- artifacts from his epic three-day match with John Isner, won by the American 70-68 in the fifth set three years ago at Wimbledon. For many athletes, that would be a career claim to fame, but another, daunting destiny awaited the French wild card.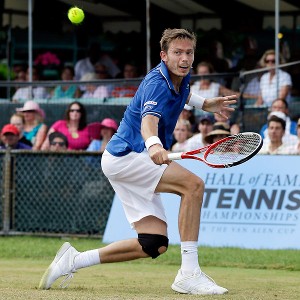 AP Photo/Elise AmendolaThis past Sunday wasn't too shabby for Nicolas Mahut, who won two singles and one doubles match.
Mahut was ranked No. 240 when he entered the AEGON Championships at Queens Club back on June 10 -- and had failed to win an ATP World Tour-level match all season long. Five weeks later, he has 12 match victories -- all on the splendor of the grass -- two singles and one doubles title and seen his ranking soar to No. 75. His Sunday in Newport alone was a fitting climax to a splendid run.
In a single, sultry day, Mahut defeated:
• Michael Russell in the singles semifinal.
• Former world No. 1 Lleyton Hewitt in the championship final.
• The doubles team of Marcelo Demoliner and Andre Sa (along with partner Edoaurd Roger-Vasselin) in the doubles semifinal.
In all, Mahut won a total of 72 games and spent a total of 4 hours, 46 minutes and 34 seconds on court; against Isner, Mahut lost 183 games and was on court for 11 hours and 5 minutes.
It was a lot of tennis, but they still couldnt complete the Hall of Fame Tennis Championships. Mahut and Roger-Vasselin came back Monday to defeat Americans Tim Smyczek and Rhyne Williams in the doubles final. Of course it went to an extra, super-tiebreaker, won by the Frenchmen 10-5.
Oh, and did we mention that Hewitt was up a set and serving for the match at 5-3 when Mahut began his comeback?
Mahut joined Rajeev Ram (2009) as a singles-doubles winner in Newport and Mikhail Youzhny as the first to do it in an ATP tournament 15 months ago at the PBZ Zagreb Indoors.
Grass constitutes a mere five weeks of the ATPs 10-month calendar, but it proved to be Mahuts best slice of the season so far -- probably the best run of his life. He was 12-2 for a winning percentage of .857, tied with Andy Murray for the most wins and Novak Djokovic for second-best winning percentage. That is extraordinary company for a guy who previously had zero ATP titles in his 14th year as a professional.
Heres how the top 10 players fared on grass, in order of success: Murray, 12-0 (1.000); Djokovic 6-1 (.857); Roger Federer, 5-1 (.833); Juan Martin del Potro, 7-2 (.778); Tomas Berdych, 6-2 (.750); David Ferrrer, Richard Gasquet, Jo-Wilfried Tsonga, Stanislas Wawrinka, 4-2 (.667), Rafael Nadal, 0-1 (.000).
I wasnt feeling 100 percent at the beginning, Mahut said after the doubles final, but in the end, I played good at the right time and Edouard played really well.
First to win the singles is a big accomplishment. To win the same week, singles and doubles, it is the first time it has happened to me in my career, and its amazing. I dont think I even realize it all yet. Its incredible what has happened to me in the past month.
Mahut, who like Roger Federer is 31, acknowledged he considered walking away from singles play when his ranking dipped below 200 at Queens. Now, hes ecstatic he didnt.
Writer, Reporter
Greg Garber joined ESPN in 1991 and provides reports for NFL Countdown and SportsCenter. He is also a regular contributor to Outside the Lines and a senior writer for ESPN.com.
Five questions with Kevin Anderson
The 6-foot-8 South African has always been about sustained, incremental progress.
A year ago, Kevin Anderson reached the third round of the Australian Open and French Open, matching his career best at a major. This year he got to the fourth round of those two tournaments and on July 8 recorded his highest-ever ranking, No. 22.
Currently at No. 23, Anderson is the No. 2 seed this week at the Claro Open in Bogota, Colombia. He has a 28-12 record after an opening-round win there and is on course to set another personal best for victories. Anderson won 42 matches in 2011.
One thing he needs to do is avoid playing No. 6-ranked Tomas Berdych, who has already beaten him five times this season. The good news? Anderson won his first set of the season against Berdych before falling in the third round at Wimbledon.
Anderson, who played at the University of Illinois from 2005-07, still lives in Johannesburg with his wife, Kelsey. He spoke with a crisp South African accent when ESPN.com caught up with him via phone from Colombia.
ESPN.com: Youre coached by former Illinois teammate, GD Jones, and having the best year of your career. Whats been the difference?
Kevin Anderson: Yeah, its been great. I played some good tennis on different surfaces and in different seasons so far. I feel like its been a steady progress. Im not thinking too much about specific things, overreacting. Ive been well prepared for each week. On the court, Im definitely happy. Off the court, too, especially, since I have my wife traveling with me. Its a big positive.
ESPN.com: Speaking of Kelsey, when you played at Illinois, she played on the womens golf team. Which one of you is better at the others sport?
Kevin Anderson: Ah (laughing) & I think Im a little bit better at golf than she is at tennis. I just rely on my athletic tennis skills. I had elbow surgery earlier this year, so its tricky playing right now. When Im healthy, I can score a par. Hopefully, Ill be able to play a few more times this summer.
ESPN.com: What, specifically, is working for you?
Kevin Anderson: Its hard to pinpoint one thing. Just looking at last few years as well Ive worked hard at improving, adding to my game. Ive gotten a little more experience this year. Im more comfortable at the Slams and did a good job with scheduling. I had some good time away from the tournaments, playing less and staying relatively healthy, even the surgery. Lately, a big aspect for me is improving my return of service.
ESPN.com: You have 371 aces in 39 matches, fourth among ATP World Tour players. Did you know that?
Kevin Anderson: Actually, I did. Its a nice weapon. The way the game is set up, definitely it seems like everybody serves well these days. I can serve a little bit better than most guys. With guys returning so well these days, its important. Definitely taking care of service games is very important, maybe the most important thing the game. And, Im always looking for opportunities to break serve -- the really tough guys always manage to do it.
ESPN.com: Your goals for the rest of the year?
Kevin Anderson: I dont know if I have specific goals. Finishing in the top 20 would be great, top 15. Top 10 would be one of the big goals, a great accomplishment. One big thing is getting through to quarterfinals or further in the Slams, and maybe winning a tournament this year. In the Masters events, improving on my results, maybe reaching the semifinals. Those are all goals, but right now its just one week at a time, one match at a time.
Writer, Reporter
Greg Garber joined ESPN in 1991 and provides reports for NFL Countdown and SportsCenter. He is also a regular contributor to Outside the Lines and a senior writer for ESPN.com.