Can Federer find the right balance?

By Greg Garber
ESPN.com
Archive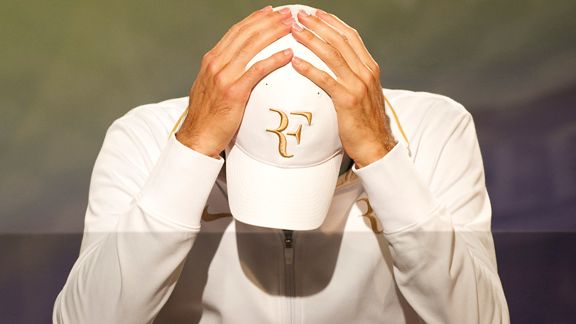 Tom Lovelock/Getty ImagesRoger Federer is finally taking steps to get back on track by hiring a new coach.
Roger Federer, an astute student of tennis history, is already busy at work in Europe with Pete Sampras' coach of nearly eight years, Paul Annacone.
Annacone, contacted by ESPN.com, declined to comment on their new collaboration, but added in an e-mail, "Just going to let the process unfold for a bit with RF."
Going forward, that process will be the subject of great scrutiny. The No. 3-ranked Federer, who turned 29 on Sunday, has lost in the quarterfinals of the past two majors. Can Annacone get him ramped up to improve in the U.S. Open, which begins in three weeks?
"It will be interesting to see," said ESPN analyst Mary Carillo. "Has Roger lost a step? Yeah. It could be a function of the back injury or it could be a function of age. Paul Annacone always impressed this on Pete: Make it into as much of an athletic event, especially against Andre [Agassi]. I think he'll try to encourage Roger to do the same thing."
Fifteen months ago, Annacone mused in an ESPN.com story about Federer, "You can't just put anyone in there and have it work. Ultimately, it's up to the player. You have someone who is steel-willed and incredibly confident and incredibly stubborn as well. You have to have buy-in.
"Roger is similar to Pete in so many tactical and technical ways. The first four, five years he killed everybody, but didn't necessarily get any better. If you don't see the urgency, you probably aren't going to get better."
With the news that No. 4-ranked Andy Murray was parting with Miles Maclagan, now two of the four top-ranked men have dramatically altered their coaching dynamic. Although early British reports had the full-time job going to Darren Cahill, the former coach of Andre Agassi and Lleyton Hewitt, it's more likely that they'll work together sporadically under the auspices of their joint sponsor, Adidas.
"When you talk about the best in the business, both playing-wise and coaching-wise, I don't know if it's as much a fresh set of eyes -- as a fresh set of ears and a fresh voice," said Todd Martin, who after a successful singles career coached both Mardy Fish and, until April, No. 2 Novak Djokovic.
"I really don't think that we as coaches see a lot of different things," Martin said. "We might prioritize differently. The communication of what we see -- and what player feels -- is the most important. How one coach chooses to say it -- and it could be the same exact information -- can make a significant difference."
Nick Bollettieri, who has coached 10 different players who held the No. 1 men's and women's ranking, thinks the Annacone-Federer union will be fruitful.
"Annacone's the type of guy that can get to Roger," Bollettieri said last week from his farm in Vermont. "If I was coaching Roger, I'd say, 'Roger there's nobody like you. My boy, you've got it all. Go out there and show me you're the king.'"
However, Ivan Lendl, an eight-time Grand Slam singles champion, isn't so sure a recrafted message alone will help Murray break through with a major title.
"In my opinion, he's not getting enough advice from guys who have been there," Lendl said last week between senior golf events. "He needs somebody who has been [in a major final, as a player or a coach] and he needs to understand that he's got to take his chances.
"With Murray, it's not about getting a better backhand, a better forehand -- he needs to be more aggressive. You can't make a more aggressive player out of Michael Chang, or a less aggressive player out of Boris Becker -- but you give them 25 percent of each other and they're both better players. Murray needs to hit the crap out of the ball and come in when the chance presents itself."
Martin said it took some time to learn how to coach, to sense how quickly a player could digest the information he presented.
"With Mardy, I had a laundry list of things he needed to improve on," said Martin, who will be doing U.S. Open commentary for Direct TV. "I'm really proud of Mardy. He's had certain challenges for duration of his career and within the past 12 months he faced one of those challenges [fitness] head on.
"With Novak, it was very interesting. Here's a guy who's sustained a level of excellence, which is pretty darn unique, but done so in a manner that is hardly flawless. As much as anything, you're trying to inject a new perspective and some new habits."
But is it that easy?
"When Rafa started to play so well, I said, 'Terrific, now Roger has to get better,'" Annacone said. "That's a problem for some people, but not guys like Roger, who have so many tools. Roger feels it, but I'm not sure he knows exactly how to go about doing it.
"His life is more complicated now. … They're components of your life that you have to deal with. Roger sees it, but he just hasn't found the right balance yet."
Federer, who in recent years has been guided by the steady hand of Swiss Davis Cup captain Severin Luthi, has looked for outside help before; Jose Higueras, Darren Cahill and Tony Roche have all been called in to tweak the superb engine. Annacone, under contract with the British Lawn Tennis Association through November, could become a full-time member of Team Federer if things work out.
The first action for Federer since Wimbledon is this week's ATP World Tour Masters 1000 event in Toronto. He's also scheduled to play the following week in Cincinnati.
"I'd be shocked if he doesn't win more Grand Slam titles," Annacone told ESPN.com last year. "If he has any of the same drive that Pete had, I'd be absolutely shocked. They're wired differently than most players. They expect to win -- no matter what the circumstances.
"Look at talent level and what he's able to produce. Take all those ingredients and corral them, manage them just a little better, and he can win again."
5 Questions With …
The Australian star is a career-high No. 5 in the Sony Ericsson WTA Tour rankings. She reached her first Grand Slam singles final earlier this year, at Roland Garros, losing to Francesca Schiavone. Her big game -- she's second among WTA players to Serena Williams in aces -- translated well in last year's summer hard-court season. She won 12 of 16 matches leading up to the U.S. Open, reaching the final in Los Angeles, the semifinals at Stanford and the quarters in Toronto. This year, she's hoping for another good run, this time all the way through New York.
ESPN.com: How tired were you after losing in the first round [to Kaia Kanepi] at Wimbledon?
Sam Stosur: I took a few days off after the French, then at Eastbourne I scraped through a few tight matches. At Wimbledon, it got to a boiling point. I was just finished there. All that mental concentration and the strain got to me. It's all part of it, learning curve. The greats of the game always back it up. I need to be able to sustain the momentum in back-to-back Slams.
ESPN.com: Why do you think, at the age of 26, you've had your best results, relatively late in the context of tennis?
Stosur: It's funny because people generally expect you to do it as a teenager, if you're going to do it at all. On the whole, that's not a realistic expectation. The [Martina] Hingis' of the world are absolute freaks. Success like that is not the normal kind of thing. Everyone matures at a different age. Australian players have had good success later in their careers; sometime they take a bit longer to develop. I don't see it as a bad thing. I don't think it's a matter of when it happens, as long as it does happen. Your game matures and you actually know why you're a good player. I know what I'm doing now. Over the years, I've learned what works for me, how to practice, the proper nutrition and training. Working on my weapons and using them to best advantage, knowing when to shut things down. I'm much better at reading what's happening in a match, problem solving, too. It doesn't happen overnight.
ESPN.com: You are 2-6 at the U.S. Open. You lost to Vania King in the second round there last year. How is that possible with the forceful way you play the game?
Stosur: [Laughing] I don't know. It's a [venue] that should be good for me. I had a really good lead-up last year and completely bombed there. It was a case of mental fatigue again, another lesson learned. Maybe I need to take a break before I get to New York. I've proven to myself that I can play well in those conditions -- [the U.S. Open Series] is the same weather, the same courts as New York. Hopefully this is a turnaround year for me. Once I get there, I should be fresh and ready to go.
ESPN.com: Are you really playing doubles at the U.S. Open with the player who beat you in the French Open final?
Sam Stosur: I didn't want to play doubles in the lead-up events, that would be too heavy a load with singles. Francesca had the same idea. I asked if she had a partner for the U.S. Open, and she said no. The French was a big moment in both of our careers. It was a great memory for her and for me -- although she probably has happier memories than I do.
ESPN.com: What are your short-term goals?
Sam Stosur: Improving my game -- that's what I want to do. I think I can get better. I'm No. 5, but I think I can get higher if I keep improving. Rankings, winning events -- it will happen if I keep improving. Who knows what number it ends up being? I need to be more consistent with the way I play. Winning a major would be a dream come true. I came close in Paris. If I can get myself in same position again in any of the four majors, maybe I'll get it done. That would be absolutely amazing.
Greg Garber is a senior writer for ESPN.com.
On The Move
HOT

Nalbandian
1. David Nalbandian: Healthy again after missing 12 of the past 15 months following hip surgery, the talented Argentine rockets 72 spots, to No. 45, and announces himself as a dark horse at the Open.
2. Svetlana Kuznetsova: The two-time major champion wins her first title in 10 months, moving seven slots and back into the top 20, at No. 14.
3. Jelena Dokic: Croatia native wins the ITF Vancouver event and jumps 14 spots, to No. 86.
4. Xavier Malisse: A year ago, the 30-year-old Belgian was ranked No. 180. Now he's at No. 51, up 11 spots after a good D.C. run.
5. Shuai Zhang: The 21-year-old from China won the ITF title in Beijing and moved into the top 100 (99), some 14 spots.
NOT

Haas
1. Tommy Haas: German native falls 24 spots, to No. 150.
2. Horacio Zeballos: Down 10 slots, to No. 62, for 25-year-old Argentine.
3. Sorana Cirstea: Falls 11 spots, to No. 74, despite reaching quarters at Copenhagen.
4. Andy Roddick: Drops out of top 10 (No. 11) for first time in four years.
End of an era

Roddick
Quietly, following a wretched Thursday in Washington D.C., an era ended.
Andy Roddick, John Isner and Mardy Fish -- three of the four top-ranked Americans -- lost in the third round of the Legg Mason Tennis Classic. It marked the first time in the Open era that no Americans reached the D.C. quarters, but it also foreshadowed a curious moment in tennis history.
For the first time since Aug. 23, 1973 -- when the ATP World Tour rankings were born -- there are no American men in the top 10. Yes, after nearly 37 years, no Jimmy Connors, John McEnroe, Jim Courier, Andre Agassi, Pete Sampras or Roddick among the leaders.
Roddick, who has finished in the year-end top 10 for eight consecutive years, fell to No. 11 after losing to Gilles Simon. There were no Americans in either of Sunday's finals, in D.C. or San Diego.
Heading into this week's tournaments in Toronto and Cincinnati, the standings in the U.S. Open Series are a flat-out tie with six players holding 70 points. D.C. winner David Nalbandian is joined by Sam Querrey and Fish on the men's side, while San Diego champion Svetlana Kuznetsova is level with Victoria Azarenka and Agnieszka Radwanska.
Etcetera

Lendl
• Ivan Lendl was a relatively late bloomer as an ATP World Tour player, and now he'll meet the senior ATP Champions Tour on his own terms -- at the advanced age of 50. His summer is packed with senior golf tournaments, but he said he's making some room for tennis practice. Although a press release announced he would debut in Paris (opposite archrival John McEnroe) in October, Lendl said he hasn't committed just yet. "Hopefully, we'll come to an agreement," he said. "I never thought it would be so much fun playing tennis again."
• This, from Sony Ericsson WTA Tour stat whiz Kevin Fisher, to contemplate as the hard-court season begins in earnest: There are six active players with a career winning percentage of .700 or better on hard court:
Serena Williams: .843
Kim Clijsters: .822
Justine Henin: .812
Maria Sharapova: .809
Venus Williams: .806
Victoria Azarenka: .710

• Congratulations to Alexandra Mueller for winning the recent U.S. Open National Playoff tournament to earn a slot in the Open qualifying draw. Mueller, 22, was the sole survivor of the 337-player field, defeating No. 1 seed Alina Jidkova 6-0, 6-3 at Stanford. The most recent New York appearance for the three-time winner on the USTA pro circuit this year came three years ago, when she received a wild card into the doubles draw.
• Who would have thought 30-year-old Juan Carlos Ferrero -- seven years removed from his only Grand Slam singles title and his last appearance in the top five -- would still have some juice? The Spaniard won his third title of the season in Umag, Croatia -- the first time he's done that since ... yes, 2003.
• Although she lost in the second round to Agnieszka Radwanska in San Diego, Dinara Safina emerged from the tournament with her first victory in more than three months. The 24-year-old Russian was ranked No. 1 a year ago (for 25 consecutive weeks) but back and hip injuries have pushed her down into the mid-30s. "Right now I'm pleased that I won," she said. "I needed the win." Safina reports that, despite suffering for a week last month when she couldn't walk, she's pain free.
• While Juan Martin del Potro (wrist) already is highly questionable for the U.S. Open, No. 11-ranked Jo-Wilfried Tsonga might also miss the event, according to L'Equipe. A knee injury suffered at Wimbledon has already forced him to withdraw from Toronto.
• Liezel Huber, who turns 34 next week, vaulted to the top of the doubles standings -- ahead of the Williams sisters -- for the second time in her career. Huber, who won the Stanford title with Lindsay Davenport, is third on the all-time list with 136 weeks at No. 1, following Martina Navratilova (237 weeks) and Cara Black (163).
• Mixed signals from James Blake, who reached the quarterfinals at Los Angeles, but lost to No. 119-ranked Ryan Sweeting in the first round at the Legg Mason Tennis Classic. Blake, who said at Wimbledon a knee injury had him contemplating retirement, has recently sounded more optimistic.
• There was, oddly enough, tennis on the South Lawn of the White House last week. Sam Querrey and the Bryan Brothers conducted a QuickStart clinic for kids as part of Michelle Obama's Let's Move! initiative to fight childhood obesity.
• Maybe the cupboard won't be bare after the Williams sisters retire, after all. The American girls' 14-and-under team won its fourth straight title at the youth version of Fed Cup in the Czech Republic. The U.S. beat Austria, South Africa and South Korea in round-robin play, then defeated China in the semifinals and Ukraine in the final. The winning team: Brooke Austin, Gabrielle Andrews and Taylor Townsend.