Expect few surprises at ATP World Tour Finals
Unlike the women's game, there is a pleasing parity at the very top of men's tennis.
Rafael Nadal and Novak Djokovic came into last week's BNP Paribas Masters separated by 550 points for the No. 1 ranking. David Ferrer, the No. 3 player, won 56 matches this year even before reaching the final in Paris, and No. 4 Andy Murray took the title at Wimbledon.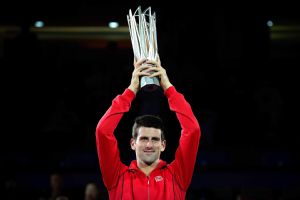 Lintao Zhang/Getty ImagesNovak Djokovic has played stellar tennis since the US Open, including his latest title at the Paris Masters.
But with Murray sitting out the Barclays ATP World Tour Finals after back surgery and Roger Federer an indisputable long shot for his seventh year-end title -- he already has the record with six -- it is likely to come down to Nadal and this past week's winner, Djokovic. The last event on the ATP calendar begins Monday with eight of the world's top nine players.
Nadal, Djokovic, Ferrer, Juan Martin del Potro and Tomas Berdych had already qualified, but in a mad scramble in Paris, Federer, Stanislas Wawrinka and Richard Gasquet scuffled into the elite field in their very last opportunity. Federer did it by winning his first match against hard-serving Kevin Anderson before an inspired run to the semifinals. Wawrinka won his first two matches, against Spaniards Feliciano Lopez and Nicolas Almagro, and joined the year-end field for the first time in a dozen years as a professional when Milos Raonic fell to Berdych. That also gave Gasquet a golden ticket to London.
Men's tennis, at the top, anyway, has been remarkably consistent; the eight quarterfinalists in Paris are actually the eight qualifiers for London.
At 32, Federer seems to have slowed down considerably; 10 of his 15 losses are outside the rest of the big four, including guys who were ranked No. 114 (Federico Delbonis) and 116 (Sergiy Stakhovsky) in back-to-back tournaments.
It would be fitting if this one comes down to Nadal and Djokovic in the final, for even with the emergence of Murray as a Grand Slam champion they remain the standard of the game. Between them, they have won 12 of the past 16 Grand Slams, with Rafa holding a 7-5 edge. Federer and Murray, for what it's worth, split the other four.
This would be their 39th meeting, with Nadal ahead by a commanding 22-16 count. They've met three times in the year-end championship, all in round-robin play, with Nadal holding a tenuous 2-1 advantage.
That Rafa is in this position, given his seven months away from the game, is something of a surprise. But when he returned from a serious knee injury in February, he started playing like the Nadal of the recent past. And when he got to the hard courts -- Rafa's sense of urgency heightened by those fragile knees -- he played even better. After departing in the first round at Wimbledon, some wondered if Nadal would ever be a force at any major other that the French Open. And then he got the rare North American hat trick, winning in Montreal, Cincinnati and New York. Going forward, you have to believe he has a chance, with 13 Grand Slam singles titles, to catch Federer's record 17.
Nadal, 27, came into Paris fresh after a two-week break at home in Mallorca, playing golf with friends and relaxing.
"I have never had the chance to play well in London," he said. "I want to try to change that."
Djokovic, 26, won only a single major, the Australian Open, but has reached 14 consecutive Grand Slam semifinals -- the second-best run on record after Federer's 23 straight (2004-10). He has been close, but after winning three of the four majors in 2011, he has been unable to continue that mastery.
Djokovic would like to win here to punctuate this season that has belonged to Rafa, but also to take some momentum into next year, which looks like a three-horse race at the top.
Considering his 17-match winning streak since losing the final of the US Open, Djokovic is doing just that.
Senior Writer
Greg Garber joined ESPN in 1991 and provides reports for NFL Countdown and SportsCenter. He is also a regular contributor to Outside the Lines and a senior writer for ESPN.com.
Five questions with Stanislas Wawrinka
wawrinka
He's a relatively late bloomer, into the ATP World Tour's top 10 for the first time -- at the age of 28, in his 12th year as a professional. And now, Stan "the Man" Wawrinka is into the Barclay's ATP World Tour Finals in London, another unprecedented event for the Swiss player.
A few hours after Tomas Berdych outlasted Milos Raonic at the BNP Paribas Masters in Paris 7-6 (13), 6-4, Wawrinka discovered he would be playing next week. No, that's not a typo; the first-set tiebreaker required a total of 28 points. As a result of Raonic's loss, Richard Gasquet was the eighth and final player to qualify for the London event.
Wawrinka is the only one in the eight-player field who has never appeared at the year-end championships.
He's won 30 matches or more in six of the past seven years, but 2013 has been a revelation. Wawrinka's clinching Thursday match -- an emphatic 6-3, 6-2 victory over Nicolas Almagro in the BNP Paribas Masters -- pushed his record to a lofty 49-20. He has earned more than $2 million this year, more than double last year's total. Wawrinka reached at least the quarterfinals of a dozen events and four finals, winning his fourth title in Oeiras, Portugal, defeating David Ferrer. Wawrinka was one of only three players to win 20 matches each on hard courts and clay, joining Rafael Nadal and Ferrer.
At this year's US Open, he produced his best Grand Slam singles effort to date, reaching the semifinals by beating Berdych in the fourth round and stunning defending champion Andy Murray in the quarterfinals. Wawrinka lost to Djokovic in the semifinals, a nasty five-set affair.
In the fourth round of the Australian Open, Wawrinka led Djokovic -- the defending and eventual champion -- 6-1, 5-2, but lost in 12-10 in the fifth set. It was one of the year's best matches and it required 5 hours and 2 minutes.
You could argue that Wawrinka was involved in two of the year's most compelling matches.
It was still Thursday morning in Paris when Wawrinka beat Almagro. ESPN.com spoke with him about an hour later and he was still amped about his victory.
ESPN.com: How are you feeling after nearly clinching that year-end berth in London with wins over Spaniards Feliciano Lopez and Almagro?
Stanislas Wawrinka: Yeah, I'm really, really good, for sure. [Laughing] After winning those two matches, I am very happy with the level I was playing today. I'll tell you, I was so nervous before these matches, big-time nervous because of what was at stake. I focused on each point and tried not to think about anything beyond that. The match is the most important thing.
ESPN.com: How did you overcome those nerves?
Stanislas Wawrinka: This year, I have been playing better in these big moments. When I get into those points, I am not so nervous. It's my career and my life these last few years, and I knew I could be better than a top-20 player every year.
ESPN.com: What moment did you know this was possible?
Stanislas Wawrinka: I beat [David] Ferrer in a final and I got to the semifinals of a Slam. It's been about confidence in the court and trusting myself much more. I had to change my thing, and I did. I knew I could make it to London, but I tried not to let that affect my tennis.
ESPN.com: What are your expectations for London, where you're the third Swiss player to qualify for the year-end event? The others are Jakob Hlasek -- and a guy named Federer. It's the first time two Swiss players qualified for the same ATP final.
Stanislas Wawrinka: Yeah, Roger has been there 12 times and this is my first, so he is the real story there. But if that happens, it will be amazing, something really special. They say London is a great tournament, great arena. I usually watch it on TV, so it would be a great experience for me.
ESPN.com: What kind of momentum does this give you going into the 2014 season?
Stanislas Wawrinka: Yeah, I take a lot of positives from this year -- and it's not even over, actually. I'm happy and playing my best tennis. I'm focused on this [Paris] tournament right now and, hopefully, London. Physically, I am at my best; I think I have two, three years to be at my best. I'm really looking forward to next year to see where I can take it.
Serena supreme
williams
As she sails off into a welcome two-month sabbatical, let's consider the impressive damage Serena Williams did at the age of 31 (and now 32). She is:
• The first player to win 11 WTA titles in one season, going back to 1997 when Martina Hingis won 12.
• Far and away the all-time record-holder in single-season prize money. Her total of $12.4 million obliterated the previous mark of nearly $8 million, set by Victoria Azarenka a year ago.
• Working on a 32-2 record against players ranked among the top five, with both losses coming to Azarenka, in Doha and Cincinnati.
This last statistic helps describe the wide gulf between Serena and the rest of the WTA. The No. 2-ranked Azarenka managed to beat her in the finals of non-majors when Williams was less than her best. In their only Grand Slam meeting, Serena beat her in the third set of the championship match 6-1. Where Serena occasionally takes her eye off the ball is when she underestimates her opponent. The only other two losses in a 78-4 campaign came to Sloane Stephens at the Australian Open and Sabine Lisicki at Wimbledon.
That's a 95 percent winning percentage, better than Rafael Nadal's 92, the best in all of tennis. That, plus two majors and the year-end championship give Serena perhaps the best season in women's tennis -- since she won three of the four Grand Slam singles titles in 2002. And that represents a serious slice of longevity.
In the larger context, Williams is putting together one of the greatest résumés in the history of women's tennis. Here are the numbers to mull as we send you into the offseason: Serena has won nine of the past 18 Grand Slam singles titles that she has played for. So, since the 2008 US Open, against the entire field, she has broken even. That's dominance.
Chris Evert, who played only six Australian Opens and, at one point, missed three consecutive French Opens, won 11 of the 19 majors she played, from 1974-80. Martina Navratilova took 15 of 29 major titles from 1981-87. Evert was 31 when she won her last Grand Slam singles title, in 1986 at Roland Garros. Navratilova was 33 when she won Wimbledon in 1990.
Which begs the question: How hungry is Williams to be the best ever? With 17 majors, she's only one behind Navratilova and Evert. Even Steffi Graf (22) and Margaret Court (24) seem within reach.
After years of underplaying, with distractions of a glamorous life and some horrific injuries, Serena might have played too much this year. After Wimbledon, she actually appeared in Bastad, Sweden, never meeting any player ranked higher than No. 37 Klara Zakopalova on her way to the title. You could see the fatigue at the year-end championships in Istanbul when back spasms left Serena crying into a changeover towel.
Now that it's all over, she seemed to be happy with her tennis this year, her team and, more important, herself. Incredibly, at 32, Serena looks fitter than she ever has. It says here, she'll be ready to go for the Australian Open, an event she hasn't won since 2010.