Andre Agassi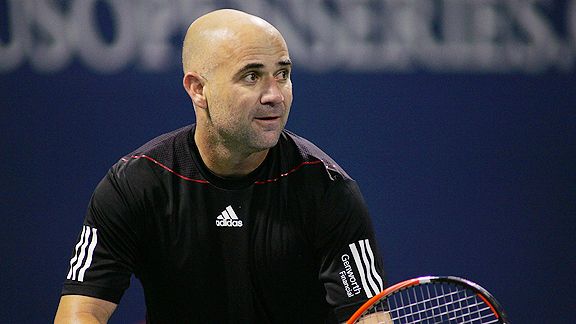 Andre Agassi is an eight-time Grand Slam title winner who is considered one of the best ball-strikers in the history of tennis. He is one of only five men in history to win the career Grand Slam.
In his 21-year career, Agassi won 60 singles titles, 870 matches and spent a total of 101 weeks atop the ATP rankings. Agassi finished his career with more than $31 million in prize money, ranking second only to Pete Sampras at the time of his retirement in 2006. Agassi is the only player to be ranked in the top 10 in three different decades and the only player in the Open era (since 1968) to have won at least one tournament in 18 different years. He will be inducted into the International Tennis Hall of Fame in July 2011.
Agassi was born April 29, 1970, in Las Vegas. His father, Mike, is an Iranian immigrant and naturalized U.S. citizen. He was also an Olympic boxer for Iran in 1948 and 1952. He was a strict taskmaster who pushed his son toward tennis and was determined that Andre would be a top tennis player.
Agassi moved to Bradenton, Fla., at age 13 to attend Nick Bollettieri's Tennis Academy. Agassi was initially going to stay for only eight weeks because that was all the tuition his father could afford. But two weeks into his stay, Agassi played in front of Bollettieri for the first time. After 10 minutes, Bollettieri called Andre's father and said, "Take your check back. He's here for free."
Reaching The Peak (1986-96)
With Bollettieri as his coach, Agassi turned pro in 1986. He won his first professional match, 6-4, 6-2, against John Austin in a hard-court tournament in La Quinta, Calif. In his Grand Slam debut, Agassi lost to Jeremy Bates in four sets in the first round of the 1986 U.S. Open.
At his first appearance at Wimbledon in 1987, Agassi was easily dispatched by Henri Leconte in straight sets, winning a total of five games. Frustrated by his lack of success, the strict traditions at the Wimbledon and the tournament's all-white dress code, Agassi would skip the tournament for the next three years.
Agassi won his first ATP tournament as a wild card in a 1987 hard-court tournament in Brazil. In 1988, Agassi won six titles while reaching the semifinals at the French Open and the U.S. Open. He ended the year as the No. 4 player in the world.
In 1990, Agassi reached his first Grand Slam final at Roland Garros, losing to Andreas Gomez in four sets. In 2009, Agassi revealed that his trademark long hair was a wig, and part of the reason he struggled in that 1990 French Open final was he feared the wig would fall off. Later in the 1990 season, Agassi lost to his main rival and good friend Pete Sampras at the U.S. Open finals in straight sets. It was Sampras' first career Grand Slam title.
Agassi finished runner-up again at the French Open in 1991, but Agassi also made his return to the All-England Club, ending his hiatus from Wimbledon. Agassi had a good run into the second week, reaching the quarterfinals.
Surprisingly, the next year, at Wimbledon of all places, Agassi captured his first Grand Slam title, defeating Boris Becker, John McEnroe and Goran Ivanisevic along the way. Seeded 12th in the tournament, he is the fourth-lowest-seeded man to ever win at Wimbledon.
In 1993, Bollettieri ended his coaching relationship with Agassi because the coach felt that Agassi didn't work hard enough. Brad Gilbert became Agassi's new coach. After having wrist surgery, which Agassi thought could have been career-ending, Agassi recovered in a big way the next season by winning his second Grand Slam at the 1994 U.S. Open. Unseeded at the event, he became the third unseeded player to win the tournament.
1995 was his most productive year as he won a career-high seven titles, played in 11 finals and compiled a personal-best 73-9 match record. He became the 12th player in the history of ATP Rankings to rank No. 1 on April 10. He had a career-best 26-match winning streak during the summer hard-court season. He also captured the Australian Open in his first career appearance Down Under.
At the 1996 Atlanta Olympics, Agassi became the first American man to win an Olympic gold medal in singles since Vincent Richards in 1924.
Reaching The Valley (1997)
Ranked eighth in the ATP Rankings at the start of the year, Agassi struggled with wrist issues again in 1997, allowing him to play in only 24 matches (12-12 record) while missing three of the four majors. Agassi's ranking dropped as low as 141st in the world. He fell out of shape and lacked interest and dedication to the sport; he also married actress Brooke Shields. Many observers thought his career was close to being over. Agassi later admitted that he was using crystal methamphetamine during this period, and failed an ATP drug test. However, he lied to the ATP about how the drug had ended up in his system and avoided a suspension.
Career Renaissance (1998-2003)
Agassi rededicated himself to the sport by getting in better shape and made the biggest one-year jump into the top 10 in the history of the ATP Rankings (since 1973). He climbed from No. 122 at the end of 1997 to No. 6 in 1998. He had a 68-16 record with five titles in '98. His 68 match wins tied for the lead on tour that year.
Agassi had his greatest success at the majors in 1999, reaching the finals of three straight Grand Slams while winning the French Open and U.S. Open. At Roland Garros, he became the fifth man (and second American) to win all four Grand Slam titles in his career. He finished the year No. 1 for the first time in his career.
Agassi opened up the 2000 season with a win at the Australian Open, his third major win in the last four Grand Slams dating back to the French Open. He became the first player to reach four straight Grand Slam finals since Rod Laver won the Grand Slam in 1969.
In 2001, Agassi defended his Australian Open title for the seventh major win of his career. Later that year, at the U.S. Open, he lost to Pete Sampras in an epic match consisting of four tiebreaks (without a service break) in one of the tournament's greatest matches of all time, and the greatest match between the two in their 34-match rivalry (Sampras was 20-14 versus Agassi).
The 2003 Australian Open was the last Grand Slam title for Agassi. He joined Roy Emerson (six), Jack Crawford (four) and Ken Rosewall (four) as the only players to win the Australian Open four times.
Elder Statesman (2004-06)
Agassi remained a top-10 player in the latter years of his career. He made an improbable run to the finals at the U.S. Open in 2005, including one of the greatest comebacks of his career as he rallied from two sets down against James Blake in the quarterfinals.
Agassi's body eventually broke down in 2006 due to ankle, back and leg injuries. He missed the first two majors of the year and finally bid farewell at the U.S. Open, losing to 112th-seeded Benjamin Becker in the third round.
Davis Cup Career
Agassi was a part of three Davis Cup-winning teams for the United States. He compiled a 30-6 career Davis Cup record, the third-most Davis Cup wins in U.S. history behind John McEnroe and Andy Roddick. From 1990 to 1997, Agassi did not lose one match in Davis Cup play. He won 16 consecutive matches during that span.
Image Is Everything
Agassi was one of the most eccentric personalities in the sport of tennis, and even in all of sports, during his early playing career. He promoted a "rebel" attitude off the court with his endorsements of Canon and Nike. He made the catchphrase "Image is everything" memorable. This image also showed on the court as he played with an earring, had long rock star-like blonde hair (which he later revealed to be a wig) and sported colorful shirts and denim shorts.
Agassi has been married to 22-time Grand Slam singles winner Steffi Graf since Oct. 22, 2001, and they have two children, Jaden Gil and Jaz. Agassi was previously married to actress Brooke Shields from 1997 to 1999. Agassi also was known for having a relationship with singer/actress Barbra Streisand in the early 1990s.
Autobiography
In 2009, Agassi released a tell-all book, "Open", in which he detailed his use of crystal methamphetamine during the 1997 season. He also admitted that his trademark long hair was actually a wig, which he believes may have cost him the 1990 French Open title.
Andre Agassi Career ATP Tour Wins
| Date | Tournament | Final Opponent | Final Match Score |
| --- | --- | --- | --- |
| July 31, 2005 | Los Angeles | Gilles Müller | 6-4, 7-5 |
| August 2, 2004 | Cincinnati | Lleyton Hewitt | 6-3, 3-6, 6-2 |
| April 21, 2003 | Houston | Andy Roddick | 3-6, 6-3, 6-4 |
| March 17, 2003 | Miami | Carlos Moyŕ | 6-3, 6-3 |
| February 10, 2003 | San Jose | Davide Sanguinetti | 6-3, 6-1 |
| January 13, 2003 | Australian Open | Rainer Schuettler | 6-2, 6-2, 6-1 |
| October 14, 2002 | Madrid, Spain | Jirí Novák | W/O |
| July 22, 2002 | Los Angeles | Jan-Michael Gambill | 6-2, 6-4 |
| May 6, 2002 | Rome, Italy | Tommy Haas | 6-3, 6-3, 6-0 |
| March 18, 2002 | Miami | Roger Federer | 6-3, 6-3, 3-6, 6-4 |
| March 4, 2002 | Scottsdale | Juan Balcells | 6-2, 7-6(2) |
| July 23, 2001 | Los Angeles | Pete Sampras | 6-4, 6-2 |
| March 19, 2001 | Miami | Jan-Michael Gambill | 7-6(4), 6-1, 6-0 |
| March 12, 2001 | Indian Wells | Pete Sampras | 7-6(5), 7-5, 6-1 |
| January 15, 2001 | Australian Open | Arnaud Clément | 6-4, 6-2, 6-2 |
| January 17, 2000 | Australian Open | Yevgeny Kafelnikov | 3-6, 6-3, 6-2, 6-4 |
| November 1, 1999 | Paris, France | Marat Safin | 7-6(1), 6-2, 4-6, 6-4 |
| August 30, 1999 | US Open | Todd Martin | 6-4, 6-7(5), 6-7(2), 6-3, 6-2 |
| August 16, 1999 | Washington, D.C. | Yevgeny Kafelnikov | 7-6(3), 6-1 |
| May 24, 1999 | French Open | Andrei Medvedev | 1-6, 2-6, 6-4, 6-3, 6-4 |
| April 5, 1999 | Hong Kong, China | Boris Becker | 6-7(4), 6-4, 6-4 |
| October 19, 1998 | Ostrava, Czech Republic | Ján Kroalák | 6-2, 3-6, 6-3 |
| July 27, 1998 | Los Angeles | Tim Henman | 6-4, 6-4 |
| July 20, 1998 | Washington, D.C. | Scott Draper | 6-2, 6-0 |
| March 2, 1998 | Scottsdale | Jason Stoltenberg | 6-4, 7-6(3) |
| February 9, 1998 | San Jose | Pete Sampras | 6-2, 6-4 |
| August 5, 1996 | Cincinnati | Michael Chang | 7-6(4), 6-4 |
| July 22, 1996 | Summer Olympics | Sergi Bruguera | 6-2, 6-3, 6-1 |
| March 18, 1996 | Miami | Goran Ivaniaevic | 3-0, 40-0 ret. |
| August 14, 1995 | New Haven | Richard Krajicek | 3-6, 7-6(2), 6-3 |
| August 7, 1995 | Cincinnati | Michael Chang | 7-5, 6-2 |
| July 24, 1995 | Montreal, Canada | Pete Sampras | 3-6, 6-2, 6-3 |
| July 17, 1995 | Washington, D.C. | Stefan Edberg | 6-4, 2-6, 7-5 |
| March 13, 1995 | Miami | Pete Sampras | 3-6, 6-2, 7-6(4) |
| February 6, 1995 | San Jose | Michael Chang | 6-2, 1-6, 6-3 |
| January 16, 1995 | Australian Open | Pete Sampras | 4-6, 6-1, 7-6(6), 6-4 |
| October 31, 1994 | Paris, France | Marc Rosset | 6-3, 6-3, 4-6, 7-5 |
| October 17, 1994 | Vienna, Austria | Michael Stich | 7-6(4), 4-6, 6-2, 6-3 |
| August 29, 1994 | US Open | Michael Stich | 6-1, 7-6(5), 7-5 |
| July 25, 1994 | Toronto, Canada | Jason Stoltenberg | 6-4, 6-4 |
| February 2, 1994 | Scottsdale | Luiz Mattar | 6-4, 6-3 |
| February 22, 1993 | Scottsdale | Marcos Ondruska | 6-2, 3-6, 6-3 |
| February 1, 1993 | San Francisco | Brad Gilbert | 6-2, 6-7(4), 6-2 |
| July 20, 1992 | Toronto, Canada | Ivan Lendl | 3-6, 6-2, 6-0 |
| June 22, 1992 | Wimbledon | Goran Ivaniaevic | 6-7(8), 6-4, 6-4, 1-6, 6-4 |
| April 27, 1992 | Atlanta | Pete Sampras | 7-5, 6-4 |
| July 15, 1991 | Washington, D.C. | Petr Korda | 6-3, 6-4 |
| April 1, 1991 | Heathrow | Derrick Rostagno | 6-2, 1-6, 6-3 |
| November 12, 1990 | Year-End Championships | Stefan Edberg | 5-7, 7-6(5), 7-5, 6-2 |
| July 16, 1990 | Washington, D.C. | Jim Grabb | 6-1, 6-4 |
| March 12, 1990 | Miami | Stefan Edberg | 6-1, 6-4, 0-6, 6-2 |
| February 5, 1990 | San Francisco | Todd Witsken | 6-1, 6-3 |
| October 2, 1989 | Orlando | Brad Gilbert | 6-2, 6-1 |
| August 15, 1988 | Livingston | Jeff Tarango | 6-2, 6-4 |
| July 25, 1988 | Stratton Mountain | Paul Annacone | 6-2, 6-4 |
| July 11, 1988 | Stuttgart, West Germany | Andrés Gómez | 6-4, 6-2 |
| May 2, 1988 | Forest Hills | Slobodan }ivojinovic | 7-5, 7-6(2), 7-5 |
| April 25, 1988 | Charleston | Jimmy Arias | 6-2, 6-2 |
| February 15, 1988 | Memphis | Mikael Pernfors | 6-4, 6-4, 7-5 |
| November 23, 1987 | Itaparica, Brazil | Luiz Mattar | 7-6(6), 6-2 |
ANDRE AGASSI QUICK FACTS
Birth Date: April 29, 1970
Birthplace: Las Vegas, Nevada
ATP Tour Debut: 1986
ATP Tour Titles: 60
Grand Slams: 8
Inducted into International Tennis Hall of Fame in 2011
ANDRE AGASSI CAREER GRAND SLAM FINALS
8 Grand Slam Titles
| Year | Event | Opponent | Res. |
| --- | --- | --- | --- |
| 1990 | French Open | Andres Gomez | L |
| 1990 | US Open | Pete Sampras | L |
| 1991 | French Open | Jim Courier | L |
| 1992 | Wimbledon | Goran Ivanisevic | W |
| 1994 | US Open | Michael Stich | W |
| 1995 | Australian Open | Pete Sampras | W |
| 1995 | US Open | Pete Sampras | L |
| 1999 | French Open | Andre Medvedev | W |
| 1999 | Wimbledon | Pete Sampras | L |
| 1999 | US Open | Todd Martin | W |
| 2000 | Australian Open | Yevgeny Kafelnikov | W |
| 2001 | Australian Open | Arnaud Clement | W |
| 2002 | US Open | Pete Sampras | L |
| 2003 | Australian Open | Rainer Schuettler | W |
| 2005 | US Open | Roger Federer | L |