French Open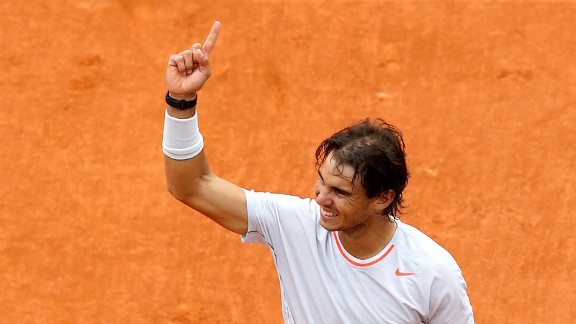 The French Open is an annual tennis tournament held in Paris. The French Open is the second of the four tennis Grand Slam events, and the only one currently played on clay. The tournament is held each year in late May into June. The Open hosts championship tournaments for men's and women's singles and doubles as well as mixed doubles.
The French Open began its existence as a men's singles tournament for members of French clubs. It was held for the first time in 1891 at the Stade Francais club in Paris. Six years later, the tournament added women's singles competitions. At the same time, the World Hard Court Championships also were being held in France and have often been considered the true precursor to the Open, as it was open to international players.
As for the French Championships, international players were invited to participate in 1925. For the next three years, the new French Internationals was held at the Stade Francais and Racing Club de France, until 1928, when the Roland Garros Stadium was built.
The 1928 French Internationals was the first event held in Roland Garros, built to host the Davis Cup later that year. Over the next five years, the French Internationals established itself as a major international tournament -- thanks in large part to the success and popularity of the "Musketeers," the men who had won the Davis Cup in 1927 and several years in a row after that.
Those four men and a few other established French tennis stars excelled in the first few decades of the tournament, and it was only in 1933 that a non-Frenchman won the men's title for the first time, when John H. Crawford beat Henri Cochet.
The championship was cancelled from 1940-45 due to World War II, but it returned strong as tennis continued to grow in popularity in the 1940s and 1950s. In 1956, American Althea Gibson won the women's singles title, becoming the first African-American to win a Grand Slam singles event.
In 1968, the tournament became the first Grand Slam event to join the "Open" era, allowing professionals to join the championships. That allowed some incredible years in the following decades, including Bjorn Borg's impressive six victories between 1974 and 1981 (four of them consecutively). At the same time Borg was dominating the men's competition, Chris Evert was easing through the women's tournaments -- winning six titles, more than any other female player, all between 1974 and 1986.
In 1981, the Open added several new prizes to the competition: the Prix Orange, for the player with the most sportsmanship; the Prix Citron, for the player with the best personality; and the Prix Bourgeon, for the tennis player revelation of the year.
Since 2006, the tournament has begun on a Sunday, not a Monday, as most tennis tournaments. The following year, the Open provided equal prize money to men and women for the first time. The current purse for a singles' winner is 1,200,000 euros.
After Frenchmen dominated the early years of the Open -- before internationals were allowed to play -- it has been Spanish citizens most often holding the title in recent years. Spain has the most men's single titles in Open history with 13 -- France sits behind the U.S. and Australia (both 11) with 10. The Spanish domination is most evident, of course, in the current holder, Rafael Nadal. Nadal has won the tournament eight times, the most singles titles by one player at any of the four Grand Slam events.
The French Open is held at the Stade Roland Garros in Paris. The stadium was built in 1928 and named after aviator Roland Garros, the first man to fly over the Mediterranean Sea. The complex contains 20 courts, including three stadiums, as well as a restaurant, museum, and the French national training center.
Roland Garros was built in 1927, when French tennis was at a new peak. The "Musketeers" of French tennis -- Rene Lacoste, Jean Borotra, Henri Cochet and Jacques Brugnon -- had just won the Davis Cup in the United States in 1927, a relatively large upset. The French decided to defend their title on home soil in 1928, and Roland Garros was built to house the event. The land was received by the Stade de France under the condition that the complex was named after Garros, a respected World War I pilot. The 1928 French Championships christened the new stadium that spring.
The center court seats 14,840 spectators and is considered the centerpiece of Roland Garros. Originally known simply as Court Central, the court was renamed in 1998 after Philippe Chatrier, a long-time president of the French tennis federation. The four grandstands in the stadium are named after tennis' four "Musketeers." Court A -- later renamed Court Suzanne Lenglen -- was built in 1994 and holds 10,068 spectators. The court is named after one of the first stars of women's tennis and a six-time French Open (and Wimbledon) winner.
Roland Garros features clay courts, making the French Open the only Grand Slam event played on clay. The material that makes up the courts is more than just clay: the courts are surfaced with a combination of white limestone and powdered red brick dust on top. In 1928, the surface was completely innovative and meant to deal with clay courts' largest problem, poor drainage. Since then, few true clay courts have been built, but courts made with the limestone and brick mixture play similarly to true clay courts and are classified as clay courts. The red brick layer on top of the court must be relaid often -- sometimes daily, during major tournaments.
In 2009, the French tennis federation commissioned an expansion of Roland Garros, now the smallest of the Grand Slam arenas. The expansion included not only renovations of several existing courts but the construction of at least one new stadium and two more courts. The federation faced opposition from the city government, and the next year, officials contemplated moving the French Open to a new, larger stadium somewhere else in Paris.
The federation voted to keep the French Open at Roland Garros in 2011, citing the cost of building a new stadium, which would be almost double the expected cost of renovations. They still hope to expand Roland Garros sometime soon in the coming years.
Year-by-Year French Open Singles Champions
Year
Men's Singles
Women's Singles
2013
Rafael Nadal
Serena Williams
2012
Rafael Nadal
Maria Sharapova
2011
Rafael Nadal
Li Na
2010
Rafael Nadal
Francesca Schiavone
2009
Roger Federer
Svetlana Kuznetsova
2008
Rafael Nadal
Ana Ivanovic
2007
Rafael Nadal
Justine Henin
2006
Rafael Nadal
Justine Henin-Hardenne
2005
Rafael Nadal
Justine Henin-Hardenne
2004
Gaston Gaudio
Anastasia Myskina
2003
Juan Carlos Ferrero
Justine Henin-Hardenne
2002
Albert Costa
Serena Williams
2001
Gustavo Kuerton
Jennifer Capriati
2000
Gustavo Kuerton
Mary Pierce
1999
Andre Agassi
Steffi Graf
1998
Carlos Moya
Arantxa Sanchez
1997
Gustavo Kuerton
Iva Majoli
1996
Yevgeny Kafelnikov
Steffi Graf
1995
Thomas Muster
Steffi Graf
1994
Sergi Bruguera
Arantxa Sanchez
1993
Sergi Bruguera
Steffi Graf
1992
Jim Courier
Monica Seles
1991
Jim Courier
Monica Seles
1990
Andres Gomez
Monica Seles
1989
Michael Chang
Arantxa Sanchez
1988
Mats Wilander
Steffi Graf
1987
Ivan Lendl
Steffi Graf
1986
Ivan Lendl
Chris Evert-Lloyd
1985
Mats Wilander
Chris Evert-Lloyd
1984
Ivan Lendl
Martina Navratilova
1983
Yannick Noah
Chris Evert-Lloyd
1982
Mats Wilander
Martina Navratilova
1981
Bjorn Bjorg
Hana Mandlikova
1980
Bjorn Bjorg
Chris Evert-Lloyd
1979
Bjorn Bjorg
Chris Evert-Lloyd
1978
Bjorn Bjorg
Virginia Ruzici
1977
Guillermo Vilas
Mima Jausovec
1976
Adriano Panatta
Sue Barker
1975
Bjorn Bjorg
Chris Evert
1974
Bjorn Bjorg
Chris Evert
1973
Ilie Nastase
Margaret Smith-Court
1972
Andres Gimeno
Billie-Jean King
1971
Jan Kodes
Evonne Goolagong
1970
Jan Kodes
Margaret Smith-Court
1969
Rod Laver
Margaret Smith-Court
1968
Ken Rosewall
Nancy Richey
1967
Roy Emerson
Francoise Durr
1966
Tony Roche
Ann Haydon-Jones
1965
Fred Stolle
Lesley Turner
1964
Manuel Santana
Margaret Smith
1963
Roy Emerson
Lesley Turner
1962
Rod Laver
Margaret Smith
1961
Manuel Santana
Ann Haydon
1960
Nicola Pietrangeli
Darlene Hard
1959
Nicola Pietrangeli
Christine Truman
1958
Mervyn Rose
Zsuzsi Kormoczy
1957
Sven Davidson
Shirley Bloomer
1956
Lewis Hoad
Althea Gibson
1955
Tony Trabert
Angela Mortimer
1954
Tony Trabert
Maureen Connolly
1953
Ken Rosewall
Maureen Connolly
1952
Jaroslav Drobny
Doris Hart
1951
Jaroslav Drobny
Shirley Fry
1950
Budge Patty
Doris Hart
1949
Frank Parker
M. Osborne-Dupont
1948
Frank Parker
Nelly Landry
1947
Jozsef Asboth
Patricia Todd
1946
Marcel Bernard
Margaret Osborne
1939
William McNeill
Simone Mathieu
1938
Donald Budge
Simone Mathieu
1937
Henner Henkel
Hilde Sperling
1936
Gottfried Von Cramm
Hilde Sperling
1935
Fred Perry
Hilde Sperling
1934
Gottfried Von Cramm
Margaret Scriven
1933
John Crawford
Margaret Scriven
1932
Henri Cochet
Helen Wills-Moody
1931
Jean Borotra
Cilly Aussem
1930
Henri Cochet
Helen Wills-Moody
1929
Rene Lacoste
Helen Wills
1928
Henri Cochet
Helen Wills
1927
Rene Lacoste
Kornelia Bouman
1926
Henri Cochet
Suzanne Lenglen
1925
Rene Lacoste
Suzanne Lenglen
1924
Jean Borotra
Diddie Vlasto
1923
Francois Blanchy
Suzanne Lenglen
1922
Henri Cochet
Suzanne Lenglen
1921
Jean Samazeuilh
Suzanne Lenglen
1920
Andre Gobert
Suzanne Lenglen
1914
Max Decugis
Marguerite Broquedis
1913
Max Decugis
Marguerite Broquedis
1912
Max Decugis
Jeanne Matthey
1911
Andre Gobert
Jeanne Matthey
1910
Maurice Germot
Jeanne Matthey
1909
Max Decugis
Jeanne Matthey
1908
Max Decugis
Kate Gillou-Fenwick
1907
Max Decugis
Comtesse de Kermel
1906
Maurice Germot
Kate Gillou-Fenwick
1905
Maurice Germot
Kate Gillou
1904
Max Decugis
Kate Gillou
1903
Max Decugis
Francoise Masson
1902
Marcel Vacherot
Francoise Masson
1901
Andre Vacherot
P. Girod
1900
Paul Ayme
Helene Prevost
1899
Paul Ayme
Francoise Masson
1898
Paul Ayme
Francoise Masson
1897
Paul Ayme
Francoise Masson
1896
Andre Vacherot
1895
Andre Vacherot
1894
Andre Vacherot
1893
Laurent Riboulet
1892
Jean Schopfer
1891
H. Briggs
Due to World War II, there was no tournament held between 1940 and 1945
Due to World War I, there was no tournament held between 1915 and 1919
Year-by-Year French Open Doubles Champions
Year
Men's
Women's
Mixed
2013
Bob Bryan
Mike Bryan
Ekaterina Makarova
Elena Vesnina
Lucie Hradecka
Frantisek Cermak
2012
Max Mirnyi
Daniel Nestor
Sara Errani
Roberta Vinci
Sania Mirza
Mahesh Bhupathi
2011
Max Mirnyi
Daniel Nestor
Andrea Hlavackova
Lucie Hradecka
Casey Dellacqua
Scott Lipsky
2010
Daniel Nestor
Nenad Zimonjic
Serena Williams
Venus Williams
Katarina Srebotnik
Nenad Zimonjic
2009
Lukas Dlouhy
Leander Paes
Anabel Medina Garrigues
Virginia Ruano Pascual
Liezel Huber
Bob Bryan
2008
Pablo Cuevas
Luis Horna
Anabel Medina Garrigues
Virginia Ruano Pascual
Victoria Azarenka
Bob Bryan
2007
Mark Knowles
Daniel Nestor
Mara Santangelo
Alicia Molik
Nathalie Dechy
Andy Ram
2006
Jonas Bjorkman
Max Mirnyi
Lisa Raymond
Samantha Stosur
Katarina Srebotnik
Nenad Zimonjic
2005
Jonas Bjorkman
Max Mirnyi
Virginia Ruano Pascual
Paola Suarez
Daniela Hantuchova
Fabrice Santoro
2004
Xavier Malisse
Olivier Rochus
Virginia Ruano Pascual
Paola Suarez
Tatiana Golovin
Richard Gasquet
2003
Bob Bryan
Mike Bryan
Kim Clijsters
Ai Sugiyama
Lisa Raymond
Mike Bryan
2002
Paul Haarhuis
Yevgeny Kafelnikov
Virginia Ruano Pascual
Paola Suarez
Cara Black
Wayne Black
2001
Mahesh Bhupathi
Leander Paes
Virginia Ruano Pascual
Paola Suarez
Virginia Ruano Pascual
Tomas Carbonell
2000
Todd Woodbridge
Mark Woodforde
Martina Hingis
Mary Pierce
Mariaan de Swardt
David Adams
1999
Mahesh Bhupathi
Leander Paes
Venus Williams
Serena Williams
Katarina Srebotnik
Piet Norval
1998
Jacco Eltingh
Paul Haarhuis
Martina Hingis
Jana Novotna
Venus Williams
Justin Gimelstob
1997
Yevgeny Kafelnikov
Daniel Vacek
Gigi Fernandez
Natasha Zvereva
Rika Hiraki
Mahesh Bhupathi
1996
Yevgeny Kafelnikov
Daniel Vacek
Lindsay Davenport
Mary Joe Fernandez
Patricia Tarabini
Javier Frana
1995
Jacco Eltingh
Paul Haarhuis
Gigi Fernandez
Natasha Zvereva
Larisa Neiland
Mark Woodforde
1994
Byron Black
Jonathan Stark
Gigi Fernandez
Natasha Zvereva
Kristie Boogert
Menno Oosting
1993
Luke Jensen
Murphy Jensen
Gigi Fernandez
Natasha Zvereva
Eugenia Maniokova
Andrei Olhovskiy
1992
Jakob Hlasek
Marc Rosset
Gigi Fernandez
Natasha Zvereva
Arantxa Sanchez
Todd Woodbridge
1991
John Fitzgerald
Anders Jarryd
Gigi Fernandez
Jana Novatna
Helena Sukova
Cyril Suk
1990
Sergio Casal
Emilio Sanchez
Jana Novatna
Helena Sukova
Arantxa Sanchez
Jorge Lozano
1989
Jim Grabb
Patrick Mcenroe
Larisa Savchenko
Natasha Zvereva
Manon Bollegraf
Tom Nijssen
1988
Andres Gomez
Emilio Sanchez
Martina Navratilova
Pam Shriver
Lori McNeil
Jorge Lozano
1987
Anders Jarryd
Robert Seguso
Martina Navratilova
Pam Shriver
Pam Shriver
Emilio Sanchez
1986
John Fitzgerald
Tomas Smid
Martina Navratilova
Andrea Temesvari
Kathy Jordan
Ken Flach
1985
Mark Edmondson
Kim Warwick
Martina Navratilova
Pam Shriver
Martina Navratilova
Heinz Gunthardt
1984
Henri Leconte
Yannick Noah
Martina Navratilova
Pam Shriver
Ann Smith
Dick Stockton
1983
Anders Jarryd
Hans Simonsson
Rosalyn Fairbank
Candy Reynolds
Barbara Jordan
Eliot Teltscher
1982
Sherwood Stewart
Ferdi Taygan
Martina Navratilova
Ann Smith
Wendy Turnbull
John Lloyd
1981
Heinz Gunthardt
Balazs Taroczy
Rosalyn Fairbank
Tanya Harford
Andrea Jaeger
Jimmy Arias
1980
Victor Amaya
Hank Pfister
Kathy Jordan
Ann Smith
Ann Smith
William Martin
1979
Gene Mayer
Sandy Mayer
Betty Stove
Wendy Turnbull
Wendy Turnbull
Robert Hewitt
1978
Gene Mayer
Hank Pfister
Mimi Jausovec
Virginia Ruzici
Renata Tomanova
Pavel Slozil
1977
Brian Gottfried
Raul Ramirez
Regina Marsikova
Pam Teeguarden
Mary Carillo
John McEnroe
1976
Fred McNair
Sherwood Stewart
Fiorella Bonicelli
Gail Lovera
Ilona Kloss
Kim Warwick
1975
Brian Gottfried
Raul Ramirez
Chris Evert
Martina Navratilova
Fiorella Bonicelli
Tomas Koch
1974
Dick Crealy
Onny Parun
Chris Evert
Olga Morozova
Martina Navratilova
Ivan Molina
1973
John Newcombe
Tom Okker
Margaret Court
Virginia Wade
Francoise Durr
Jean-Claude Barclay
1972
Bob Hewitt
Frew McMillan
Billie Jean King
Betty Stove
Evonne Goolagong
Kim Warwick
1971
Arthur Ashe
Marty Riessen
Gail Chanfreau
Francoise Durr
Francoise Durr
Jean-Claude Barclay
1970
Ilie Nastase
Ion Tiriac
Gail Chanfreau
Francoise Durr
Billie Jean King
Robert Hewitt
1969
John Newcombe
Tony Roche
Francoise Durr
Ann Jones
Margaret Court
Marty Riessen
1968
Ken Rosewall
Fred Stolle
Francoise Durr
Ann Jones
Francoise Durr
Jean-Claude Barclay
1967
John Newcombe
Tony Roche
Francoise Durr
Gail Sheriff
Billie Jean King
O. Davidson
1966
Clark Graebner
Dennis Ralston
Margaret Smith
Judy Tegart
Annette Van Zyle
Frew McMillan
1965
Roy Emerson
Fred Stolle
Margaret Smith
Lesley Turner
Margaret Smith
Ken Fletcher
1964
Roy Emerson
Ken Fletcher
Margaret Smith
Lesley Turner
Margaret Smith
Ken Fletcher
1963
Roy Emerson
Manuel Santana
Ann Haydon-Jones
Renee Schuurman
Margaret Smith
Ken Fletcher
1962
Roy Emerson
Neale Fraser
Sandra Reynolds
Renee Schuurman
Renee Schuurmann
Robert Howe
1961
Roy Emerson
Rod Laver
Sandra Reynolds
Renee Schuurman
Darlene Hard
Rod Laver
1960
Roy Emerson
Neale Fraser
Maria Esther Bueno
Darlene Hard
Maria Esther Bueno
Robert Howe
1959
Nicola Pietrangeli
Orlando Sirola
Sandra Reynolds
Renee Schuurman
Yola Ramirez
William Knight
1958
Ashley Cooper
Neale Fraser
Yola Ramirez
Rosie Reyes
Shirley Bloomer
Nicola Pietrangeli
1957
Mal Anderson
Ashley Cooper
Shirley Bloomer
Darlene Hard
Vera Puzejova
Jiri Javorsky
1956
Don Candy
Bob Perry
Angela Buxton
Althea Gibson
Thelma Long
Luis Ayala
1955
Vic Seixas
Tony Trabert
Beverly Fleitz
Darlene Hard
Darlene Hard
Gordon Forbes
1954
Vic Seixas
Tony Trabert
Maureen Connolly
Nell Hopman
Maureen Connoly
Lewis Hoad
1953
Lew Hoad
Ken Rosewall
Shirley Fry
Doris Hart
Doris Hart
Vic Seixas
1952
Ken McGregor
Frank Sedgman
Shirley Fry
Doris Hart
Doris Hart
Frank Sedgman
1951
Ken McGregor
Frank Sedgman
Shirley Fry
Doris Hart
Doris Hart
Vic Seixas
1950
Bill Talbert
Tony Trabert
Shirley Fry
Doris Hart
Barbara Scofield
E. Morea
1949
Pancho Gonzalez
Frank Parker
Louise Brough
Margaret Osborne Dupont
Sheila Summers
Eric Sturgess
1948
Lennart Bergelin
Jaroslav Drobny
Doris Hart
Patricia Todd
Patricia Todd
Jaroslav Drobny
1947
Eustace Fannin
Eric Sturgess
Louise Brough
Margaret Osborne
Sheila Summers
Eric Sturgess
1946
Marcel Bernard
Yvon Petra
Louise Brough
Margaret Osborne
Pauline Betz
Budge Patty
1939
Don McNeill
Charles Harris
Jadwiga Jedrzejowskia
Simone Mathieu
Sarah Fabyan
Elwood Cooke
1938
Bernard Destremau
Yvon Petra
Simone Mathieu
Adeline Yorke
Simone Mathieu
Darlutin Mitic
1937
Gottfried von Cramm
Henner Henkel
Simone Mathieu
Adeline Yorke
Simone Mathieu
Yvon Petra
1936
Jean Borotra
Marcel Bernard
Simone Mathieu
Adeline Yorke
Adeline Yorke
Marcel Bernard
1935
Jack Crawford
Adrian Quist
Margaret Scriven
Kay Stammers
Lolette Payot
Marcel Bernard
1934
Jean Borotra
Jacques Brugnon
Simone Mathieu
Elizabeth Ryan
Colette Rosambert
Jean Borotra
1933
Pat Hughes
Fred Perry
Simone Mathieu
Elizabeth Ryan
Margaret Scriven
Jack Crawford
1932
Henri Cochet
Jacques Brugnon
Helen Wills-Moody
Elizabeth Ryan
Betty Nuthall
Fred Perry
1931
George Lott
John Van Ryn
Betty Nuthall
Eileen Bennett-Whittingstall
Betty Nuthall
P. Spense
1930
Henri Cochet
Jacques Brugnon
Helen Wills-Moody
Elizabeth Ryan
Cilly Aussem
Bill Tilden
1929
Jean Borotra
Rene Lacoste
Lily De Alvarez
Kornelia Bouman
Eileen Bennett
Henri Cochet
1928
Jean Borotra
Jacques Brugnon
Eileen Bennett
Phoebe Watson
Eileen Bennett
Henri Cochet
1927
Henri Cochet
Jacques Brugnon
Bobbie Heine
Irene Peacock
Marguerite Broquedis
Jean Borotra
1926
Vincent Richards
Howard Kinsey
Suzanna Lenglen
Diddie Vlasto
Suzanne Lenglen
Jacques Brugnon
1925
Jean Borotra
Rene Lacoste
Suzanna Lenglen
Diddie Vlasto
Suzanne Lenglen
Jacques Brugnon
1924
Jean Borotra
Rene Lacoste
M. Billout
Y. Bourgeois
Marguerite Broquedis
Jean Borotra
1923
Francois Blanchy
Jean Samazeuilh
Suzanna Lenglen
Diddie Vlasto
Suzanne Lenglen
Jacques Brugnon
1922
Jacques Brugnon
Marcel Dupont
Suzanne Lenglen
F. Pigueron
Suzanne Lenglen
Jacques Brugnon
1921
Andre Gobert
William Laurentz
Suzanne Lenglen
F. Pigueron
Suzanne Lenglen
Jacques Brugnon
1920
Max Decugis
Maurice Germot
E. D'Ayen
Suzanne Lenglen
Suzanne Leglen
Max Decugis
1914
Max Decugis
Maurice Germot
Blanche Amblard
Suzanne Amblard
Suzanne Leglen
Max Decugis
1913
Max Decugis
Maurice Germot
Blanche Amblard
Suzanne Amblard
Daisy Speranza
William Lauentz
1912
Max Decugis
Maurice Germot
Jeanne Matthey
Daisy Speranza
Daisy Speranza
William Lauentz
1911
Max Decugis
Maurice Germot
Jeanne Matthey
Daisy Speranza
Marguerite Broquedis
Andre Gobert
1910
Marcel Dupont
Maurice Germot
Jeanne Matthey
Daisy Speranza
M. Meny
M. Meny
1909
Max Decugis
Maurice Germot
Jeanne Matthey
Daisy Speranza
Jeanne Matthey
Max Decugis
1908
Max Decugis
Maurice Germot
Kate Fenwick
C. Matthey
Kate Gillou Fenwick
Max Decugis
1907
Max Decugis
Maurice Germot
F. Masson
Y. de Pfoeffel
A. Pean
R. Wallet
1906
Max Decugis
Maurice Germot
N/A
Y. de Pfooffel
Max Decugis
1905
Max Decugis
J. Worth
N/A
Y. de Pfooffel
Max Decugis
1904
Max Decugis
Maurice Germot
N/A
Kate Gillou
Max Decugis
1903
Max Decugis
J. Worth
N/A
Y. Prevost
R. Forbes
1902
Max Decugis
J. Worth
N/A
Y. Prevost
R. Forbes
1901
Andre Vacherot
M. Vacherot
N/A
N/A
1900
Paul Ayme
P. Lebreton
N/A
N/A
1899
Paul Ayme
P. Lebreton
N/A
N/A
1898
M. Vacherot
X. Casdagli
N/A
N/A
1897
Paul Ayme
P. Lebreton
N/A
N/A
1896
F. Warden
Wynes
N/A
N/A
1895
Andre Vacherot
G. Winzer
N/A
N/A
1894
G. Brosselin
Lesage
N/A
N/A
1893
J. Schopfer
Goldsmith
N/A
N/A
1892
J. Havet
D. Albertini
N/A
N/A
1891
B. Desjoyau
T. Legrand
N/A
N/A
Due to World War II, there was no tournament held between 1940 and 1945
Due to World War I, there was no tournament held between 1915 and 1919
TOP STORY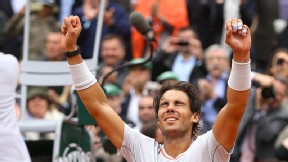 Masterpiece With Clay
Rafael Nadal became the first man to win one Grand Slam event eight times by coasting to an easy straight-sets victory over David Ferrer in the French Open final. Story »
FRENCH OPEN QUICK FACTS

First Played: 1891
Open Era Began: 1968
Venue: Roland-Garros Stadium, Paris
Surface: Clay
Category: Grand Slam
2013 Dates: May 26-June 9, 2013
Purse: $28.7 million
RELATED TOPICS
ESPN.com Topics brings you full coverage of the biggest events in tennis throughout the year.
2013 FRENCH OPEN WINNERS

Rafael Nadal
Men's singles champion


Serena Williams
Women's singles champion


Bob and Mike Bryan
Men's doubles champions
Ekaterina Makarova and Elena Vesnina
Women's doubles champions

Lucie Hradecka and Frantisek Cermak
Mixed doubles champions