DELIC WINLESS SINCE WIMBLEDON
By Bonnie D. Ford, ESPN.com
NEW YORK -- Amer Delic made his post-U.S. Open plans Monday, 24 hours before meeting former champ Lleyton Hewitt in the first round -- an unfavorable pairing that almost ensured his endless summer would plod wearily along.
Delic signed up for a Challenger event in New Orleans in a step back to the minor leagues. Last fall, he won two events on the U.S. Pro Circuit and went deep in several others, propelling him into the top 100 at year's end.
Last March, Delic seemed to announce he was in The Show to stay by beating No. 4 Nikolay Davydenko in Miami, giving the national media a chance to tell his story: his family's move from Bosnia when he was a child, their struggles and his triumphs at the University of Illinois, where he won the NCAA singles title.
PHOTO OF THE DAY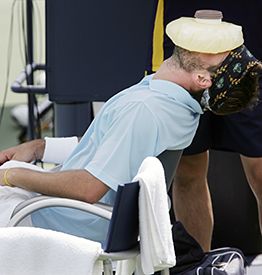 AP Photo/Amy Sancetta
Arnaud Clement needed five sets, four hours and one ice bag to win his first-round match against Ivo Karlovic.
STAT OF THE DAY
Santoro
61 -- With his first-round win on Tuesday, France's Fabrice Santoro tied Andre Agassi's Open era record by playing in his 61st career Grand Slam. Santoro's first appearance at a major came at the 1989 French Open.
The 25-year-old Delic reached a career-high No. 60 this summer, but finding a way to get off this new plateau has proved elusive. "I kind of expected it wasn't going to happen overnight, but I also wasn't expecting it was going to take this long," he said Tuesday.
"I'm pretty streaky, as you've noticed over the last few years. I'm just hoping to kind of catch fire like I did last year and roll. We'll see. It's just a matter of time."
Delic is riding the wrong kind of streak at the moment. His loss to Hewitt makes it seven straight in the last two months, starting with an entirely understandable defeat to Novak Djokovic in the second round at Wimbledon.
The amiable Delic conversed with the media at length after the Hewitt match, wearing a backwards ballcap and a steady expression. He switched coaches a month ago and is now working with Tampa-based Scott Humphries, Mardy Fish's former coach. Delic said trainer Paul Pisani helped him over the first hurdle -- understanding the physical conditioning he needs to be a pro. Now he hopes Humphries can help him put together the game to be consistently effective at this level.
Delic has a strong baseline game for a 6-foot-5-inch guy, developed on clay in his native country, and a powerful serve. Humphries is encouraging him to do what doesn't come naturally and spend more time at the net.
"I'm asking him to step up and get into an uncomfortable situation," Humphries said. "He's got to take his chances and be aggressive and say, 'If you're going to beat me, you're going to have to make a lot of passing shots.' He has to start attacking, imposing his size on some of these guys. He wasn't going to beat Hewitt today from the baseline."
For Delic, the change in style also means suppressing a little of his temperament.
"I'm a laid back guy, I'd rather smooth my way in and come into the net than just like kamikaze-ing in there," he said. "I think I'll have to get out of my comfort level and go probably more towards this attacking style and spending like 70 percent of time at the net than at the back.
"As I said, I'll have to find. I'm still searching."
Delic, now ranked 71st, said he will rejoin the ATP Tour in Asia after his stopover in New Orleans.
GRANVILLE GETS MIRZA NEXT
NEW YORK -- No. 60 Laura Granville won her first-round match in Flushing Meadows, taking out France's Olivia Sanchez 6-2, 6-2 -- her best result in this summer hard-court season. After a strong run at Wimbledon, where she reached the round of 16, Granville hadn't been able to get past the opener in any of the three previous tournaments she played and admitted Tuesday she has felt her confidence dribble away.
How could she go from such a high to a relative low? "Good question," said the candid, thoughtful 26-year-old. "I've been trying to figure that out myself."
India's resurgent Sania Mirza, the 26th seed, will pose a tough task for Granville in the next round. But no matter what happens here, Granville said she's decided to spend much of the fall in her hometown of Chicago, working on her game but also sampling some other things, like college classes and a brief return to a normal existence.
Granville has had some ambivalence about the itinerant lifestyle of a tennis professional since she left Stanford University after her sophomore year in 2001. She said she is not considering retirement, but knows she needs a break.
"The last few years, I've started out well and then toward the end of the year, I lose momentum," she said. "I love tennis, but it's 11 months out of the year."