One of the biggest advantages to being the child of a famous athlete is that your mother or father is probably better qualified to teach you the game than almost everyone else on the planet. 13-year-old Jaxon Williams, the son of Jason "White Chocolate" Williams is a pretty good example of that, if this mixtape is any indication:
Considering how well young Jaxon's dad can still move at age 39, I wouldn't be surprised to see Jaxon in the NBA when he's older.
Nick Kyrgios, the 20-year-old controversy-courting Australian, had quite an interesting match Monday at Wimbledon.
Facing Richard Gasquet in an eventual 7-5, 6-1, 6-7 (7-9), 7-6 (8-6) win for the Frenchman, Kyrgios received a code violation for swearing in the second set ... then proceeded to do the following: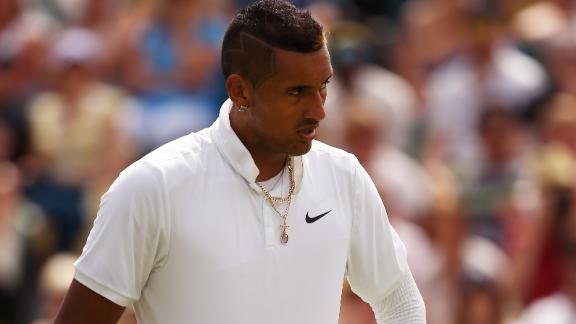 Kyrgios went on to vehemently deny that he intentionally tanked the game, telling reporters, "Of course I tried."
That was just part of a heated exchange with journalists. As laid out by Sky Sports:
A reporter asked: "You didn't return the serves. It looked like you weren't trying, which is very unusual at Wimbledon."
Kyrgios: "Do you want to try to return Richard Gasquet's serve? I'll give you the racket and we'll see how many times you can return his serve."
Reporter: "You're a professional player -- I'm not."
Kyrgios: "He served too good."
Reporter: "You didn't even try to return it. You walked away from it. Can I get a proper explanation as to why you didn't return the serves? Not just a sort of mumbled ... one word."
Kyrgios: "How many aces did he hit that game? One? That game, did he hit one ace? Did he hit one ace?"
Reporter: "Is that an explanation? This is ridiculous."
Kyrgios could be fined $20,000 for the action.
It also wasn't Kyrgios' only odd behavior during the match. He also hugged a ball boy, because (via Sky): "I just felt like a hug, I guess. Everyone now and then wants a hug. It hurts. I expected more out of myself. I feel like I've let people down."
You can see the hug at the 15-second mark here: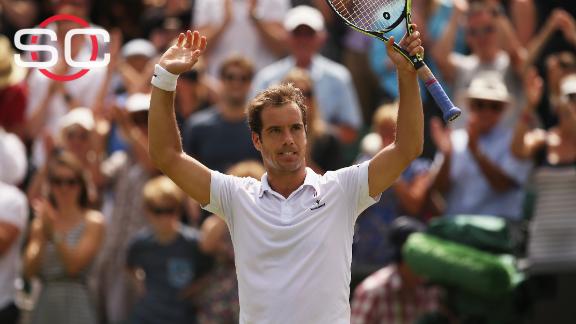 Finally, Kyrgios completed the odd trifecta by celebrating what looked like a winner ... only to have Gasquet return the shot and take the point.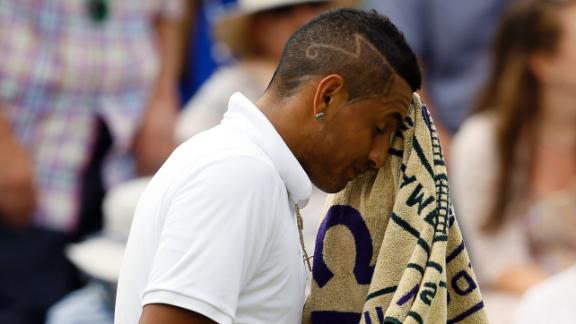 Kyrgios is just 20, however, and received some advice from a once-fiery but now-maturing Andy Murray.
Said the Scot, who has mentored Kyrgios: "I'm sure, in the next few years, he'll start to maybe calm down a bit on the court and learn to use his emotions more positively, more often. Because when he uses his energy the right way, he plays some unbelievable tennis."
Cup finals often can be dramatic, but instead the U.S. put on an absolute show in their Women's World Cup-clinching victory over Japan. They scored within three minutes, added a second goal two minutes later, and had an incredible four within the first 16 minutes of action. The final was 5-2.
Noted soccer fan Kobe Bryant had a fun time live-tweeting the first half, going from excited to impressed to downright blown away as Carli Lloyd scored three of America's four goals -- including one, the USA's fourth, from the halfway line:
Great Goal!!! @CarliLloyd #USA #USWNT

— Kobe Bryant (@kobebryant) July 5, 2015
My Goodness!! #Magisterial @CarliLloyd

— Kobe Bryant (@kobebryant) July 5, 2015
WOW @CarliLloyd @laurenholiday12 #ROUT @ussoccer_wnt #USA

— Kobe Bryant (@kobebryant) July 5, 2015
The Los Angeles Lakers star was far from alone. Other NBAers were into it:
GOOOOOALLLL!!! #USWNT

— DeAndre Jordan (@deandrejordan6) July 5, 2015
GOOOOOALLLL!!! #USWNT (that wasn't an accidental tweet)

— DeAndre Jordan (@deandrejordan6) July 5, 2015
well that escalated quickly...#USWNT ½<ú<ø<Æ

— DeAndre Jordan (@deandrejordan6) July 5, 2015
So being up 4-0 is that like being up 50 in the 4th quarter ?

— Kyle Lowry (@Klow7) July 5, 2015
Fellow U.S. footballers appeared to enjoy it:
Cheering on our girls!! Keep it up ladies @ussoccer_wnt !! pic.twitter.com/MGmGEBnuFO

— Jozy Altidore (@JozyAltidore) July 5, 2015
Athletes who play(ed) the "other" football also couldn't get enough:
Our women are awesome. #USA<ú<ø

— JJ Watt (@JJWatt) July 5, 2015
USA,USA,USA

— Emmitt Smith (@EmmittSmith22) July 5, 2015
Hat Trick by Lloyd!! Unbelievable goal 4-0!!! #USA

— Michael Strahan (@michaelstrahan) July 5, 2015
STOP THE DAMN FIGHT!!! #USWNT pic.twitter.com/T2K02C94z6

— Ryan Kerrigan (@RyanKerrigan91) July 5, 2015
Put @AbbyWambach in. Let's get double digits #USAWomensSoccer

— Aaron Rodgers (@AaronRodgers12) July 5, 2015
USA! USA! USA!

— Tim Tebow (@TimTebow) July 5, 2015
Go Team USA! The Brees Boys are into it!

— Drew Brees (@drewbrees) July 5, 2015
Like whose ur fav player on the #USWNT And 4-1 #billsmafia can we sign @CarliLlyod

— Lesean McCoy (@CutonDime25) July 5, 2015
Some baseball stars:
Are you kidding me? Let's go USA!!!!!<ú<ø

— Bryce Harper (@Bharper3407) July 5, 2015
Wow that goal though! #USA

— andrew mccutchen (@TheCUTCH22) July 5, 2015
This is amazing #USA #IBelieveThatWeWillWin <ú<ø

— Anthony Rizzo (@ARizzo44) July 5, 2015
Dale Earnhardt Jr. was among a few NASCAR drivers who got a chance to see the action as rain delayed the start of the Coke Zero 400 at Daytona:
Finally in front of a TV to watch @ussoccer_wnt. Looking great. Still early. Stay on the gas!! USA!!!<ú<ø

— Dale Earnhardt Jr. (@DaleJr) July 5, 2015
A golfer who knows a thing or two about breaking records enjoyed it:
Love watching history being made. There is nothing like it. Go USA!

— Tiger Woods (@TigerWoods) July 6, 2015
And of course, celebrities and politicians made their feelings heard:
GOOOOOOOOOOOOAL! ½ #SheBelieves

— Hillary Clinton (@HillaryClinton) July 5, 2015
Boom! #usa

— Ryan Seacrest (@RyanSeacrest) July 5, 2015
Wow. It's over, right? #USAVJPN #USA

— jimmy fallon (@jimmyfallon) July 5, 2015
WHAT IS HAPPENING RIGHT NOW! #USA #USASheBelieves

— Carson Daly (@CarsonDaly) July 5, 2015
A hat trick by New Jersey's own Carli Lloyd! What an amazing leader she has been for Team USA. Go USA! Go Scarlet Knights! #jerseypride

— Governor Christie (@GovChristie) July 5, 2015
New Jersey is killing it for Team USA! Jersey's own Tobin Heath makes it 5-2! Go USA! Go Ridge High School! #jerseypride

— Governor Christie (@GovChristie) July 6, 2015
Tell them to: put my girl @Abbywambach in #usa #ibelieve

— Amy Schumer (@amyschumer) July 6, 2015
What's the Over on this USA ASSWHIPPIN'?!!!

— Samuel L. Jackson (@SamuelLJackson) July 5, 2015
Hours before the United States' game against Japan in the Women's World Cup final, Dwayne "The Rock" Johnson paused a workout to send a message to the team.
He still made this clear: "This is not a video to inspire you in any way. You guys are already inspired, you're already there, you're already in that head space. You know the opportunity that's in front of you. This video is just to let you know how much you've inspired me."
He also got a little excited -- unable to stop himself from cursing a couple of times. Check it out: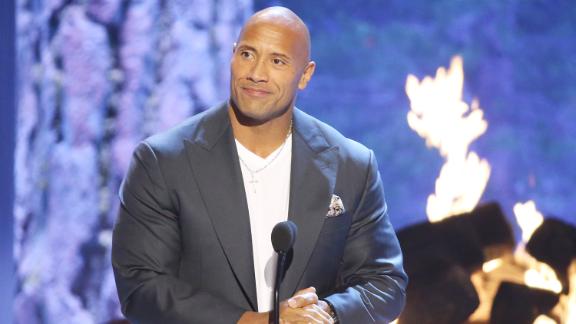 By
Hannah Whitten
| ESPN.com
Captain Ben Chancey is one brave guy.
The angler hooked an impressive shark ... but then it capsized his boat.
Leading him to do this:
After swimming to safety, Chancey hopped back in his boat and proceeded to catch the shark. Because that's the natural reaction to a shark knocking you into the water, right?
Captain Chancey: 1 Shark: 0