By
Joe DeMartino
| ESPN.com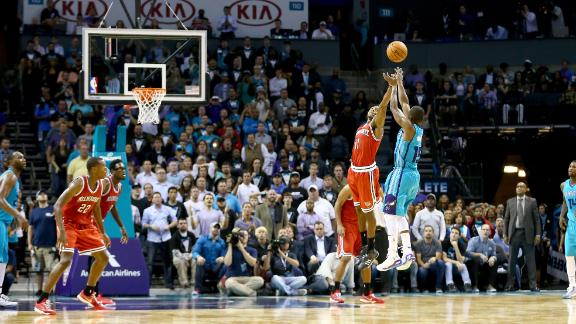 Kemba Walker's last-minute shot to lead the Hornets to an overtime win over the Bucks was pretty sweet, but look at how Michael Jordan reacted to it from the sidelines:
That's exceptional. We can't think of many better ways to start off a season -- at least for Hornets fans.
By
Joe DeMartino
| ESPN.com
Mike Tyson may have been a fearsome competitor in his boxing career, but anyone who owned a Nintendo Entertainment System back in the day knew that there was only one version of Iron Mike that was nearly unbeatable: the one that appeared in ''Mike Tyson's Punch-Out!!'' On Tuesday night's episode of ''The Tonight Show Starring Jimmy Fallon,'' Tyson took on his virtual self and learned the same lesson the rest of us did when we were kids: If you don't dodge his uppercut, Mike Tyson will knock you out in one punch.
I never managed to beat Mike Tyson in ''Punch-Out!!'' and neither did anyone on my block. Some kid at school claimed that he did, but he never could replicate the feat when pressed. At least he didn't lie about beating that one ''Battletoads'' level. I'm still not convinced it can be beaten.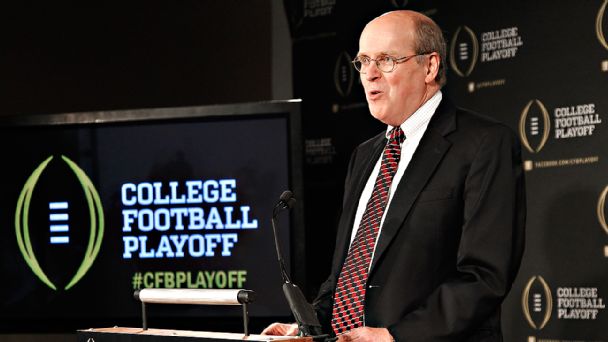 AP Photo/Tony Gutierrez, File
First CFB Playoff rankings released
The first College Football Playoff rankings have been released, and already we have controversy. The SEC placed three teams in the top four, but none is Alabama (No. 1 is Mississippi State, No. 3 Auburn and No. 4 Mississippi). Florida State is second and Oregon fifth, while Notre Dame is all the way down in 10th. What do you make of it all?
After the Chiefs' 41-14 drumming of the Patriots, fans were pretty concerned about Tom Brady's ability to maintain his status as one of the best quarterbacks in the game. So concerned that 50.5 percent of fans we polled felt that Brady was done as an "elite" performer:

ESPN

But haters gonna hate, hate, hate, hate, hate, and Brady is gonna go 100-of-144 for 1,268 yards, 14 touchdowns and no interceptions over his next four games. What say you now, SportsNation?

ESPN

That's what we thought. Haven't weighed in yet? VOTE HERE.

Matthew J. Lee/Getty Images

Big days for Ben and Brady

Sunday was a big day for multiple Super Bowl-winning quarterbacks from the AFC. Tom Brady went 30-for-35 with 354 yards and five touchdowns in the New England Patriots' 51-23 win over the Chicago Bears. Ben Roethlisberger had an even more memorable day, becoming the first QB in NFL history to notch a second 500-yard passing game (he went 40-for-49 with 522 yards and six touchdowns in a 51-34 win over the Indianapolis Colts). Not bad for a pair of players whose teams were considered done just weeks ago.