September 22, 2014
Sep
22
Aaron Rodgers: mustache connoisseur, discount double-checker and generally good dude. Here's your latest example of the latter: The Packers quarterback tagged along with 11-year-old Annie Bartosz as she went door to door raising awareness for her pediatric cancer initiative, Gold In September.
Since Annie lost her twin brother Jack to pediatric cancer in 2012, she's been trying to make the color gold synonymous with September -- and she's found a supporter in Rodgers.
Here's hoping he's just the beginning.
September 22, 2014
Sep
22
It's Monday. You don't have to be Garfield to hate Mondays.
But if you watch this video, there's a chance you won't hate this Monday. Or anything, really. Because in a postgame interview with Time Warner Cable News Austin reporter Lauren Mickler -- after his East View (Georgetown, Texas) Patriots overcame a 14-point halftime deficit to beat the Vandegrift Vipers 42-41 -- senior Apollos Hester told the world how to overcome, well, any obstacle ever.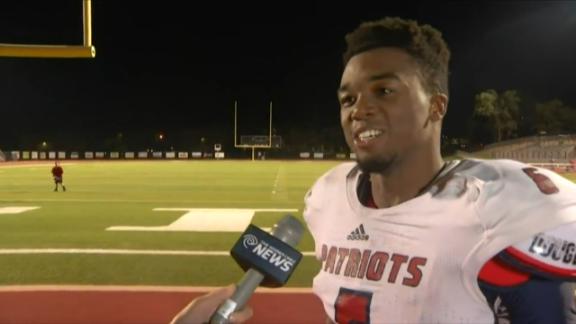 But wait, there's more. It appears Friday was not Hester's motivational-speaking debut; he posted this video to YouTube in early August:
You might not play the same sport as Hester. You might not share his spiritual views. But man, it's hard not to be at least a little caught up in his infectious spirit.
We'll probably be watching these again.
Three unbeatens left in NFL
We're three whole weeks into the 2014 NFL season, and only three teams haven't lost. The final unbeatens: Cincinnati Bengals, Arizona Cardinals and Philadelphia Eagles, all winning teams from 2013, but none exactly thought to be sure-fire contenders before the season. On the other end, a host of playoff teams from last season are just 1-2. What do you make of it all?
September 19, 2014

Sep

19

By

Joe DeMartino

| ESPN.com

We've seen some massive defensive linemen pass through the NFL -- your J.J. Watts, Vince Wilforks and so on -- but all of them would look like children compared to Dondre Harris. Harris, a senior at Essex High School in Tappahannock, Virginia, stands 7 feet tall and weighs 380 pounds, making him pretty easy to pick out on the football field (or anywhere, really). MaxPreps.com was on hand at Harris' latest game, and they captured some pretty amazing images of just how much Harris stands out:

We don't envy the opposing quarterbacks who have to throw over Harris -- or the running backs who try to get through him on a goal-line stand.