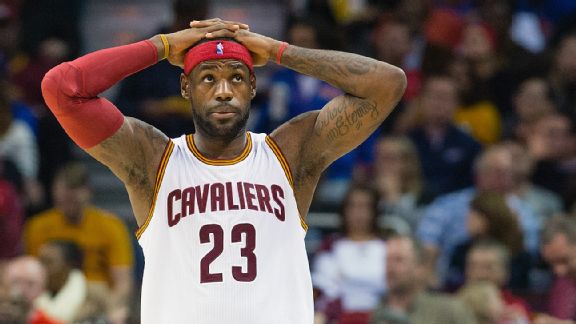 Jason Miller/Getty Images
LeBron James might have led the Miami Heat to two titles and a string of four straight NBA Finals appearances, but that doesn't mean the Sunshine State is entirely in the King's corner.
We asked two questions recently to SportsNation regarding LeBron, and while some states -- particularly the home of his Cleveland Cavaliers -- voted in his favor, Florida went the other direction on both (results as of 7:30 p.m. ET on Tuesday).
First, after Bill Russell beat out LeBron on a graphic as the "best player to wear No. 6" ...
SportsNation
Then, after Shaquille O'Neal said he would choose Kobe Bryant over LeBron in their primes ...
SportsNation
It must be said that the South Florida region accounts for less than one-third of the state's population, according to 2014 estimates. So a county-by-county breakdown might see LeBron carry Miami-Dade, Broward and Palm Beach but lose significantly elsewhere. Also, those are significantly small samples -- perhaps a few thousand more votes would change things.
Still, those are significant margins in both Russell's and Kobe's favor.
In other words: That's unseasonably cold, Florida.
AP Photo/Mark J. Terrill
With LeBron James trying to win a third NBA championship, there's been a lot of talk about his place in NBA history. Last week, Bill Laimbeer said he'd take LeBron over Michael Jordan, but Laimbeer only ever got the chance to play against one of them.
Shaquille O'Neal is in a different position when it comes to LeBron and Kobe Bryant. Shaq played with and against both players, giving him a unique perspective on their strengths and weaknesses. When he joined "The Dan Patrick Show on Monday," Shaq was asked which player in his prime he'd rather take.
"I played with both of them," Shaq said. "Kobe has that killer instinct. I'll probably have to go with Kobe. That's not a knock against LeBron."
That might come as a bit of a surprise considering Shaq and Kobe's often-contentious relationship. But his choice of Kobe over LeBron came with a disclaimer.
"Does LeBron not have that killer instinct?" Patrick asked.
"Yes, he does," Shaq said. "A lot of people try to compare him to Mike [Jordan], when he's more like Magic [Johnson]. When he needs to take over the game, he will. He's really, really smart, very intelligent, he lets the game come to him, and he relies on others. Magic relied on others, it worked out for him. LeBron has relied on others these past five years, it's worked out for him."
"Hopefully it works out for him in the Finals," he added.
"Stone Cold" Steve Austin is ready to welcome former UFC superstar Brock Lesnar back to WWE competition.
Appearing on Austin's monthly podcast, special guest Paul Heyman, who once managed Austin and is a regular Lesnar hype man, queried the Rattlesnake on the prospects of stepping into the ring at "WrestleMania 32" to face Lesnar.
Never one to mince words, Austin delivered a stunner in classic Austin 3:16 fashion:
In March, Lesnar, a former UFC heavyweight champ, announced he was "officially closing the door on MMA" and re-signing with WWE. The move fueled speculation over which major WWE star would be his next major match. So you knew Austin would come out swinging with the WWE's marquee event going down in his Texas backyard (event will be held at the Cowboys' AT&T Stadium).
While he didn't come out and confirm the match is a go, Austin's offer to open a can of whoop-ass is likely to get Lesnar's (and promoters') attention.
The UFC's loss is WWE's gain as rumors about a potential dream meeting between the "toughest SOB in WWE history" and the "baddest man on the planet" has generated a buzz on social media, increasing the likelihood this mega matchup actually materializes.
Better get your popcorn (and that pay-per-view money) ready.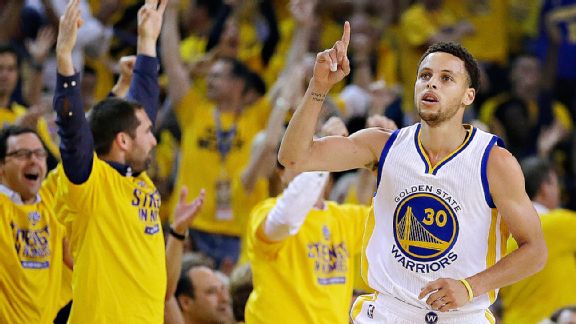 AP Photo/Ben Margot
Stephen Curry is the 2015 NBA MVP. He has favored to be an NBA champion. And yet, he's 6-foot-3, 190 pounds and plays a position that doesn't often dominate games.
What's behind his effectiveness? One of the reasons is his prodigious shooting ability. The son of great NBA marksman Dell Curry put up a 48.7 field-goal percentage/44.3 3-point percentage/91.4 free-throw percentage line this season, while attempting 17, eight and four per game, respectively.
All of this got Ric Bucher of Bleacher Report to ask five of the NBA's greatest shooters ever -- Steve Nash, Rick Barry, Kiki Vandeweghe, Chuck Person and Dana Barros -- where the man some call "Chef" ranks among the league's greatest long-range cooks.
According to Nash, Vandeweghe, Person and Barros: He's probably No. 1.
Barros: "You could make a case for him as the best ever. You'd have a harder time making the case against him."
Person: "I don't think there's ever been anybody better."
Vandeweghe, on Curry's 2014-15 season in particular: "Comparing year to year, people at their peak, I've never seen anyone better."
And Nash: "Truly, from the eye test, he's the greatest there's ever been."
They went into a lot more detail about what makes Curry truly special; check out the full piece here.
Who are the best NBA players ever to wear each jersey number?
Apparel company Mitchell & Ness took this question and figuratively ran with it, creating a graphic that lists the best player to wear every number that's ever graced the front and back of an NBA uniform.
Mitchell & Ness
Some notes:
• There are a few incontrovertible choices: No. 23 for Michael Jordan (unless you're Kendrick Perkins or Bill Laimbeer), No. 45 for MJ (even if he wore it for just a few weeks in 1995), No. 00 for Robert Parish, No. 1 for Oscar Robertson, and a few others.
• There are heated debates for other numbers, particularly the overloaded No. 33, where Kareem Abdul-Jabbar edged Larry Bird, Patrick Ewing, Alonzo Mourning, Scottie Pippen and others. (This writer's opinion: Kareem was the absolute right choice).
• Late-career changes helped squeeze excellent players onto the list in numbers they're not always best known for. Karl Malone (No. 32 with the Utah Jazz) gets on for his one year as No. 11 with the Los Angeles Lakers, since he was never going to overtake Magic Johnson. Shaquille O'Neal wore 32 (Magic), 33 (Kareem) and 34 (Hakeem Olajuwon) at points in his career, but gets on the list with his Boston Celtics No. 36. And Kevin Garnett, who probably wouldn't have edged Tim Duncan out for No. 21, thankfully had the No. 5 spot all to himself for his post-Minnesota Timberwolves stint with the Celtics.
• The end of this list is absolutely wonderful, with Scot Pollard, Jason Kapono, Shawn Bradley, Vladimir Radmanovic and DeShawn Stevenson bringing back so many memories. But it also contains some great significance: Jason Collins, the NBA's first openly gay player, wore No. 98 as a tribute to Matthew Shepard.
• The Panda's Friend? More like The Oddball Jersey Number's Friend! Yes, Ron Artest, aka Metta World Peace, shows up a list-topping four times here, for Nos. 37, 51, 93 and 96, edging out equally eccentric talent Dennis Rodman (three: 70, 73, 91).
• Biggest omission from the list? LeBron James. Sure, he's not going to overtake Jordan (see above) for No. 23. But No. 6? That spot was given to Bill Russell, who wore his signature number for the Celtics while winning 11 championships. But some -- maybe even this writer (bring out the haters!) -- believe James, who wore No. 6 during his four-year stint with the Miami Heat, is/was the better player.