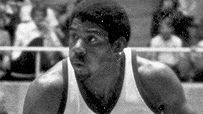 Will Magic Johnson make your March Madness legendary moments?
March Madness is here! An exciting season filled with buzzer beaters, overtimes and upsets. A time for the unpredictable and the electrifying.
Over the years, March Madness has had its fair share of memorable moments and now it's time for you to vote for your favorites. ESPN's college basketball experts came up with 31 legendary performances in March for SportsNation to choose from. Pick your top 10 and check back on March 18 when Reggie Rankin and Fran Fraschilla will unveil their picks.
Will Oscar Robinson's first triple-double in Final Four history or Fennis Dembo's amazing performance helping Wyoming knock off UCLA make your list? Cast your vote now!
Remember, vote for your favorite 10 moments!