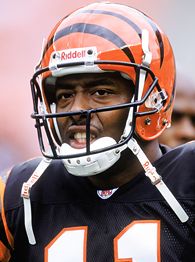 Who will join Akili Smith on the list of draft busts?
Being a first-round pick in the NFL draft guarantees that a player gets newspaper headlines and a hefty signing bonus. What it doesn't guarantee is that he'll ever find his way to a second contract, let alone a trip to Hawaii for the Pro Bowl.
Just ask Akili Smith, Tim Couch, David Terrell and countless others who had their best NFL moment at the podium in New York City. Some number of the big-name prospects picked this year will soon find their names mentioned only as annual cautionary tales on draft weekend. It happens every year.
Teams spend long hours and lots of money trying to separate building blocks from busts, but sometimes they just get it wrong. And while hindsight makes it easy to poke fun at mistakes, it's different when you're on the clock.
So what do you think, SportsNation? With nothing more to go on than your own instincts, which first-round picks in this year's draft have the most bust potential?
Vote for all the players you think are most likely to be busts.
More:
Complete NFL draft coverage | Vote on first round | Grades