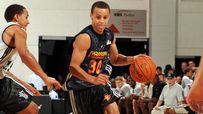 The arrival of Stephen Curry gave the Warriors the most votes in TrueHoop Network. Which team is your No. 2?
We all have our favorite NBA team. It might be from our hometown or the best team when we were growing up or just one picked at random when we first fell in love with hoops.
But, without cheating on our favorite team, isn't there another group that you peek at from time to time? After checking the standings of your No. 1, don't you make a quick glance to see how your second favorite is doing? The team that you'll happily watch on an off night for your primary squad?
Our TrueHoop Network weighed in on their second favorite teams and now we want your vote SportsNation!
Let us know which team is your second favorite!