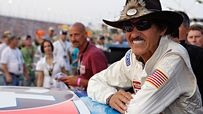 Who should be elected to NASCAR's Hall of Fame?
NASCAR's long and illustrious history has been defined by legendary drivers, owners and pioneers. Now, the sport will honor its most important figures.
On Wednesday, the NASCAR Hall of Fame will announce its inaugural class. Five from a list of 25 nominees will be selected for induction. The nominees include members from nearly every era of NASCAR's history up until the present day. Early figures like Lee Petty and Raymond Parks stand for induction alongside more familiar figures like Richard Petty and Dale Earnhardt.
Who should be inducted into NASCAR's inaugural Hall of Fame class? Cast your vote now!