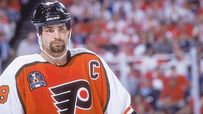 Is Eric Lindros a Hall of Famer?
The 2010 Hockey Hall of Fame class will be announced on Tuesday, with a few lucky players destined for immortality as a result of their exploits on the rink.
Last year's class featured a legendary crop of players, with Brett Hull, Brian Leetch, Luc Robitaille and Steve Yzerman all being honored. This year's list of candidates may not be as strong as last year's group but still includes a number of players who would be a credit to the Hall of Fame. Eric Lindros is the most notable new candidate, but does his career stack up to those already enshrined?
Below we have listed all the candidates, and now it's up to SportsNation to determine which players make the cut. Just like the Hockey Hall of Fame committee, the Nation is limited to four selections for male players and two for female players. Cast your vote now!