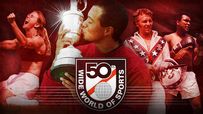 Which WWOS moment will be voted the best of all time?
For five decades ABC's Wide World of Sports spanned the globe to bring you "the thrill of victory ... and the agony of defeat." And now, to celebrate the series' 50th anniversary, we're giving you, the fans, the chance to determine the most memorable moments in the history of the show.
Below, you will find a variety of sporting competitions featured on Wide World of Sports that best exemplify "the human drama of athletic competition." So take a walk down memory lane and let us know which ones you deem the most memorable.
Results will be revealed Friday on SportsNation (ESPN2, 4 p.m. ET).

Watch Winners Bracket's tribute to Wide World of Sports Saturday (ABC, 5 p.m. ET).