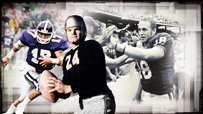 An esteemed panel of ESPN.com college football experts picked their "Simply Saturday" Top 50, showcasing players whose greatness was limited to their college years, and now it's your turn to select a Top 10.
Will Fighting Irish speedster Rocket Ismail, who finished 13th in the experts ballot, crack the top of your list? What about Andre Ware, who obliterated the record books at Houston in 1989?
Scroll through the gallery of players to relive their glory days and make your selections below.